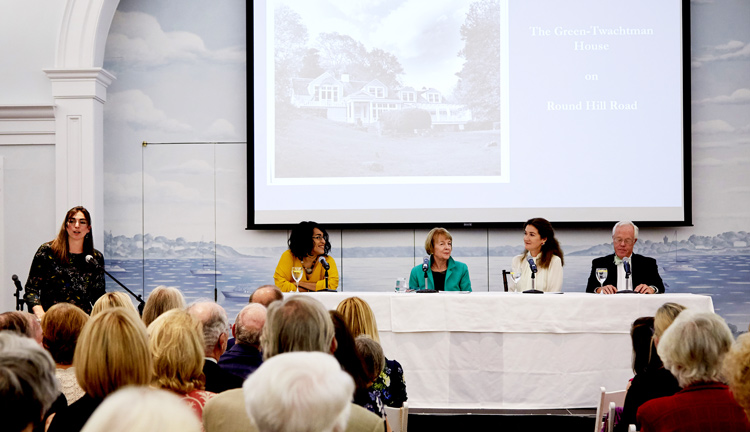 By Anne W. Semmes
Sentinel Correspondent
Imagine raising over $6 million in two years to reimagine the Greenwich Historical Society's campus, with the grand opening of that expanded campus only a year away (with $790,000 left to raise). All the while an additional half million more dollars was raised for their new endowment, and a new initiative — the Vanderbilt Society, their new Planned Giving program is off to a promising start.
See how that new campus on Strickland Road is fast taking shape with its three-tiered Toby's Tavern, where inside an Artists Cafe will attract those historically and art-minded to gather over tea or lunch, view community artist exhibits, or visit the state of the art Archives and Gallery spaces.
Throw in a little political persuasion with State Rep. Livvy Floren and Governor Dannel Malloy and a $250,000 grant arrived to double the parking places for the Bush-Holley Historic Site campus. The Bush Holley House after all is Greenwich's only National Historic Landmark.
It takes talent, and those talented ones gathered recently surely to celebrate at the Belle Haven Yacht Club at the Historical Society's 86th annual meeting.
Long-serving board chair, Davidde Stackbein, saluted her board members, and executive director Debra Mecky praised their extraordinary "Reimagine Campaign" committee members headed by Peter Malkin. Serving as Honorary Chairs were Malkin's son-in-law and daughter, Senator Richard Blumenthal and his wife Cynthia, and State Sen. Scott Frantz and his wife Icy, and First Selectman Peter Tesei and his wife Jill.
But the evening's entertainment fell to four individuals there to share the history of a house they each hold an affection for — a white clapboard house at 30 Round Hill Road that two of the four have lived in: John Nelson the present owner, and Cheryl Henson, daughter of the late and great puppeteer, Jim Henson.
Adding their voices were our resident art historian Susan Larkin, an authority on the Impressionist landscape painter John Twachtman who sold the house to the Hensons, and Teresa Vega, whose black ancestors are the first recorded owners of 30 Round Hill Road.
Susan Larkin showed a slide of a Twatchman painting of how the house would have looked in its setting during the nine years (1890-1899) he lived there with his family. A Theodore Robinson painting of Horseneck Brook that ran across Twachtman's property also gave an idea of what the landscape looked like back then – all open with only stone walls, with few trees. "The land was used for agriculture and pasture with cattle coming to the brook to drink," said Larkin, and "Twachtman built stone walls for recreation."
Twachtman, who had seven children, would have the most productive years of his career in the house. "It was his home, his principal subject, and the gathering place for his friends." And, reportedly it was "a regular rendezvous for Impressionist painters."
The house was productive, indeed. When Jim and Jane Henson bought it in 1964, began Cheryl Henson, they had three children and added two. A curious discovery was made when the Henson's arrived, a couple of John Twachtman paintings were found in the garage. They were duly handed over to Twatchman's eldest son. Col. J. Alden Twatchman, who lived nearby.
The Henson house interior became a stage for Jim Henson's creativity told Henson — as demonstrated in the six-month Henson exhibit at the Historical Society that ends on Oct. 8. Henson recalled, "One weekend my father had us make underwater mosaics to decorate the small bathroom off the kitchen – the best ones of course are his, but we all participated."
One humorous incident she shared as a student at the North Street School when her father brought his first TV show of the Muppets to the school. He was recognized by a student as a hippie, with, "A hippie is someone who never washes."
Henson has enjoyed her ability to revisit her old home of seven years through her friendship with who her parents sold their house to — John Nelson. Nelson related the serendipitous way he fell into ownership of the house.
"The Hensons wanted to see if whoever took the house whether they would fit," he began. Learning the house was for sale Nelson and wife were allowed in for an inspection by the Hensons during which a confusion erupted over whose infant was crying, Heather Nelson or Heather Henson? "We all ended up having a good laugh," said Nelson. "They agreed that when they found a house they would give us a call and we would move in."
Nelson and family have done their best over the 40-plus years to preserve that Henson creativity, down to Jim Henson's hand painted wooden spindles on the kitchen cabinets. Nelson's ongoing appreciation of the house was manifest in his remarks. "The portico is shaded in summer by wisteria and open to the stars in winter." He quoted how someone had written Twatchman of the pleasure of "sitting on the porch in the evening and watching the fireflies," that he attested, "is still great today."
But it was Tersea Vega, a New Yorker, family historian and genealogist, who brought a deeper and more dramatic dimension to 30 Round Hill Road, to its very roots. Vega, as descendant of African-American Allan Green who built the house in 1845, described the house as situated in a community her ancestors called Hangroot, "Hangroot," she said, showing a slide of a map of the Round Hill Road area of Hangroot, "was never an all-Black area, but it was a place where most of Black Greenwich lived for over 100 years.
"My ancestors," said Vega, "were slave descendants and slaves of the Lyon, Green, Merritt and Husted families of Greenwich. My Lyon ancestors are considered to be among the "Founding Families of Greenwich."
It was in Vega's research of her Lyon ancestors that she learned that distant Lyon cousins had "harbored a fugitive slave." No one," she noted, "has examined the role that Black Greenwich played in shepherding enslaved people to freedom."
"If I can prove this link," said Vega, "I will work to get an official designation for the Green-Twachtman House as a confirmed Underground Railroad site at both the state and federal level." She continued, "I then hope to forever link the Thomas Lyon House, the oldest house in Greenwich, to the Green-Twachtman House because that house is affiliated with my abolitionist Lyon cousins. This house still has stories yet to be told."
Establishing 30 Round Hill Road as a property of historic importance is Vega's quest, was a sentiment shared by Vega's fellow panelists. "It's a rare privilege to have seen where John Twactman painted," said Larkin. "It brings the house to life. It's a rare joy. I would hate to lose it." Henson agreed, "It's a treat to be able to go to the house. To go to the root cellar that goes back to Teresa's family. When you have a physicality, it brings history alive."