September 22, 2017
BioBlitz Descends On Greenwich Point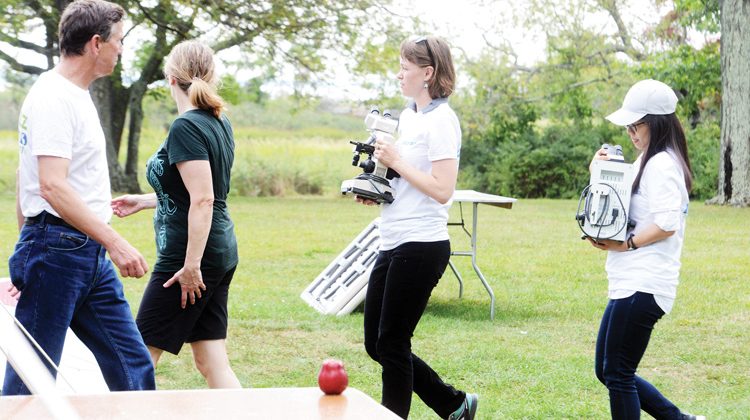 By Anne W. Semmes
Sentinel Correspondent
It all happened at the clambake area of Greenwich Point, outfitted with giant tents for the arriving 100 curious scientists with their instruments, their grad students and volunteers from the University of Connecticut's celebrated Department of Ecology & Evolutionary Biology, come to see what lives on the land, in the air, and underwater at Greenwich Point.
They had 24 hours, from 3 p.m. Friday to 3 p.m. Saturday. They were participants in a BioBlitz, the 10th to be held in Connecticut. Last year, at the ninth BioBlitz in East Hartford, a record breaking 2,700 species were found. What would be found in the 147 acres of Greenwich Point and its surrounding waters?
Welcoming the scientists were the hosts, Roger Bowgen and Sue Baker, chair and vice chair of the Shellfish Commission, Denise Savageau, Conservations Commission director, and First Selectman Peter Tesei.
"He's my student," Baker cried out, welcoming Tesei who she taught oceanography to moons ago at Greenwich High School. She found Tesei a bit dressed up amongst the casual attire of the field researchers. Tesei was there to kick off the 24-hour blitz to discover species.
"Welcome to one of our most treasured natural resources that this BioBlitz will survey of land and water of Tod's Point," said Tesei, "I hope you will engage many of our citizens, to have young people in direct contact with natural history."
Tesei spoke of the unique collaboration between the Town's two commissions, Shellfish and Conservation with UCONN's Department of Ecology & Evolutionary Biology, and its Center for Environmental Sciences & Engineering that had brought the BioBlitz to Greenwich Point.
"This collaboration is bringing much needed research to western Long Island Sound," he said.
Tesei thanked Carl Schlichting, department head of the Department of Ecology & Evolutionary Biology at UCONN Storrs; and Mike Willig, the director of the Center for Environmental Sciences & Engineering, along with Bowgen, Baker and Savageau for their efforts. "Now, go get 'em," Tesei hailed, as Baker called out, "Scientists take your mark. Let the Blitz begin!" with the blast of Baker's airhorn marking the hour of 3 p.m.
Groups of students trailed off with their teachers, butterfly nets, seines, petri dishes and binoculars, headed in all directions. Standing behind his Center for Environmental Sciences & Engineering table was Willig with a gift for the environmental gab.
"This BioBlitz is connecting people to their environment," he said. "It's the joy of discovery. It's finding the beauty of life at home where you live. It can be as diverse and exciting as a tropical forest or a savanna. Ecologists are fascinated by things far from home. But the root of ecology is eco for home. More importantly, this is our home and we need to know who we are sharing it with."
Willig shared a story of city-dwelling third and fourth graders asked what does grass feel like.
"They didn't know," he said. "They had not walked barefoot on the grass."
He added that kids today are "afraid of nature, fearful of Lyme disease, of the zika virus. Nature is pretty scary to them. This BioBlitz is an effort to reconnect kids with nature."
The next morning at 7 a.m., UCONN's ornithologist Chris Elphick was birding near the Innis Arden Cottage, accompanied by his wife and fellow academic at UCONN, Dr. Margaret Rubega.
"We started at 4 a.m. this morning," said Elphick. He had heard "a few migrant thrushes flying overhead," and seen a few warblers and a veery. His grad students were elsewhere sleuthing.
Under the tent, the scientists and students now had plenty to inspect under their microscopes. Checking out mites was Liz, a UCONN senior. "Ticks are smooth mites," she said.
"Mites are gorgeous little creatures," offered Liz's professor, Dr. Janine Caira, a non-insect invertebrates specialist.
Laid out on another table were a variety of seaweeds with Dr. Simona Augyte, a marine biologist at UCONN ready to assist. She confirmed there are dozens of seaweeds used in the human diet.
"The global seaweed industry is worth over $6 billion annually with over 20 different seaweed species that are used on a commercial scale," said Augyte.
Making sure that there was sustenance for all blitzers was Savageau. The director of the Greenwich Conservation Commission for over 20 years was feeling positive about the biodiversity of Greenwich Point.
"Greenwich Point is obviously a developed area since 1887," she noted, "But with what's growing here now, with the variety of vegetation you see, it's showing how nature can recover from urban use."
Though she bemoaned the invasives — the Japanese knot weed, the oriental bittersweet, and the porcelain berry.
She had more good news.
"Since 1972 with the Clean Water Act the water has gotten better the last 50 years," said Savageau. "We've worked non-stop. The Town has invested in our state-of-the-art waste water treatment plant, a vigorous inland wetland protection program, and a coastal zone management program."
She added that her Commission had "worked tirelessly on open space protection in our watersheds. And the Shellfish Commission has managed the shellfish beds to be more productive, including restoration of our oyster beds. Shellfish naturally filter out nutrients in our near shore waters. All of these programs have resulted in cleaner water quality for Greenwich's coastal waters."
But Baker wanted to address the fragility of this western area of Long Island Sound. The eastern area of the Sound, she said, "doesn't have the influence of the Hudson River. In the outgoing tide, we suck in everything from the New York Harbor. We get the negative impact of discharges of sewage treatment plants. There are 44 of them on Long Island Sound. Along with that, you have a lot of development, you've got industry. The whole ecosystem is so attacked by toxic cocktails of runoff from the land.
"With this BioBlitz we're getting baseline data of flora and fauna and what is upland in wooded areas and out in the water, and we're hoping that we have a high number of flora and fauna," added Baker. "The more healthy the organisms, the more healthy the water is, the more productive the ecosystem is."
Baker provided an impressive map of The Greenwich Recreational Shellfishing Beds that showed six shellfishing beds, half recreational and half commercial.
It is under Roger Bowgen's stewarding that these shellfish beds have so prospered. It was Bowgen who instigated the collaboration with the Conservation Commission and UCONN that brought the BioBlitz to town.
This BioBlitz has brought Bowgen closer to his visionary plan to be realized on the second floor of the Innis Arden Cottage, for a collaborative laboratory with UCONN.
"We'll have an electronic laboratory connected to UCONN at Storrs and Avery," said Bowgen. "We're going to educate the younger generation to understand the importance of Long Island Sound, the importance of water quality for every person. We're aiming for Greenwich to become a major research center."
Time now for that BioBlitz Greenwich Point final species count: 1,267. Count 100 scientists, plus students and approximately 400 public attendees — including Greenwich's Barbara Gallagher, who brought her six-year-old grandson "to hang out with scientists."
"Great numbers," said Baker. She added that she was surprised "by the interest in the study of microbes that inhabit the guts of other organisms–sometimes as parasites, sometimes harmless. Those all counted as species found!"
Savageau saw the figure of 1,267 species "speaking to the biodiversity of this area and the resiliency to recover from previous land uses."  She added that the count will help to inform management options for Greenwich Point.
Bowgen wanted UCONN's take on the total number.
"Based on the size of Blitz area covered and the number of species logged they (UCONN) considered the result excellent and better than they had expected. So we are obviously very happy about that."
Tags:
BioBlitz
,
ctnature
,
Department of Ecology & Evolutionary Biology
,
greenwich
,
greenwich point
,
UCONN
,
UConn Department of Ecology & Evolutionary Biology