September 14, 2017
Greenwich Thunder Blue Lives Their Cooperstown Dream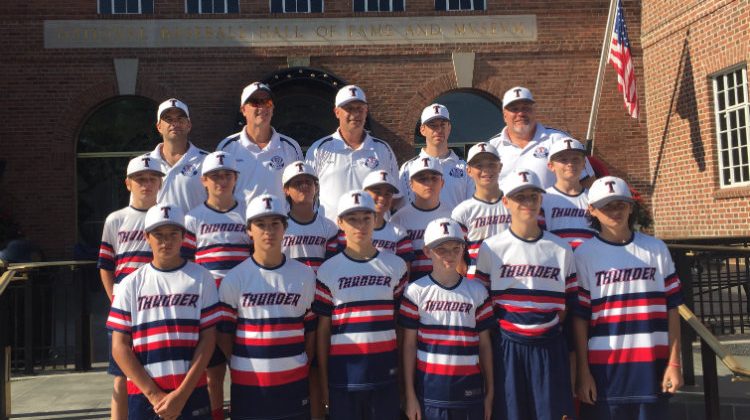 Back Row – Coaches Brian Leidich, Kevin Wailgum, Joel Perez, Ben Jones, & Billy Fox
Middle Row – Caden Leidich, Robert Rota, Trey Begasse, Javi Serra, Danny Fox, James Babb, and Riley Redahan
Front Row – Tyler Cusimano, Ryan Perez, Nathan Jones, Wyatt Gibson, James Wailgum, and Tommy Healey
By Rob Adams
Sentinel Reporter
Let's clear this up immediately: Cooperstown, NY is not the birthplace of baseball. Indeed, Abner Doubleday did not create the game in this picturesque American town.
So while the mythology is a bit off, dreams can come true there, and the Greenwich Thunder 12U Blue Team can attest to that.
For the second summer in a row, Thunder Blue team went to the Central Leatherstocking Region of New York State to play in a tournament at Cooperstown Dreams Park.
"They had experience going in," said assistant coach Ben Jones. "They had been exposed to a national tournament, as an 11 (year old team) going up against 12's."
Jones added that the Thunder Blue – supported by the OGRCC – learned from their experience in 2016, which served them well heading into this year.
"This year we went not just for the experience," Jones added.
The wins and losses matter, of course, but this is also about an event to remember. As veterans, the Thunder knew what they were getting into, and placed well in their tournament, finishing 25th out of 104 teams.
Members of the Thunder participated in the skills competition that took place before the tournament, and while they didn't win the top prize, they did well regardless.
Ryan Perez ran a personal best time in the fastest runner competition, while James Babb advanced to the finals of the Golden Arm, which demonstrates the most accurate thrower.
Thunder Blue also took part in the Around the Horn event, with Javi Serra, Caden Leidich, Riley Redahan, Tommy Healey, Trey Begasse, Wyatt Gibson, Danny Fox, Tyler Cusimano, and Robert Rota participating.
"We missed advancing to the finals by a mere two seconds," Jones said. "Ironically, their time in the preliminaries would have actually been a winning time in the finals."
Not to be outdone was Nathan Jones, Ben's son, who advanced to the finals of the home run derby, coming in second to a player from California.
"I was honored to represent our team in the Home Run Derby this year in Cooperstown," Nathan Jones said. "It was cool to be supported by teammates, family, and friends. I had a blast competing in the Home Run Derby with kids from all over the country."
The trip wasn't just about competition. There were friendships being made, along with family time as well.
"There was a lot of camaraderie, playing wiffle ball between games and trading pins with other teams," Ben Jones said.
Babb, with the golden arm, agreed.
"One of the things I enjoyed most was getting an opportunity to meet and talk to teams from all over the country," he said. "We got to trade pins which I now have organized in a book."
Though the Thunder Blue were eliminated in their first playoff game, Jones added that three quarters of the boys opted to stay in Cooperstown for a final night before heading back to Greenwich.
The town, at the south end of Otsego Lake, is certainly baseball paradise. It has been the home of the National Baseball Hall of Fame and Museum since 1939, when a parade featuring Babe Ruth and other early Hall of Fame members, marched on Main Street. Ruth, the famed "Great Bambino," also helped christen nearby Doubleday Field with a home run – baseballs' equivalent of "George Washington slept here" for certification.
The Thunder Blue team made their way to the Hall of Fame, along with Doubleday Field, as well as the many shops located on Main Street, just 15 minutes away from Dreams Park. The team and families also held a gathering at Otsego Lake, and found some time for miniature golf and go kart racing.
Still they were there to play games, and play they did. Coach Joel Perez's team lost their first game in pool play to a team from Texas, but then reeled off victories against teams from West Los Angeles, Minnesota, New Jersey, Louisiana, North Carolina.
In fact, Thunder Blue beat Waldwick, NJ 29-6, with Greenwich cranking out 10 home runs. Nathan Jones and James Weilgum each hit two, while Danny Fox, Riley Redahan, James Babb, Javi Serra, Tommy Healey, and Ryan Perez each tacked on one.
Babb hit three long balls during the tournament.
"Having my teammates meet me at home plate was the best feeling," Babb said. "I couldn't help but smile."
For many, this is the end of their Thunder travel years. Head coach Perez told the team that "this is going to be the culmination of your Little League Experience," as players will now move onto regulation-size baseball fields of 90 feet between bases and 60 feet 6 inches between the pitchers mound and home plate.
In short, it's a passing of time, and a sense of growing up.
They'll always have the memories and the dreams of their time in Cooperstown.
"My time in Cooperstown is a week I'll never forget," added Babb. "The friends and memories made in Dreams Park will last a lifetime."
Tags:
Babe Ruth
,
Baseball
,
Cal Ripken
,
Cooperstown
,
greenwich
,
Hall of Fame
,
New York
,
NY
,
OGRCC
,
Rob Adams
,
Sports
,
Thunder Blue