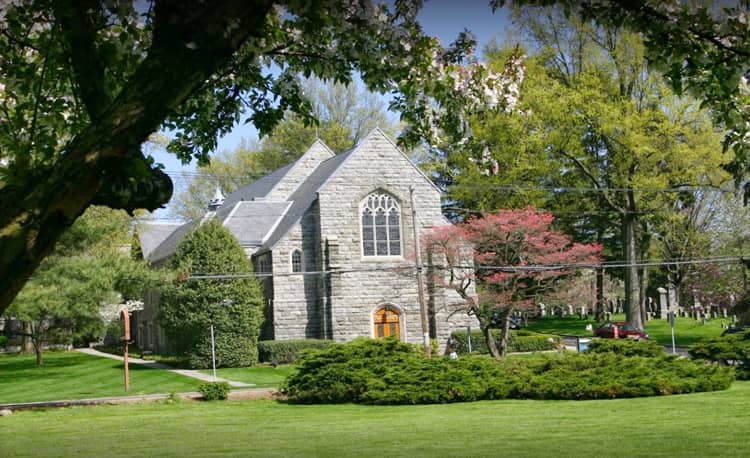 The annual "Homecoming Sunday" at the First Congregational Church of Greenwich this year will be a little different from the usual September picnic marking return from summer vacation and the resumption of youth and adult education programs.
The First Church campus has undergone a great transformation in recent months, and the new master plan uniting the Meetinghouse and parsonages into a connected space will make its debut on Sunday, Sept. 10.
Foremost among the improvements to the campus is the completely renovated new Senior Parsonage, which now faces the Meetinghouse. The keys to the new parsonage will be presented to Senior Pastor Richard DenUyl, Jr. and his wife Barbara, in a ceremony hosted by the church's lay leaders and joined by Rev. Dr. Michael Ciba, Southwest Regional Minister of the Connecticut Conference of the United Church of Christ.
"It is our great joy to be celebrating the established and continuing ministry of Richard DenUyl as our Senior Pastor," said Chris Hartwell, Chair of Community Relations at First Church. "In the three years that we have been blessed with Richard's ministry, the church has been invigorated by his legendary preaching and his administrative leadership, gaining a reputation as a 'vibrant' and 'happening' place. Our very successful capital campaign last year has enabled us to transform our campus into a more connected space, and to finally give Richard and Barbara a comfortable home right across from the Meetinghouse."
The Homecoming Sunday events will begin with morning worship at 10 a.m. in the Meetinghouse and the first meeting of classes in the Church School. Immediately following the service, the Welcoming Committee will host the annual picnic on the church lawn, featuring fun, food and festivities for all ages, including the ever-popular bouncy houses, a roaming magician, and face painting. Admission is free and all are welcome.
First Congregational Church of Greenwich is located at 108 Sound Beach Ave. For more information, visit fccog.org