September 2, 2017
G.A.S Offers Lecture Series to Help Professional Artists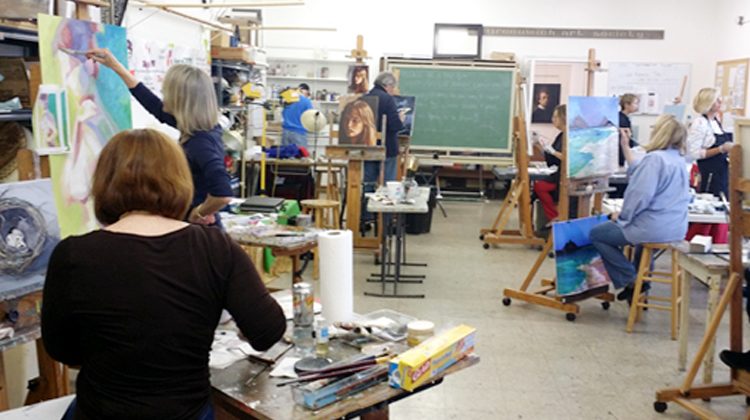 By Rob Katz
The Greenwich Art Society (GAS) will offer a new lecture series in the fall focused on helping professional artists participate in the contemporary art world.
The series, "Professional Development for the Artist," held as part of the GAS School of Visual Art's Studio School, currently features three Thursday evening entries in October that will be taught by professional artists inside and outside GAS.
The Society's website refers to the seminars as "a special series on practical information and skills on how to become a well-rounded artist in today's changing world of art, art-making, and marketing."
"A Fly on the Wall: Re-Envisioning Art and Enterprise" is presented by James McElhinney, a Manhattan-based visual artist and owner of Needlewatcher LLC, an artist estate consulting firm.
"A lot of the old paradigms for how artists used to connect with collectors or buyers or curators have changed significantly and they're currently in flux," McElhinney said in a phone call with the Sentinel. "It behooves artists to try to think more in a pro-se manner than in a way that puts them in a position dependent on dealers and so forth."
"The whole thing is in flux and you can't say there's such thing as the 'art world,'" McElhinney continued. "There are a hundred art worlds. And it's now become global. It's become largely the playground for the financialized economy. The artist needs to understand how to create a market where they are and that they have to be useful in some way or they have to be engaged in some way in the community and they have to be able to cultivate their own buyers. A lot of dealers would rather work with artists who understand the business than work with artists who do not."
"The Art of Creativity: Vision & Mission, What Every Artist Needs" will be led by Dmitri Wright, a Greenwich-based painter and instructor at various institutions, including Weir Farm National Historic Site. The lecture focuses on how artists can overcome periods of creative block.
"I've noticed that there are certain patterns that artists have when they get stuck," Wright said. "One of the first things that happens is usually the artist somehow forgets their first love. The first love is the thing that brought them into the creative process in the first place. These might be simply things like keeping an artist's journal or having a scrapbook which has inspirational artwork in it. These things help to refill the well, so to speak. When one feels deprived, you have to have a way of getting back into the creative process."
"Talking About Doing… The Visual Artist's Process in Words" will be hosted by Anna Palatano, president of GAS and director of the Studio School.
Patalano stressed that "Talking About Doing" will focus on helping artists better express the ideas behind their work to their audiences.
"How do you talk about your work? What do you talk about? How do you succinctly create some kind of a discourse that will help people understand your ideas and what you're trying to do?" Patalano asked.
The new seminar series, Patalano said, would be aimed at visual artists who are already proficient in their craft.
"Not all of our members are students of our classes," Patalano said. "They consider themselves independent professional artists who basically have the time and the resources to devote to developing their work. Technically they know what they're doing. We're always looking for other means of support [beyond helping with technique]. What else can we give them that can help them develop in their careers?"
In McElhinney and Patalano's eyes, their lectures will offer lessons on interfacing with the art industry that tend to be ignored in academia and Master of Fine Arts (MFA) curricula.
"You've got MFA programs all cross the country that are still working with last century thinking about what an artist's career is and how an artist functions in the marketplace. A lot of it has to do with entering academia, which has its own parallel reality. It's not the same reality as the real art market. It's a meritocracy that has its own capital and its own rewards," McElhinney said.
"If one goes to an MFA program, more than likely they're not going to get this information," Patalano said. "This is real world training and knowledge that we're trying to give people so they can understand what they need to grow their careers in the real world."
The Studio School's fall term, which will include the "Professional Development for the Artist" seminar program, begins Sept. 18. Enrollment for adults and children is open now, and the aforementioned seminars are $25 for members and $45 for non-members.
Tags:
art
,
GAS
,
greenwich
,
Greenwich Art Society
,
Lectures