August 18, 2017
GHS Students Take Top Honors at Science Innovation Fair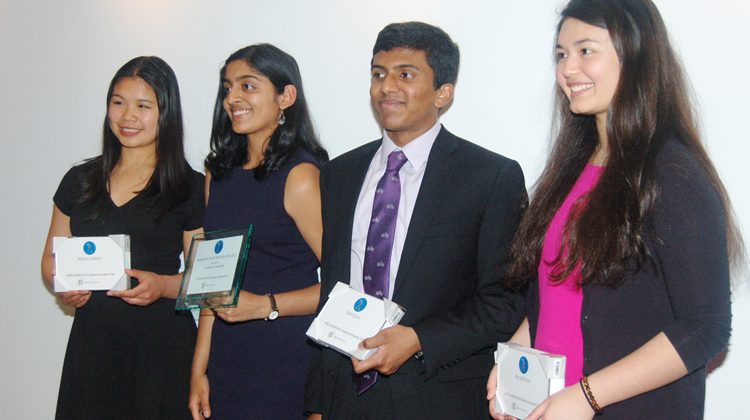 Five Greenwich High School students took the top awards at the Bruce Museum"s third annual Phenomenon: Science Innovation Fair on June 2. The competition recognized science research projects by regional high school students in grades nine to 12. Ten students selected from 19 applicants, presented research posters to the public and a panel of science and technologogy judges at the museum in Greenwich.
Two additional students, Shobhita Sundaram and William Yin, shared the honor of receiving Bruce Museum's 2017 Awards for Phenomenal Young Scientist. Each has won awards in state and regional science competitions this year for their research. Sundaram, who delivered the keynote address, is investigating pancreatic cancer detection and Yin is working on Alzheimer's disease diagnosis.
The competition, sponsored by an anonymous donor, included cash prizes from $1000 to $250 for the top winners.
First prize went to Rahul Subramaniam for this work, "An Early Warning System for Zika Virus in Mosquito Populations Based On Real-Time Field Detection of Viral RNA In Mosquito Saliva." Dante Minichetti took second place for her research "Targeted Anticancer Properties of Honey Bee Melittin via Cell Surface Lipid Disruption." Michelle Woo won the People's Choice award for "A Novel N-Doped Carbon Nanotube/ Copper Electrode for the Reduction of CO2 to Ethanol."
The Bruce Museum created the Phenomenon: Science Innovation Fair to recognize and support the high level of research being done in science and technology by area students.
Tags:
awards
,
Bruce Museum
,
GHS
,
greenwich
,
Greenwich High School
,
Science Innovation Fair
,
students