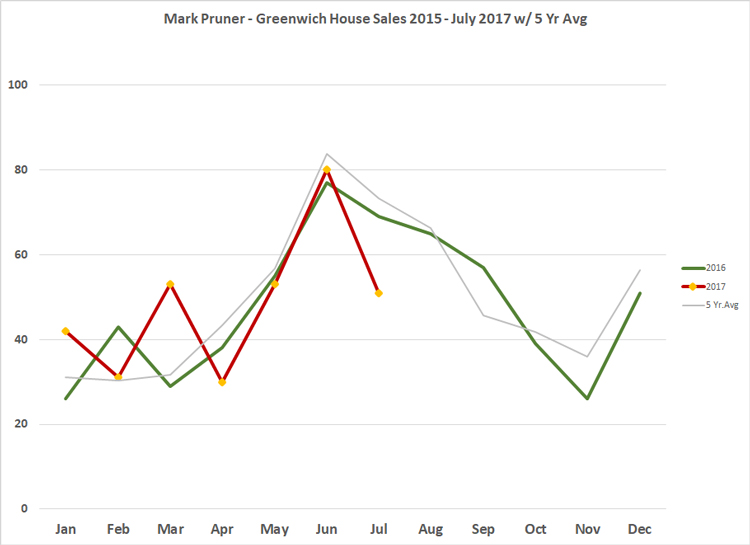 By Mark Pruner
July 2017 has continued to see the see-saw that Greenwich single-family home sales have been on all year. In July, we had 51 sales compared to 69 sales in July of 2016. At the same time, we have 91 contracts that have been signed and are waiting to close, so August will likely be a good month for sales.
The really amazing thing is that most of this drop in sales is in the heart of our market from $1.5 to $3 million. In this price category, we are down 23 sales from last year and we are down an additional 12 contracts from last year, or a drop of 35 transactions in this price range of $1.5 to $3 million.
After all this sturm und drang we are at about the same place for sales this year as we were last year with 340 sales compared to 336 sales last year. As always, and even more so this year, the devil and the angels are in the details.
You can look at the total house sales in July and worry, or you can look outside of the $1.5 to $3 million soft spot and see a market that is actually looking better than last year. Below $1 million, our market always tends to be tight, but this year it is particularly tight with only 3 to 4 months of sales supply. At the other end of the market, above $3 million, we are also looking better than last year. We are up six sales from last year in this upper half of our market.
The other really remarkable thing about these upper and lower market segments is the shrinkage in inventory below $1 million and above $3 million. We are down 23 listings below $1 million in the market that didn't have a lot of listings to begin with. Above $3 million inventory has dropped drastically. We're down 50 listings to only 281 listings compared 331 listings last year.
This large drop in inventory and slight gain in sales has led to some dramatic drops and months of supply. For example, from $5 to 6.5 million dollars we're down a year and a half or 18 months in the supply. In fact, the months of supply/market demand for the price segment has dropped so much that we have the same months of supply from $5 to $6.5 million dollars as we do from $4 to $5 million.
The market over $10 million continues to be weak, however inventory is down to 38 listings compared to 45 last year at the end of July. We also just had 6 Meadowcroft Lane sale for $13,065,000, but it is not included in these calculations, because it closed on August 1st.
We are already starting to see some buyers from the financial sector see that the Dow is pushing $22,000, a remarkable rise. I'm hoping we will see some more of this new asset creation shifted to the housing market as it traditionally has done in the past when the market goes up.
Mark Pruner is a Realtor in Greenwich, CT. He can be reached at 203-969-7900 or at mark@greenwichstreets.com