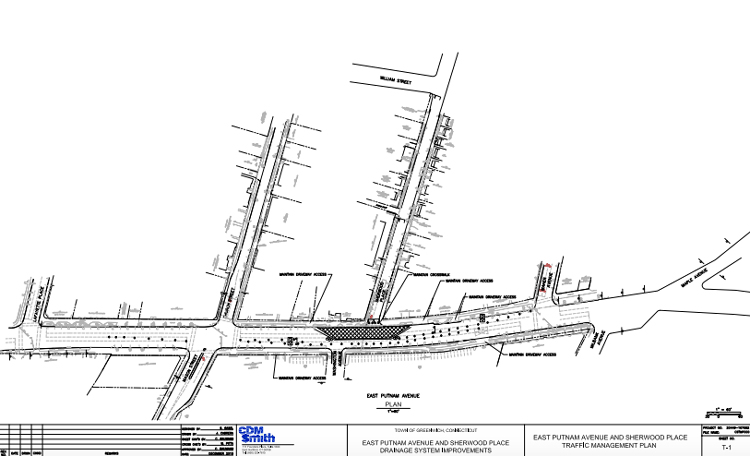 By Rob Katz
The intersection of Route 1 and Sherwood Place was closed on Tuesday, Aug. 1, beginning a shutdown that will last approximately one month as the Department of Public Works' Engineering Division improves the drainage system in downtown Greenwich.
During this phase of construction, Route 1 will be narrowed to one lane in each direction, according to a press release issued by the Engineering Division. During this time, access to local businesses and residents will reportedly not be interrupted.
Access to Sherwood Place from Route 1 will be "temporarily eliminated," with an established detour of Church Street to William Street to Sherwood Place.
"We recommend motorists take extra time when traveling the area and seek alternate routes whenever possible," the press release said.
As well, parking along Route 1 between Greenwich Avenue and Milbank Avenue will be "severely impacted" during this period.
"Prior to working in a specific area, on street parking will be posted with 'NO PARKING' signs," the press release stated. "Please take notice of the posted signs in the Town's right-of-way. Any vehicles that are parked in the restricted stalls will be towed.
In a statement emailed to the Sentinel, the Engineering Division's Deputy Commissioner, James W. Michel, confirmed that the traffic pattern had been put into effect.
"We ask for everyone's patience during this phase of the project and we recommend drivers seek alternate routes where possible," Michel said.
Those looking for more information, according to the press release, may contact Michel at 202-622-7767 or jmichel@greenwichct.org