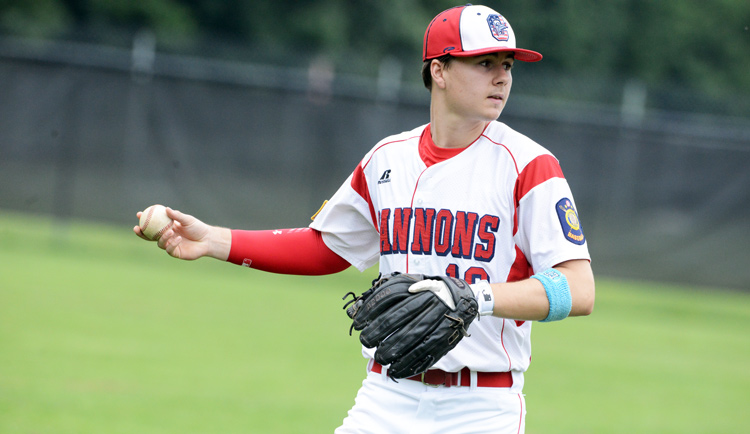 By Rob Adams
Sentinel Reporter
Trystan Sarcone scattered two hits over five innings and Kyle Woodring hit a monster home run as the Greenwich Cannons opened their American Legion playoff run against Middletown with an 8-1 win at Greenwich High School Tuesday afternoon.
The game, the first of a best-of-three series, resumes tomorrow at 2:30 at the GHS baseball field.
(To listen to a replay of the game against Middletown, press play below or click here)
"After having a week off, you never know how your team is going to come out and respond," Greenwich head coach Mike Abate said. "Is the rest good or is the rest going to make us rusty? But I'll tell you that the rest was good for us because our bats finally showed up. We've been missing them for the past couple of weeks and they showed up today. With our pitching and defense, it's going to hopefully make us be a tough team to beat."
Post 29 had everything going in the opening game of the best two-of-three series. The bats came alive, the defense was lights out and the pitching was its usual dominance.
"It's great to get the bats going, especially when Trystan (Sarcone) throws such a great game like that," Woodring said. "It's great that we can hit well and have the defense behind us, which is good. Getting this win tonight was absolutely huge. It's great to get a victory over a great team. It's nice to have the first game under our belts."
The Cannons opened up the bottom of the first with a leadoff single by Anthony Ferraro. Woodring walked with one out in the innings before Colin Kelly singled. Ferraro scored on a single by Conor Langan, and Woodring touched home on a groundout by Sarcone.
Up 2-0, the Cannons added more in a wild second frame. Ryan King singled with one out before the speedy Ferraro laid down a perfect bunt single. Eric Mini walked, and Woodring drove in a run with a single. A walk to Kelly made it 4-0.
"Walks and hits were big and the big bunt, where we took first to third on that bunt, was huge," Abate said. "Anthony's been doing that for us all year. It looks like the bats are turning around for us and that's a good sign."
That's when things got weird. Middletown started Scott Marks didn't come to the set position, according to the home plate umpire. With the balk being called, Mini trotted home to give the Cannons a 5-0 lead. That led to Middletown coach Tim D'Aquila venting his frustration and being ejected.
After the proverbial dust cleared, the Cannons loaded up again. Woodring swung at the first pitch of the bottom of the fourth and launched a majestic shot down the left field line, clearing the fence and landing in the woods for a home run.
"I've been struggling at the plate lately, so it's just great to get the bat going, especially for the team too," Woodring said. "We haven't been hitting too well as a team. Coach Mike said that hitting goes up and down and up. I think we are on the upswing. We really hit well today, which is good."
An Aaron Schur single later in the inning scored Kelly, who walked three times in the game.
Greenwich added one more in the fifth Mini and doubled and Langan brought him in with a sacrifice fly.
"We always need two out of the three," said Abate, talking about the team's pitching, defense and offense. "I'll take pitching and defense over hitting, but when all three are clicking, it's scary to see what this team can do."
In the meantime, Sarcone was on cruise control on the hill. The lefty from Brunswick allowed two base hits and struck out three before Brett Collins closed things out with two innings of relief.
"He was finding his stuff," Abate said. "He's out bulldog and he got ahead of hitters. He still didn't have his 'A' stuff, but he was able to do the job today on the mound for us. I've seen him pitch better, but he's that good that he can win when he doesn't have his stuff. It was special watching him pitch today."
The Cannons improved to 23-2 on the year. A win in either game on Wednesday clinches a place at Palmer Field – coincidentally in Middletown – for the balance of the Legion playoffs in Connecticut.
Editor's Note: Paul Silverfarb helped contribute to this article.