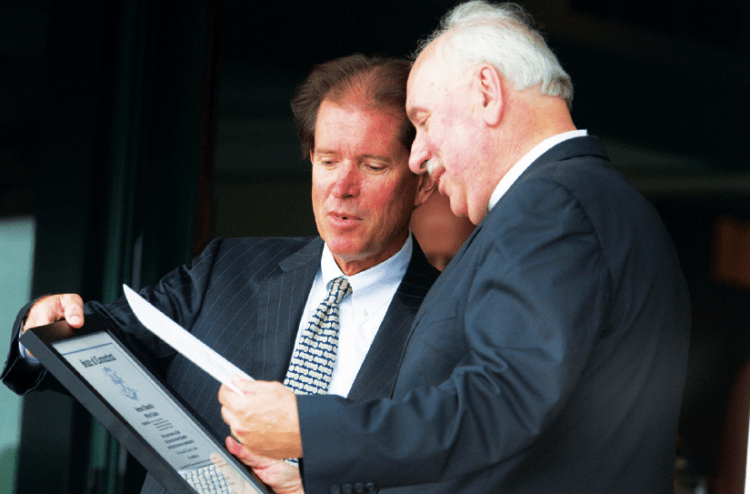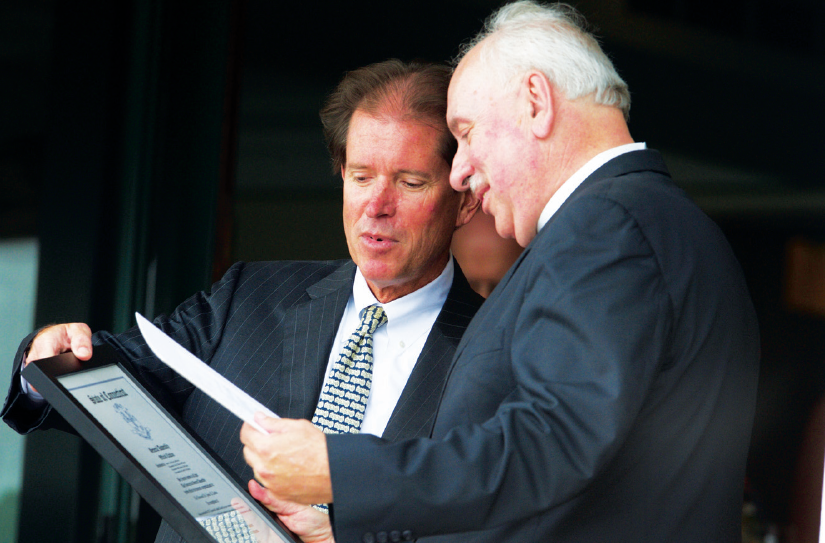 By Richard Kaufman
Sentinel Reporter
On the shores of the Long Island Sound at the picturesque Indian Harbor Yacht Club, the second annual Greenwich Sentinel Award dinner was held last Thursday night.
With perfect weather, delicious cocktails, good food and tantalizing items up for auction, the night was once again a major success. Attendees bid on prizes like Yankees-Mets tickets, dinner for two with Miss Connecticut, a ride-along on the Greenwich Police boat, and breakfast for four with U.S. Sen. Richard Blumenthal, among many others.
But the event isn't just a fundraiser; it's about honoring a member of the community who demonstrates leadership and seeks to strengthen those around him or her.
Considering those qualities, this year's recipient, the Rev. Dr. James Lemler, was an easy choice.
After 41 years of service with the Episcopal Church, the past 10 as rector of Christ Church Greenwich, Lemler, a nationally known leader, educator, consultant, preacher and pastor, is retiring and moving to Indiana with his wife, Sharon.
First Selectman Peter Tesei was on hand and proclaimed Sunday, July 2, as the Rev. James Lemler Day in Greenwich.
"Personally, Rev. Lemler has provided tremendous support and inspiration to me and my family as he has to thousands of other families and individuals throughout our town and beyond," Tesei said.
State Sen. Scott Frantz also spoke, and was quick to praise Lemler for representing good in the community.
"What you define is everything the Sentinel stands for," Frantz said to Lemler. "And that is community, spirituality, care, support for those in need and just being a really, really good all-around person and bringing joy to everybody's life every day."
Last year, Greenwich Police Chief James Heavey was awarded the first-ever Sentinel Award. Although Heavey and Lemler are in different professions and use different tools, they have a common bond in helping the town and community become a better place.
"You have really transformed the congregation that all of us love. The congregation that we call Greenwich," Heavey said before calling Lemler to the podium to receive his award.
Afterwards, Lemler was overjoyed as he reflected on what the night meant to him. "I'm just bowled over," he said. "This is fabulous."
The Greenwich Sentinel staff was in attendance as well. For Editor-in-Chief Paul Silverfarb, the night was all about having fun and honoring a staple of the community.
"The event was a lot of fun for everybody involved, but more importantly, it was great to honor such a wonderful person and what [Lemler] means to Greenwich," said Silverfarb. "The speeches were great, chatting with friends and colleagues is always a good time, and hearing Jim Lemler speak showed how highly he thinks of Greenwich. I wish James continued happiness during the next chapter of his life."
Sentinel publisher Beth Barhydt noted that Lemler leant support for the newspaper right from its inception.
"He's one of those people that brings the community together in a way that's very positive," she said. "He's a natural leader, and I think that's what everyone will miss—his leadership."
Lemler, who was once the director of mission for the Episcopal Church USA and dean and president of Seabury-Western Theological Seminary, said he will miss the people around him as he heads off to the Midwest and the next chapter of his life.
"First and foremost, I'm going to think about the people. I will think of the things we have accomplished in this community," he said. "There have just been so many memorable realities of peoples' care and compassion."
As the sun began to set on the event and the night, a loud boom rang out across the harbor, signifying that it was time to lower the American flag
Everyone stopped what they were doing, observed a moment of silence, and watched as the flag was lowered. It was a fitting way to head into the Fourth of July weekend, and a poignant end to the second annual Greenwich Sentinel Award event.