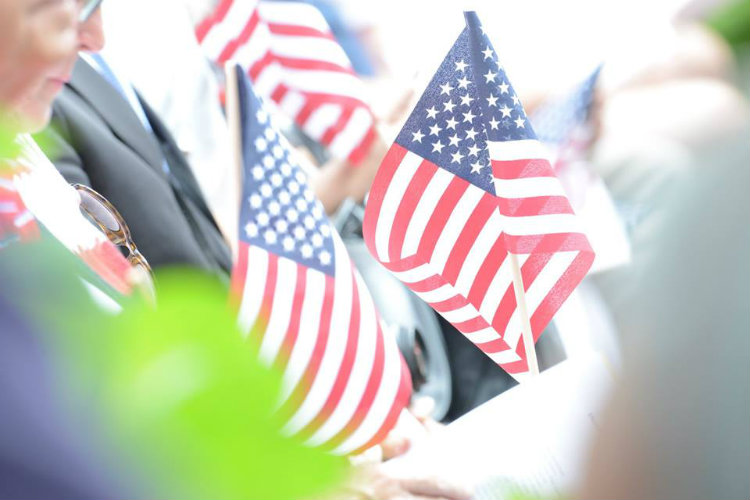 By Rob Adams
Sentinel Reporter
Greenwich showed off its best Americana on Tuesday with the annual Fourth of July ceremony at Town Hall.
A band played and speeches were made as Greenwich was pure red, white, and blue. The waving of small American flags permeated the event.
"It's the perfect day; the perfect weather," said Bea Crumbine, organizer of the event. "We know that the role that our town of Greenwich is going to be deeply honored and understood today, because you're all here to share it together with those important flags.
According to master of ceremonies Ed Dadakis, Greenwich first selectman Peter Tesei refers to Crumbine as "Greenwich's Goodwill Ambassador."
Crumbine offered that while everyone loves fireworks and barbecues, the real purpose of Independence Day is a little more meaningful.
"It should be – in a town like Greenwich – to listen, to understand, what made our town as we now know it," she said.
Crumbine also said she would be "passing her baton" along to the rest of her organizing team for future celebrations.
Miss Connectcut, Olga Litvinenko, and singer Stefanie Kies were among some of the faces in the crowd who entertained and greeted the attendees. Many dignitaries added weight to the morning, including sate Sen. L. Scott Frantz (R-36) and state Reps. Fred Camillo (R-151), Michael Bocchino (R-150), and Livvy Floren (R-149).
Music was provided by the Sound Beach Community Band, with Kies adding her voice to the proceedings.
"While everyday is a great day to be an American, the Fourth of July is especially important," Tesei told the audience.
Tesei went on to say that the day brings many people together, as well as serves as a reminder of the very founding of the United States.
Tesei said he has long been an admirer of former President Ronald Reagan, in part for his "unwavering patriotism."
Mr Tesei went on to quote the 40th President: "Let the Fourth of July always be a reminder that here in this land, for the first time, it was decided that man is born with certain God-given rights; that government is only a convenience created and managed by the people, with no powers of its own except those voluntarily granted to it by the people. We sometimes forget that great truth, and we never should."
Boy scouts paraded in with the flags of the original 13 states, along with the raising of the original colonial flag, more commonly known as the "Betsy Ross Flag."
Among the other organizations adding to the pageantry included Arch Street Teen Center and an honor guard from the Boys and Girls Club of Greenwich.
Descendants of Elizabeth Feake – generally known as the "founding mother of Greenwich" – were in attendance. Mary Ellen LeBien, a twelfth generation descendant of Feake and her husband, Robert, spoke on behalf of the family.
"She purchased property in her own name – almost unheard of in colonial days," LeBien said. "She managed finances and property."
She also taught her children to read and write, LeBien added, though she did also speak of the many hardships that the Feake family faced as well at the time, including setting sail to the United States from England as a widower.
Good Citizen awards were passed out to 25 students from each of the Greenwich-based schools, but a special commendation was reserved from Crumbine, who as she stated earlier in the program, is helming the last of her 13 ceremonies.
Thirteen, fittingly, as in those original colonies.
A letter was read from U.S. Sen Richard Blumenthal, and Crumbine was presented with a flag that flew over the U.S. Capitol in Washington.
"I could not think of a better symbol to represent our gratitude to Bea," Tesei said.
To conclude, the crowd moved inside Town Hall for – what else? – a birthday cake.