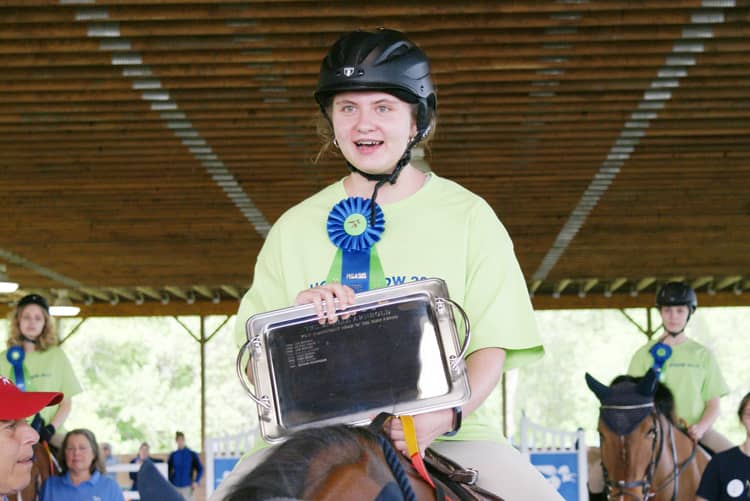 Cheered on by staff, volunteers, family and friends, Hannah Cunningham of Greenwich received the Michele Arnhold Independent Rider Award at the 35th annual Pegasus Horse Show on May 20. The award is given to a Pegasus participant who demonstrates a high level of independent riding.
"It has been a privilege to be a part of Hannah's journey with horses, one which I know will continue as a lifelong passion," said her instructor, Liz Fortes. "I have seen her overcome her fears and step out of her comfort zone, learning to trust not only her horse, but herself as well. Hannah's love and passion for horses has allowed her to become not just an independent rider, but a kind, compassionate, and capable horsewoman."
Hosted at the nonprofit's main equestrian center, Pegasus Farm in Brewster, N.Y., the 35th annual Pegasus Horse Show highlighted the equestrian achievements of more than 60 children and adults with special needs. This year's show was part of Transformations Weekend, which included two days of horse show classes and a celebration of the organization's past, present and future via the opening of Pegasus Farm's new Michele Arnhold Education Center. Built in loving memory of former Pegasus volunteer Shelly Arnhold, construction of the barn and education center was made possible through a generous gift from the Arnhold Foundation.
Grouped in classes of three to six athletes, each Pegasus Horse Show participant demonstrated skills he or she practiced during weekly lessons at one of the nonprofit's three chapter locations in Fairfield and Putnam counties. In addition to Hannah, several other area residents received awards for accomplishing a specific skill particularly well. Nina Cevallos of Cos Cob and Jamie Ann McGovern of Greenwich each won their class's ribbon for best half seat. Alexander Russo of Greenwich won his class's ribbon for best use of aids, and Isabelle Root of Old Greenwich won her class's ribbon for best posting.
Founded in 1975, Pegasus Therapeutic Riding is a PATH Intl. Premier Accredited Center that provides the therapeutic benefits of horseback riding and other equine-assisted activities to people with special needs, individuals at risk, and soon military veterans. Visit pegasustr.org for further information about Pegasus' programs or to make a tax-deductible donation in support of its mission.