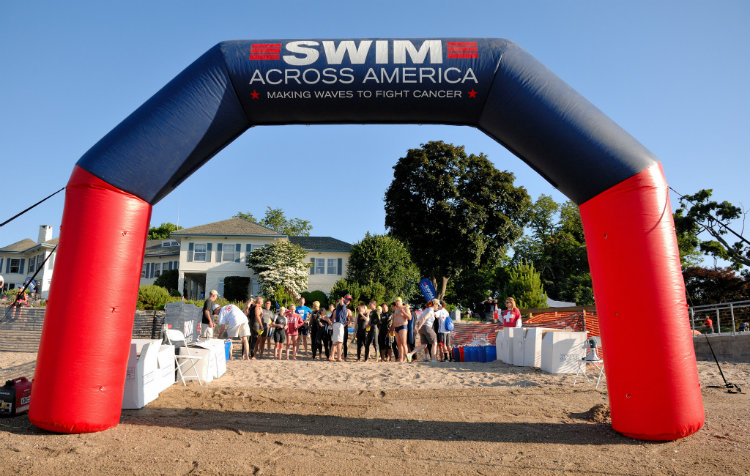 By Rob Adams
Sentinel Reporter
On Saturday, swimmers and supporters from all over Greenwich will cross into Stamford for the annual Greenwich-Stamford Open Water Swim, a part of Swim Across America.
Beginning at 96 Cummings Point Road, participants can swim a half mile, a mile and a half, or three miles. The event is open to all ages, with opportunities for volunteers to serve in boats, kayaks, and on land.
The goal is to raise money for Alliance for Cancer Gene Therapy, and is not competition. In fact, last year, the Greenwich-Stamford swim raised $440,000, which pushed their total to over $3 million raised since beginning in 2007.
But those are just some of the facts. Beyond that comes the stories.
"A few years ago my husband and I faced every parent's nightmare: our 17 year old daughter was diagnosed with lymphoma," said Lorrie Lorenz, co-chair of the Greenwich swim with Michele Graham. "For one of the first times in our lives, we felt powerless against this horrific disease; powerless as we watched her suffer the indignities and pain and sickness of her treatment. Powerless when her life changed forever in ways we couldn't control or appease.
"Swim Across America gave us measure of our power back. Here was something we could do to fight for a cure, to celebrate health and life, and to say to cancer, 'No, not today, and maybe not ever again.'"
Brooke Lorenz, a 2010 Greenwich High School graduate who attended the University of Colorado, has been cancer-free for six years and will be in the water again this weekend.
"I hope to use his passing as a catalyst for funding towards Osteosarcoma research," Brooke says via her Swim Across America page. "Julian (Fraser, a friend who died in February from Osteosarcoma) may be gone, but through events like Swim Across America, I will make sure his legacy lives on. Lives will continue to be saved by Julian."
Barbara Malone, a member of the Greeniwch High School swim team, is also a part of Team Julian.
"I grew up swimming with Julian at Rocky Point Club and looked up to him as a role model," she said. "Seeing what cancer can do to someone as young and strong as Julian hit close to home and really opened my eyes to the need to do something.
"As a 15-year old, I'm glad to be able to help in some small way – and hopefully we find a cure for osteosarcoma as soon as possible."
Lorrie Hokayem is the co-captain of the Team Julian group from Greenwich High School, along with Terry Lowe, the Hall of Fame swim coach. Hokayem is the girls' swim coach at GHS, and the 2016 Connecticut High School Girls' Swim Coach of the Year.
Julian's father, Alex Fraser will be an honorary speaker at the Swim Across America event.
"When Julian's disease was discovered, his main tumor was the size of a large grapefruit, and the cancer had metastasized or spread to 15 other parts of his body, including his lungs and spine," Alex said." "At the time of his diagnosis, there were really no viable options other than the strongest mix of chemotherapy, which was extremely debilitating and had decreasing effectiveness in slowing the advancement of his tumors. Other traditional therapies for cancer are radiation, which is effective in treating small areas of tumor, and surgery, which is not effective in a patient with many tumors like Julian."
Alex adds that doctors at Memorial Sloan Kettering developed something called phase I immunotherapy.
"Immunotherapy is where a lot of the advancements in treating cancers has taken place," he said. "Famously, Jimmy Carter recently was diagnosed with advanced melanoma, which would have been a death sentence ten years ago, but he was successfully treated with immunotherapy.
"Unfortunately, Julian was already too ill to start treatment, and this treatment is still only in its initial stages of development and testing, but the fact that an immunotherapy had been developed during the course of Julian's treatment shows the rapid advancement of immunotherapies in treating different types of cancer."
He further says that a portion of the proceeds raised by SAA has gone to osteosarcoma research at Stanford University.
"This year all of the money raised by Team Julian will go towards this research," he adds.
Co-chair Michele Graham's daughter Nicole was diagnosed in 2012 with leukemia. Nicole is now cancer-free and attends Dartmouth.
"Our family become involved with Swim Across America 9 months after Nicole's diagnosis," Michele said. "We had never been to the event, but it immediately felt like home. It is the most joyful, the most fun, the friendliest, and most beautiful event. Raising greatly needed funds for breakthrough cancer research is the most rewarding experience.
"Having gotten to see the groundbreaking cancer gene therapy that SAA and our beneficiary ACGT are pioneering, and talking to the people whose lives we are saving today, fills us with hope and motivates us every day. A cancer diagnosis is life-changing, but we are changing the face of cancer treatment. We are making waves to fight cancer with every stroke in the water."
Greenwich Academy and Brunswick will also be represented at Swim Across America. Diana Tramontano is their captain.
"To me, Swim Across America is a powerful event because it allows people of all ages to make a difference in an important cause," Tramontano said. "It is unique in its ability to raise awareness in a friendly and supportive manner. It is truly inspiring to see how much of a difference we can make in cancer research through swimming."
She added that meeting Dr. Samuel Katz from Yale University had a large impact on her. Dr. Katz is one of the recipients of the funds raised by the Greenwich-Stamford Swim Across America.
Over 300 swimmers and 100 volunteers will take part in the continued effort to eradicate cancer, with the first group hitting the water at 7:30 Saturday morning. The event will continue through an awards ceremony at 10.
For more information, please visit swimacrossamerica.org/greenwich.