June 22, 2017
ALS Bike Trek Honors the Late Roger Petrone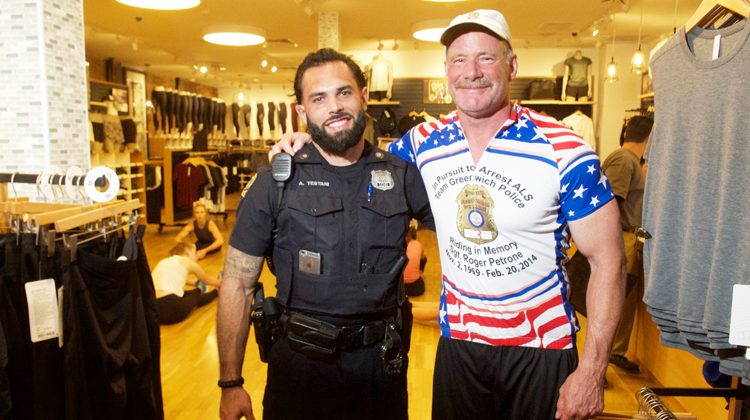 Carolyn Paletta
Sentinel Correspondent
Hundreds of bicyclists will be cycling down Greenwich Avenue this Sunday to reach the finish line of the ALS Therapy Development Institute's Tri-State Trek, a 275-mile bike ride that begins in Newton, Mass., and ends in our own Roger Sherman Baldwin Park.
The finish line was originally in White Plains, but was moved to Greenwich to commemorate Sgt. Roger Petrone, an 18-year veteran of the Greenwich Police Department who died from ALS three years ago at the age of 42. Petrone was diagnosed with ALS in 2007, and since then members of the police force have been riding in the Tri-State Trek as Team Greenwich Police in his name.
ALS, also known as Lou Gehrig's disease, is a fatal neurodegenerative disease that gradually debilitates motor neurons throughout the body, causing a person to lose strength and voluntary muscle movement and resulting in paralysis over time. There is currently no cure for ALS, but the ALS Therapy Development Institute (ALS TDI) has recently identified a promising new antibody that needs funding to go to clinical trials.
Lt. Richard Cochran, a retired 35-year veteran of the Greenwich police force, was Petrone's partner when he was diagnosed.
"We had to complete a physical agility test, and I remember the day we were to do the test he couldn't grip the bar to do a chin-up," Cochran said. "He came to me on the day that he found out and said, 'Rick, I have ALS,' and I told him I didn't know what ALS was. Then he said, 'I have a death sentence. I have three to five years to live'. We both broke down. I mean what do you say to that?"
Petrone's daughter Sydney was six years old when her father was diagnosed, and she has since become an ardent activist for ALS. Now a rising sophomore at Greenwich High School, she has held multiple fundraisers to support Team Greenwich Police and the ALS TDI, including a fitness fundraising class at Lululemon this past Monday.
"It feels good to be able to do something to help," Sydney said. "Not a lot of people know about ALS, and I like that we're able to get more people to participate and find out about it."
Sydney started her fundraising efforts when she was only seven years old, and has raised thousands of dollars for the cause by organizing bake sales, community events, fitness classes and more. Sydney's mother, Denise Petrone, said she has consistently demonstrated leadership and strength in honoring her father's memory.
"I'm very proud of my daughter and all the work she's done and the effort she's put forth in raising awareness and money for the cause," Denise said. "It has helped her to overcome fear and worry and channel that energy in a positive way. Although he's no longer here, she continues to make sure that he's not forgotten and that there's a lot being done to help."
Both Denise and Sydney will be cheering on participants and leading the bicyclists down Greenwich Avenue towards the finish line this Sunday. One of the final rest stops along the route has been named the Roger Petrone rest stop, to commemorate the place he used to sit and support the bicyclists coming over the hill.
"You knew Roger was going to be at the top of John Street," Cochran said. "Even though he was confined to a wheelchair, he had the biggest grin on his face, and it was just an inspiration. It's one of the most difficult hills of the ride, at a 13 percent incline, and after doing 280 miles, the last thing you want to do is hit this hill, but we knew Roger was up there waiting for us."
About 30 people will be biking for Team Greenwich Police this weekend. Those who want to support the cause can sign up for a one, two or three day bike ride, donate to the ALS TDI online or show up at Greenwich Avenue this Sunday to help support the bikers as they come down the final stretch. All proceeds will go towards ALS TDI to help find a cure.
For more information on the Tri-State Trek or to donate to Team Greenwich Police, visit tst.als.net/teamgpd.
Tags:
ALS
,
ALS TDI
,
greenwich
,
Roger Petrone
,
Tri-state trek