June 21, 2017
Jeff Grant is Feature Speaker at TNP Library Series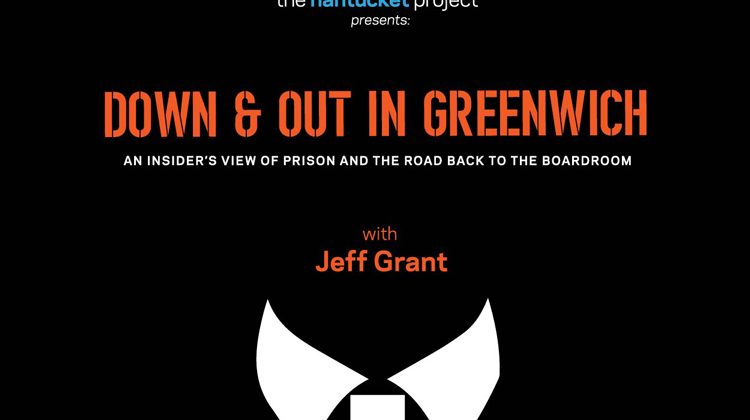 The Nantucket Project (TNP) Library presents "Down & Out in Greenwich
An insider's view of prison and the road back to the boardroom," Tuesday, June 27 at 7 p.m.
TNP library welcomes Reverend Jeff Grant. Grant is the Executive Director of Family ReEntry and is the first person incarcerated for a white-collar crime to be appointed CEO of a major criminal justice non-profit. He also serves as Executive Director of Progressive Prison Ministries, the first ministry to provide confidential assistance to individuals and families with white-collar and other nonviolent incarceration issues.
Grant ended up in prison for committing fraud. He became addicted to prescription painkillers after an injury in 1992. As a result, his law firm in Westchester began to fail and in the haze of a nearly decade-long addiction to Demerol, Grant made the fateful decision that would change his life.
While in prison, Grant spent three or four hours a day walking on the track and by the time he was released fourteen months later, he'd walked nearly 3,500 miles. He used all that time to get to know other prisoners and what they worried about most as they prepared to go back to their normal lives.
Grant knows what people should do immediately upon sentencing. What to do, and not do, to survive in prison. What the family must do during his absence. And how they can rebuild their lives. Now, he's sharing his knowledge and experience. His story is not just for those who have been incarcerated, but for anyone who's ever found themselves starting over.
The Nantucket Project Library is located at 123 Mason St. Admission is $10, and
RSVP is required at nantucketproject.regfox.com/jeff-grant-tnp-library-event
Tags:
Family ReEntry
,
greenwich
,
Nantucket Project Library
,
prison
,
TNP