June 18, 2017
Det. Jeff Stempien: From Retirement to Wedding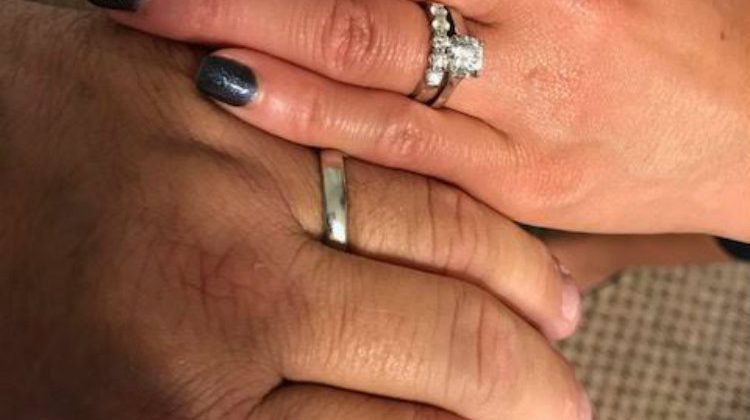 By Rob Adams
Sentinel Reporter and Broadcasting Manager
Detective Jeff Stempien knew. A good detective always does.
A veteran of the Greenwich police department with over 34 years of service, Detective Stempien knew it was time to step down.
Sort of. But let's not get ahead of ourselves.
First up was the "dinner." Except he knew it wasn't dinner. Detective Stempien knew – again, he's a detective – that it was a retirement party. So he made plans to make that retirement party even more special.
He got engaged. Then married.
His girlfriend, Mae Vargas, has lived with him for over four years. Their plan was go to the Philippines to get married with her parents, but one does not simply jump on a plane and go there to do so.
There's the matter of the 18-hour flight (and Det. Stempien isn't a huge fan of flying since an event earlier in his life). Now factor in paying a visit to the U.S. Consulate to get married.
No, Detective Stempien had other plans. He said he didn't want a retirement party, but if Mae was going to plan one, he was going to make it worth it.
"As a cop, I knew what's up," he said. "I was taking garbage to the dump – she always overstuffs the bags – and I saw a list of my closest friends. I saw a missed call from Gabriele's Restaurant. Dan Gabriele and his wife, Sue are actually good friends of ours."
He figured he'd call their bluff by getting tickets to a Yankees game that same night.
"I'm a big fan," he said.
He told friends that he was going to get tickets, and the reaction said all he needed to know.
"He wouldn't look me in the eye," he said. "A detective knows that's a sign. Eye contact is everything."
So he told Mae that he had those precious Yankees tickets. Still, no dice. Mae said that they had dinner plans that night at Gabriele's with their friends Lorraine and Tom. The detective was undeterred, saying that dinner could happen any night, but the baseball tickets were specifically for that night.
Lorraine was ready with an answer. She texted Det. Stempien – no less than five minutes later – to say that they had a gift certificate to use and that it would expire if they didn't use it that night.
So if he had to go through with being at his own retirement party, he needed to get to work on Plan B. He knew it was time for he and Mae to marry, and he was determined to make it happen that night.
But hold on. Why retire? He still loves the job.
"You know when it's time to go," he said. "I could stay another 10 years, but my dad died when I was very young. I'm 58. It was time."
Oh, but back to that point about "sort of" retiring. Well, he is. That's true, but one day later, he'll be back.
On Aug. 31, Det. Stempien will indeed step down from his position. On Sept. 1, he will be sworn in as a special Police Officer.
"We augment the regular staff," he said. "I was a special for three and a half years years when I was 21."
There's a lot to Detective Jeff Stempien that you should know. He's accomplished a lot with the Greenwich Police Department, of course, but that's not everything. He has a sister and a son, Michael, who he describes as "his rocks."
There's the Yankees, of course. But he's also an avid boater, having done so since he was 12 years-old. Plus he's also a carpenter, and he has his own business. Still he stepped away from that because he had hurt his shoulder. It's something he loves though, and he'll get back to that also.
In the meantime, he worked with his friends at Betteridge jewelers on Greenwich Ave. to help select a diamond, a setting for the engagement ring, and wedding bands. His sister assisted with flowers and a cake.
That morning, he chatted with Michael, 31, and a detective in Stamford.
"My son said, 'outstanding!,'" he said.
So the big night arrived. Lorraine, Tom, Mae, and Det. Stempien walked into Gabriele's for dinner, only to be told they have to go upstairs for their table. Of course, waiting upstairs were the friends and family he anticipated.
"I had to act surprised," he said.
But he had the ultimate surprise for all of them.
First he announced that he pulled back his retirement papers. He had his captain believing that.
Then he addressed the crowd. He spoke of Mae, and briefly spoke of his retirement. But mostly it was about Mae.
"I greeted my guests and grabbed a mic and told about the original wedding plans," he said. "I briefly discussed retirement and got right back to talking about marriage."
"Isn't this a retirement party?," somebody in the room asked.
Well it was. But now it was about to become something different.
He got down on his knee and proposed. After initial shock and confusion, Mae agreed.
The newly-engaged couple exchanged thoughts about when they would be married, but Det. Stempien was ready.
"We're going to do it right now," he recounted.
"But we need a reverend," Mae said.
Det. Stempien had an answer for that also. The Rev. Thomas L. Nins, chaplain to the Greenwich Police Department, had been mingling quietly before being called on to meet the new prospective bride.
With 40 friends in the room, and Michael serving as the best man, Detective Jeff Stempien and Mae Vargas took their vows.
It's a perfect end to a romantic story that took all of the pressure off of that retirement party.
"We turned a surprise retirement party into a surprise engagement party into a surprise wedding," he said.
Tags:
engagement
,
Gabriele's
,
greenwich
,
Greenwich Police Department
,
Jeff Stempien
,
Mae Vargas
,
police
,
Rob Adams
,
wedding