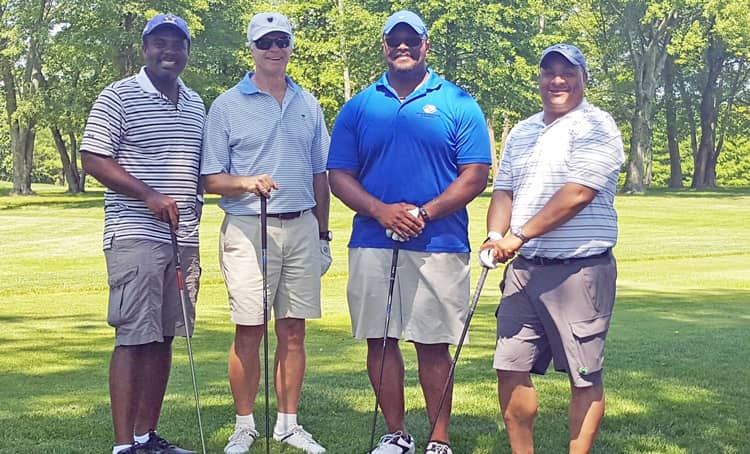 By Mike Verrico
Sentinel Correspondent
On a day more fitting to be at Tod's Point or sailing from the Greenwich Yacht Club, more than 100 hearty and enthusiastic golfers teed off at the 14th annual Boys and Girls Club of Greenwich Golf Tournament held at Griffith E. Harris Golf Course.
It drew a host of Boys and Girls Club executives, board members, employees and volunteers, along with local executives, business owners, first responders and other supporters who helped raise funds for the national non-profit organization, whose famous red-brick building on Horseneck Lane has provided children with after-school education, recreation, and leadership opportunities for decades.
Throughout the day, golfers could be seen laughing, chatting and cheering one another on as they traversed the 51-year old course, partially designed by the late, great golf course architect Robert Trent Jones.
Before the golfers teed off, BGCG CEO Bobby Walker Jr. gave the golfers a few inspiring remarks.
"I just want to thank all of you for coming out today on such a hot and steamy day," he said. "Having all of you here and knowing that you are supporting the work that we do, for young kids in the community, to give them a safe place to go after school is really important to us. One of the beautiful things about the club is that on any given day, nearly 325 kids are there to enjoy all the things we have to offer. It is not just kids today, but it is the fact that we have been taking care of kids in Greenwich for 107 years so it is a very special institution. I want to thank you so much for coming out today. Just hit 'em long and straight."
"It was an outstanding day in every regard," said George Fox, chairman of the BGCG's board of directors. "The atmosphere was fantastic and it was great to see everyone come out to show their support for the Boys and Girls Club of Greenwich, which helps to benefit children here in the community."
This year's tournament was sponsored by such prominent area-based companies as Cardinal Capital, Griffith E. Harris Insurance Services LLC, Vineyard Vines, Titan Advisors and MCA Associates, and featured a lively after-golf party, complete with delicious food and prizes, from signed baseballs from Yankees stars Aroldis Chapman and Gary Sanchez to four Mets tickets donated by the Wilpon family, co-owners of the Mets, and two tickets to a Yankees game donated by the YES network.
"It's all about participation and camaraderie here, and what unites it is the mission of the club," said Walker.
The BGCG offers young people ages six to eight years old, high-quality educational programs, building a sense of character and citizenship, maintaining diversity, and offering kids a safe, nurturing, and affordable environment. After-school programs in sports, the arts, computer technology and leadership every weekday, with activities on nearly every day.
In addition to activities at the club, members can take part in Camp Simmons, 77 acres of beauty and wilderness on Lake Avenue featuring an outdoor swimming pool, an archery range and a pond for boating and canoeing. Campers can take part in special events and themed days like Holidays in July and weekly fishing derbies. As Tanglewood is the summer home to the Boston Symphony Orchestra, Camp Simmons is a summer destination for kids to appreciate the joys and beauty of the outdoors during the summer.
Perhaps more than anything, golfers who participated in the tournament seemed to understand they were helping to support an organization that represents a home of sorts to so many young people in Greenwich.
All proceeds from the 14th annual Boys and Girls Club Golf Tournament goes to its funding of its programs.