June 10, 2017
Greenwich Students in Art Show at Maritime Aquarium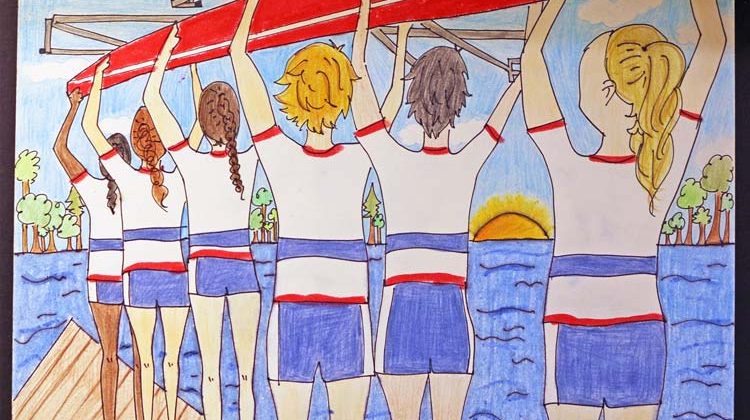 Drawings by 13 Greenwich students are among those featured in a special gallery show featuring 146 works by children from 18 countries, now open at The Maritime Aquarium at Norwalk.
Students from North Mianus, Julian Curtiss, North Street, Glenville and Greenwich High schools have entries in the International Children's Art Exhibit, presented by Creative Connections of Norwalk now through Sept. 4. The exhibit is free because it is displayed in The Maritime Aquarium's IMAX Theater lobby, which can be entered without paid admission.
Theme of the 2017 show is "Team Up!" The drawings and paintings were created by children in Grades 3 to 12 who were asked – through Creative Connections' ArtLink program – to draw and paint pictures that show "the many ways they or others in their country, community or families come together to achieve a goal."
From the 5,000+ pieces submitted globally, entries for the Aquarium gallery were chosen by a panel of educators and artists for "the keen cultural insight each communicates." There are works by students from throughout Fairfield County, Connecticut and around the world. Pieces are included from such countries as Uganda, Nigeria, Japan, Jordan, Cyprus, Russia, China, Sri Lanka, Guatemala and Brazil.
Previously, during the school year, art by the American students was exchanged with pieces by students from overseas, allowing insights into their partners' cultures. Many schools also held videoconferences with an international school to share details about the project and themselves. Generally, the exhibit proves that moments or topics chosen as meaningful by Connecticut students – family, friends, traditions, faith and activities – are similarly important to children around the globe.
Creative Connections is a non-profit international cultural exchange organization that educates young people by encouraging their awareness, understanding and appreciation of other cultures as well as of their own. Learn more at creativeconnections.org
For more information, go to maritimeaquarium.org or call 203-852-0700.
Tags:
Art Show
,
children's art work
,
greenwich
,
Maritime Aquarium
,
students