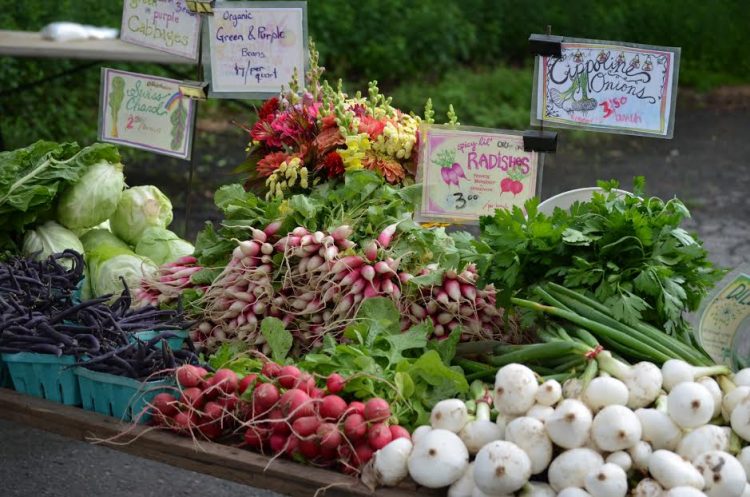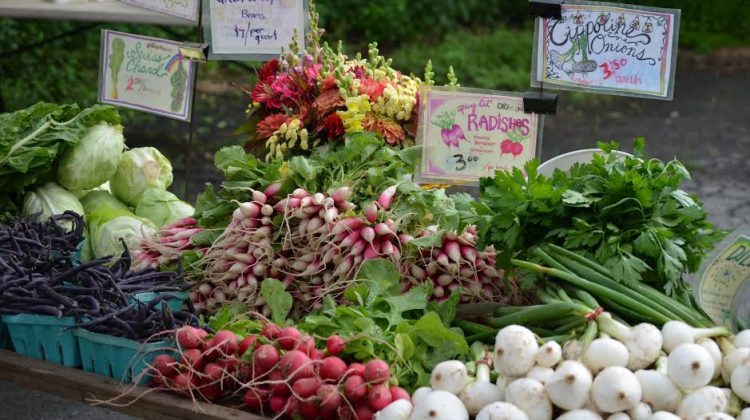 By Richard Kaufman
Sentinel Reporter
The angle of the sun is changing, the days are getting longer, and there's that certain feeling in the air that another summer is almost here. But one of the surest signs that the seasons are starting to transition is the re-opening of seasonal farmers' markets in the area.
The Greenwich market will run every Saturday from 9:30 a.m. to 1 p.m. starting on May 20 and stretching into December at the Arch Street and Horseneck Lane commuter lot.
The Old Greenwich market will take place every Wednesday starting on May 31 from 2:30 to 6 p.m. and continuing until Thanksgiving at the First Presbyterian Church parking lot at 38 West End Ave.
The Greenwich market consistently has 16 to 18 vendors every season. This year, there will be everything from shellfish by Norm Bloom and Son LLC out of Norwalk to goat cheeses and yogurt from Beltane Farm, located in Lebanon, Conn.
Of course, there will be the traditional produce options from the likes of Plasko's Farm and Riverbank Farm, which have been two staples since the market started nearly 30 years ago.
Some of the other vendors include Farming 101, which will dish out heirloom tomatoes, Woodland Farm, which will sell fresh fruits and ciders, and Sankow's Beaver Brook Farm, which will feature lamb products and raw milk. Customers can get jams and persevered vegetables from The Herb Basket LLC.
Judy Waldeyer has been the manager of the Greenwich market for just over 20 years. During her tenure, she says the market hasn't changed much, aside from new vendors that come and others that go. Her favorite part about running the market is interacting with vendors and customers, and in some cases, watching them grow up.
"We just have a very good camaraderie with our customers," she said. "[There's a little boy who comes to the market], he's about nine or 10. He comes by and waves to me every Saturday, and he's so impressed that I know his name."
The Old Greenwich market is entering its seventh year, and is run by local residents Amy Burke and Dana Evans. Inspired by roadside tomato stands they stopped at as kids, the two decided the town needed a place where people could gather and take home fresh produce and food.
"I think really what drives it is that it's a community gathering, not just shopping," Evans said.
Featuring produce from Back 40 Farm, Riverbank Farm and Smith Acres among others, Abilis will come and sell their micro-greens as well.
Bread can be had from SoNo Baking Company and pickles, hummus and soups will be available from Carrot Top Kitchen. Customers can also find gourmet, handmade ravioli from Bongo & Capacci Pasta, empañadas from a new vendor, Empañadas On The Go, and handmade pies from Lulu's Southern Pies.
Dog lovers can even get treats for their four-legged friends from Paul's Custom Pet Food.
Evans said they plan on having around 14 vendors this season, some of which will rotate on a bi-weekly, monthly basis.
Although the Old Greenwich market isn't expansive, it makes up for it in other ways. "It has a real neighborhood feel," Evans said.
Burke and Evans plan to have musical performances rotate in and out throughout the summer. Local recording artist Griffin Anthony will perform on opening day.
Farmers' markets have become increasingly popular in the Northeast over the last couple decades, and have really gained momentum throughout the past few years.
There are a few reasons why these markets have flourished. According to Neal Kaufman, owner of Bongo & Capacci Pasta, because the economy slipped and the restaurant business dipped 10 or so years ago, people were looking for alternative ways to stay close to home while spending their money on food.
Kaufman believes farmers' markets provided the perfect venue for the public to shop at. But now the markets have to adjust in order to compete with regular retail supermarkets.
"The farmers' markets brought locally grown fresh produce directly to its customer and displayed it in a proper light," he said. "The big retail supermarkets have copied that, and now the farmers' markets need to take the next step, whatever that may be."
When the markets began to boom, this also coincided with a newfound, healthy mindset in the country. Words like "organic, farm-to-table, shop local" have all entered the lexicon. What better place to find these things than at a farmers' market?
Evans, who comes from the baby-boomer era, says the country has come out of the TV-dinner, convenience age and into the health-conscious age.
"I think younger people are much more interested in health and the source of their foods," she said. "I think we also have a responsibility for preserving our land.
"The overall thing is just the message of food choice. You don't have to always shop at a supermarket. I don't feel like you always have to shop at Whole Foods, either. All are great and they all have a place, but it's really nice to support our state and our local farmers."
The markets have also become a new setting for friends and families to catch up, according to Waldeyer, the Greenwich market manager. "It's a social gathering. There are people that come, shop and leave. There are people that come, buy, linger and meet with friends," she said.
"You see parents coming after their children's soccer game because the children are still wearing their soccer uniforms. It's a place where people know they're going to be and they set aside time for that every single weekend."
Evans noted that even when it rains, there are customers who determinedly show up. "It always surprises me," she said. "It's like an errand. 'Oh, I've got to go to the cleaners, then I've got to go pick up eggs from the farmers market.'"
Both markets are in the process of finalizing paperwork from vendors. As the weather warms up, farmers' market season is officially upon us. It all begins on Saturday in Greenwich, and on May 31 in Old Greenwich.
"It's the calm before the storm," Waldeyer said.