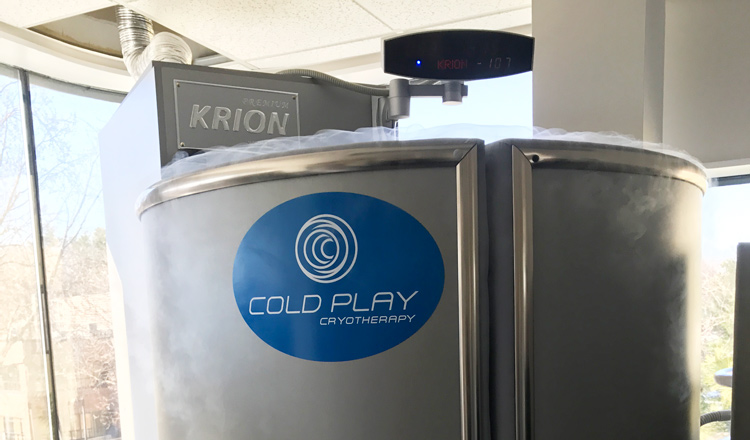 By Michelle Moskowitz
Sentinel Correspondent
Since ancient times, people have been using the therapeutic powers of extreme cold in preventing disease, healing pain, reducing inflammation, and improving one's overall health.
And while spring may have arrived, Greenwichites are flocking to Cold Play Cryotherapy, a whole-body cryotherapy center and recovery lab at 67 Holly Hill Lane, offering a variety of cold therapy treatments said to benefit both body and mind.
Cryotherapy consists of exposing one's skin to extreme temperatures, ranging from minus-120 to minus-190 degrees Celsius, generally for one to three minutes.
During this process, thermoreceptors in the skin send messages to the brain, signaling the body to enter "survival mode" by sending hyper-oxygenated blood to the body's vital organs.
The theory goes that by stimulating the body's natural responses, the body rids itself of toxins and activates the body's natural cell regeneration cycle to produce newer, healthier cells.
Some of the many touted benefits of cryotherapy include: athletic recovery and performance, alleviation of joint and muscle pain and inflammation, increased blood circulation, and a boost in one's mood and energy level.
While cryotherapy has become more widespread in the United States over the last decade, Japan was the first to introduce the therapy in the 1970's—as a mechanism to treat patients suffering from rheumatoid arthritis.
Today, there are approximately 500 cryotherapy centers across the country, but Cold Play Cryotherapy is the first and only center in Greenwich.
It was reported that KryoLife, a Manhattan-based cryotherapy spa, was scheduled to open a Greenwich location a few years ago, but it never did.
Proprietor Mehdi Alami, an entrepreneur in the health and wellness industry, was first introduced to the treatment when it was recommended for his son, who was suffering from a hockey injury.
The effects were quite impressive and it spurred him to further explore the fundamentals of the therapy process.
"Throughout Europe, cryotherapy is often medically prescribed for many ailments, as it has an analgesic effect on the body," said Alami. "After doing much research, I felt that Greenwich could really benefit from our treatments, and they have."
Cold Play Cryotherapy, which opened its doors this past December, has garnered a steady flow of clients—all by word of mouth.
"The goal is to have as many sessions in close succession to experience the true benefits of cryotherapy, but many of our clients say they feel energized, rejuvenated, as well as experience a reduction in pain, after just one session."
In fact, while this interview was being conducted, there were a few clients scheduled for treatments who said they visit the center about four or five times per week.
Also during the interview, two men arrived who had heard about the center from friends, and were eager to try it for the first time.
One long-time Greenwich resident, and regular client at Cold Play (who wished to remain anonymous) swears by the immense joint relief she experiences as she battles Lyme Disease.
"It will absolutely make your day. It totally energizes you, makes you sleep better, and provides lasting relief for pain."
Casey O'Brien, who grew up in Greenwich, is the manager at Cold Play, and her easy-going calmness and gentle, welcoming smile puts one instantly at ease, particularly for first-timers, like this reporter, who may be a tad apprehensive about being subjected to the freezing cold air.
Alami says many famous athletes, such as Cristiano Ronaldo and Lebron James, have been using cryotherapy to boost their recovery time from an injury, as well as to enhance their game.
"We have many professional athletes coming here, people from cross-fit, trainers, as well as high school athletes," said Alami.
Their most widely utilized treatment is the full-body cryosauna, a state-of-the art machine that envelops the body in ultra-cooled environmentally safe nitrogen gas, from one to three minutes.
A person's skin temperature gets reduced by approximately 30 degrees, resulting in hormonal, biochemical and mental therapeutic effects.
During vasoconstriction, toxins are flushed from the joints and muscle, as red blood cells become enriched with oxygen, nutrients and enzymes.
Prior to entering the cryosauna, clients are offered a fresh pair of disposable socks, ultra-warm Ugg Boots, and wool mittens—all of which are worn inside the cryosauna to protect one's extremities.
Undergarments may be kept on (unless a bra has an underwire, then it must be removed as it can stick to the skin).
Clients can also choose any music, aimed at instilling a sense of relaxation, as O'Brien prepares the high-tech machine for usage.
The cyosauna continues to rotate, allowing one to gaze out of the windowed treatment room, and perhaps find a welcome distraction from the immersion of frigid air.
This reporter, who experienced the cryosauna, felt proud that she made it to two minutes and fifteen seconds—more than what she expected to tolerate.
While the time did pass quickly enough, the surge of cold did in fact provide a surge of energy as well as excitement.
According to the company's website, cryotherapy can also aid in weight loss, as one burns approximately 500 to 800 calories over the next 12-15 hours after a treatment.
Alami says that while many clients gain incredible overall benefits from the cryosauna, they have many clients suffering from injuries who are partial to the "localized" cryotherapy treatment.
This targeted therapy works to reduce pain, inflammation, and swelling in one specific area and can be compared to icing, but is much more powerful and efficient.
Other treatments offered at the center include the CryoFacial, designed to stimulate collagen, minimize fine lines and wrinkles, reduce pores, and even treat skin disorders such as eczema, dermatitis, and psoriasis.
This reporter experienced the CryoFacial as well and found the cold exposure much more tolerable on the face, and even quite refreshing.   
During the CryoFacial, clients lay repose in a sophisticated, therapeutic massage chair, which kneads and soothes muscles throughout the six-minute treatment, adding to the overall experience of relaxation.
According to O'Brien, repeated facial treatments help the skin regain its natural glow, without any downtime or the need to remove make-up, making it a perfect on-the-go refresher.
While the benefits of cryotherapy vary from person to person, one thing that does seem consistent is the number of people (including high school students) coming to the center to be treated for pain relief—a welcome alternative to pain killers, especially given today's epidemic of opioid addiction.
In fact, one of the touted benefits listed on the Cold Play website is a "reduced pharmaceutical dependency on addictive pain killers," as the exposure to cold temperatures triggers the release of endorphins—the body's natural pain inhibitor.
Alami referred to one high school student who recently injured his ankle playing lacrosse and had sent him an email thanking him for the immense pain relief and reduction in swelling he received after just one session.
All clients are required to fill out a waiver form, as well as a detailed physical history form prior to use, ensuring a client is suitable for treatment.
In addition, O'Brien measures one's body temperature after each treatment to ensure it has returned to its normal level.
Prices vary among treatments and packages selected.
Cold Play also offers cryotherapy parties and special events as well.
Alami says he plans to expand the center's therapeutic offerings, as well as open additional locations in the area.
Hours are Mon. through Fri. 9 a.m. to 5 p.m. and Sat. 9 a.m. to 12 p.m. by appointments only.
Call (203) 349-3400, or visit coldplaycryo.com to schedule an appointment or to get more information.