May 4, 2017
Kangarlou Talks on the Syrian Crisis, 'Art of Hope'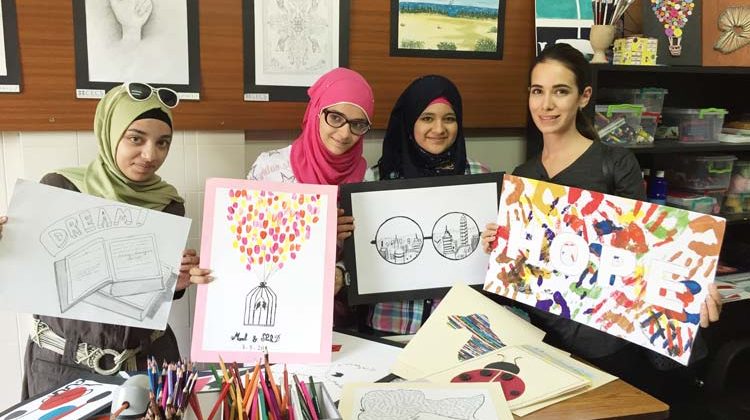 Award-winning international journalist Tara Kangarlou will share her experiences in the field covering the Syrian refugee crisis, and discuss her own efforts to alleviate the traumas among some of the most vulnerable refugee populations, in a presentation on Sunday, May 7 at 11:15 a.m., at the First Congregational Church of Greenwich.
Kangarlou has written, reported, and produced for CNN, CNN International, NBC Los Angeles, Al Jazeera America, the Huffington Post and Al Monitor. She has spent much of the last few years in the Syrian border regions of Lebanon, Jordan, and Turkey, where she has witnessed and reported on the Syrian conflict first-hand. In 2016, she founded "Art of Hope," a 501(c)(3) charitable organization based in New York City that provides alternative educational and vocational training for women and art therapy workshops for children.
Born and raised in Tehran, Iran, Kangarlou immigrated to the United States in 2003, earning a B.A. in English Literature from UCLA and an M.A. in Journalism from USC before launching her broadcasting career. She has lived most of her adult life between the United States and the Middle East. Her primary residence is now in New York City, where she is a visiting scholar at The East West Institute.
"The mission of 'Art of Hope' is to bring back a sense of self-worth, dignity, and normalcy for refugee women and children," says Kangarlou, "an inner strength and confidence that can help them overcome the harsh realities of living life as survivors of war, whether in a host country or back home in Syria." Her appearance in Old Greenwich is arranged by the First Church Refugee Task Force, which is also currently sponsoring a refugee family from Afghanistan.
For more information, visit fccog.org or artofhopeglobal.org
Tags:
First Congregational Church
,
greenwich
,
presentation
,
Syrian Refugee Crisis