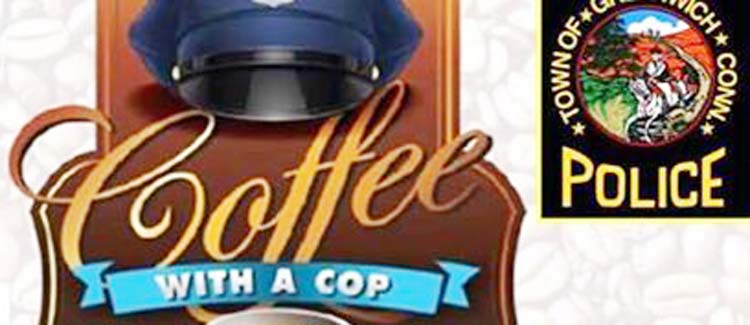 By Richard Kaufman
Sentinel Reporter
On Tuesday, May 2 at the Riverside Commons Starbucks, located at 1253 E. Putnam Ave., the Greenwich Police Department will hold a Coffee With A Cop event for the public.
The event is scheduled to take place between 8:30 to 10:30 a.m.
Started in 2011 in Hawthorne, Calif., the Coffee With A Cop initiative has taken place in all 50 states and reached as far as Canada, Europe, Australia and Africa, according to the program's website.
The purpose of the program is to open the door for interaction between police departments and communities outside of the crisis situations that usually bring both sides together. Greenwich has taken part in this initiative for about a year and a half, according to Capt. Kraig Gray.
Several GPD officers—all from the patrol division—will take part in the event. Gray believes Coffee With A Cop gives people the ability to address neighborhood problems that might not feel pressing enough to make a call to the department.
"Sometimes it's also just an opportunity for them to get a perspective of the police officer about the community or some other bigger issues nationally," Gray said.
Or the public can simply come have a cup of coffee and thank the men and women that serve the town.
The GPD has long been interested in staying connected to people in the community.
Gray noted that the department takes part in many other programs in order to be active and visible, such as the women's self defense course.
But Coffee With A Cop isn't structured, nor does it follow a particular outline.
"There's no agenda, there's no plan," Gray said. "It's just conversation and coffee."