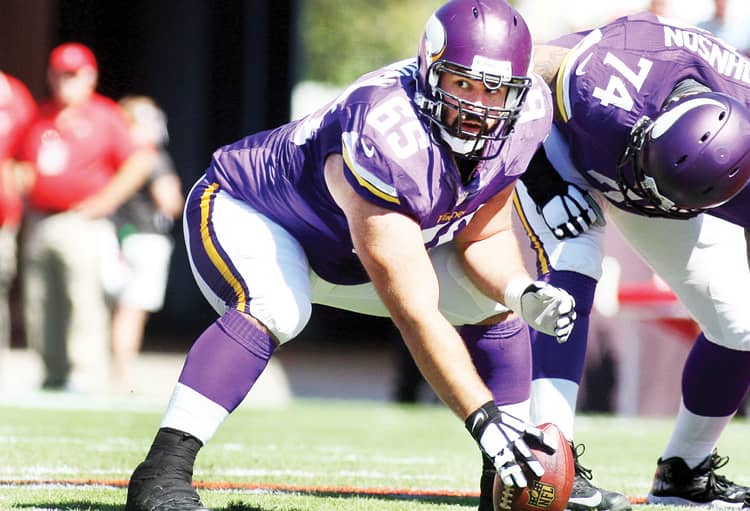 By Paul Silverfarb
Sentinel Editor
In his 10th season in the National Football League, it appears that former Greenwich High School standout and Notre Dame alum John Sullivan is going Hollywood.
After completing a long tenure with the Minnesota Vikings and a year with the Washington Redskins, the veteran NFL center will be leaving the cold winter months and will help the Los Angeles Rams solidify their offensive line.
"I'm excited," said Sullivan. "Obviously, I was with Coach [Sean] McVay last year in Washington. He has a brilliant football mind and I truly believe he's going to be a great head coach. This is a pretty young team, so I get to come in here and be one of the new veteran leaders. I'm excited about the potential that we have and actually going out on the field and executing it and living up that. I think we're going to have a great season."
For Sullivan, signing with the Rams was an easy choice. He's an experienced center and will be a huge help for second-year quarterback Jared Goff. In addition, Sullivan quite familiar with the Rams' new head coach, Sean McVay, who was an assistant coach for the Redskins when Sullivan played in Washington and liked what he saw.
"As soon as I knew Sean got the job here in L.A., I knew I wanted to come along with him," Sullivan said. "They have a young quarterback and I was going in free agency and I thought it was a natural fit. There were some bumps along the way and some things that made it look like this wouldn't happen, but this is where we find ourselves now. I'm just super excited to be back in this role and with this team."
Although he started only one game last year for Washington, McVay was highly impressed with Sullivan's work in front of the quarterback.
"When he played for us last year, it was 130-or-so snaps, I thought he did an excellent job," McVay said. "You really can't undervalue or under-appreciate that communication from that center spot—handling the cadence, handling the calls up front—because it all starts with that spot, most of our calls fit off of that. John was a guy that I was really impressed with. Being around him in Washington, you almost felt like you were talking to a coach. You talk about your quarterback wanting to be an extension of the coaching staff, the center position is very similar where he's got to have a big-picture ownership of what we're trying to get done, what we're trying to accomplish up front. And John is certainly someone that's shown he is capable of handling that."
Sullivan will be looking to fill the hole in the Rams offensive line, as Tim Barnes, a starter at center for the previous two seasons with the Rams, was released this offseason. However, there are still concerns over Sullivan's health. Two back surgeries forced the center to miss the entire 2015 season with the Vikings.
He's hoping a bunch of rest, a change in his diet that helped him lose weight and a solid offseason this year will put the concerns to rest.
"I feel great," Sullivan said. "We're in the first phase of the offseason program and the workouts have gone really well. We've had some time in the meeting rooms and I am very familiar with the system that we are putting into place offensively. I think that gives me a leg up."
And a healthy Sullivan will help boost Los Angeles offensively. Last season the Rams finished 4-12. Goff played in seven games for the Rams and didn't get a lot of help from his offensive line: he was sacked 26 times.
While Sullivan hopes the hard-hitting defense performs just as strong this season as it did last, he said that the offense needs to execute and make sure they embrace the  system and culture that McVay is trying to establish with the Rams.
"We need to get the offense up to speed, go out there and score some points and do what our defense did a year ago by shutting people down," Sullivan said.  "These teams turn it around quick. You put the right pieces in place, in terms of coaching staff and players, and you get rolling. There's no reason to think that we can't go out and have amazing success in 2017. That's the way I'm looking at it."
And obviously that familiarity with the head coach's offensive style is crucial for Sullivan.
"No matter what, even if you're familiar with the system, you must learn the people you're playing with and develop chemistry," Sullivan said. "There's a lot of aspects that goes into having success on the field. So, there's still a ton of work to do, but it's good to have a head start in terms of being familiar with the offense and terminology. I'm helping put that into practice and just making sure that all that translates to actual success on Sunday."
While Sullivan is all about taking on the added stress that comes with playing for a new team, he has a little extra stress now that he has to move his family to the left coast.
"It was very exciting, but at the same time I am now married and have a kid," Sullivan said. "We are under the gun to find housing and get out here. While it's amazing to sign with an NFL team and have an opportunity like I have now, there's still all those other aspects of life that are still factors in this whole thing. It's exciting and our set up here in L.A. is beautiful. It's a city that is passionate about its football team and it's great that we are back here now. I couldn't be more excited."
And just as he did in Minnesota, Sullivan plans to be a huge part of the community in Los Angeles, saying that it doesn't matter that the Rams recently moved from St. Louis to the City of Angels.
"It's important to me because the NFL in general provides a platform and it's important to try and give back and better the lives of people who aren't as fortunate," Sullivan said. "In terms of embracing the fans, the best way to make the fans happy is to go out and win on Sundays. Everybody wants to cheer for a winning team."
Sullivan will notice one of the biggest differences right away. While in Minnesota and Washington, D.C., he got to experience the early winter months up close and personal. Below freezing temperatures, heavy snowstorms, freezing rain and high winds were quite common throughout Sullivan's career.
While he will possibly experience that yet again on the road this season, it will be a different story at home in Los Angeles, where warmth and shorts in November, December and January are the norm.
"There's no doubt that this is the best weather situation I've been in," Sullivan said. "I'll leave it at that."