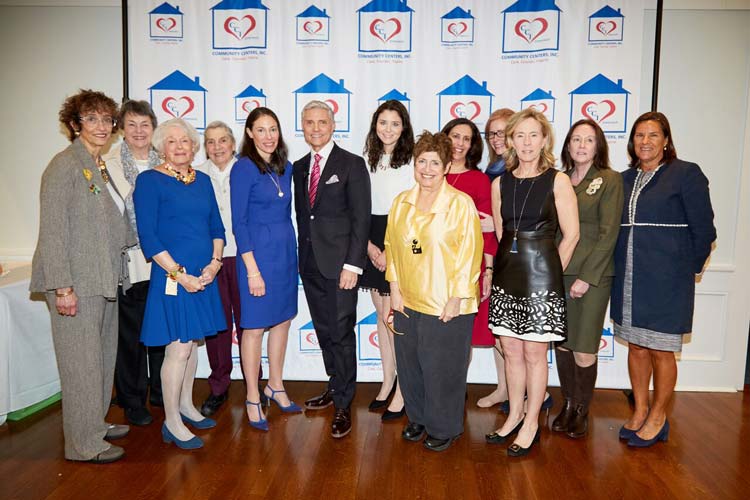 Community Centers, Inc. of Greenwich (CCI) held its 6th Annual Spring Luncheon on April 6, at the Belle Haven Club with special guest Event Planner, David Monn. The event featured a slideshow presentation by Monn, which demonstrated his broad range of artistry, from intimate private parties to noteworthy events. Funds from the event will benefit programs at CCI, which serve more than 1,100 Greenwich residents including at-risk youth, families, senior citizens, and individuals with special needs. CCI offers Educational Programs, Summer Education and Recreation Programs for Children and Families, Senior Programs, Counseling and Therapy, Special Needs Adult and Youth Groups.
"To speak about beauty is a very easy thing for me to do but to combine it with something that cares about humanity is a real gift, so thank you," Monn explained. He continued, "I never went to school. I'm one of six children and grew up in a two bedroom house in Pennsylvania; we were very poor but very blessed. I came to the conclusion, and I believe it is the core of this book, that you do not have to be creative to create, you must first be curious, and when you're curious you can collect, and when you can collect then you have the tools to journey."
Monn took attendees on a journey through several of his most spectacular events detailed in his book, The Art of Celebrating. Fifty percent of proceeds from book sales came back to CCI.
In the spirit of creativity, this year's luncheon included handmade cards at each place setting that were created by elementary and middle school students in CCI's after-school program. There was also a boutique filled with colorful up-cycled bracelets, necklaces and brooches, and delectable cookies, jams, and honey all handmade and donated by CCI supporters.
According to the latest Needs Assessment Report, approximately 1 in every 5 of Greenwich families live either below the poverty line or in a low-income household. CCI relies on donations and several fundraising events to serve families and individuals who are in greatest need and who would otherwise be overlooked in Greenwich.
CCI created a list with donation envelopes at each table to help attendees understand how their support will benefit children and families in the community. Examples included the following; a donation of $500 provides 15 tickets for a Ropes Course, $400 admits 40 children to the Bronx Zoo, $300 lets 15 students visit Lego Land Discovery Center, $175 allows a family of five to enjoy a day at Six Flags, $150 pays for pottery class for 10 Special Needs Individuals, $135 send 20 children to the Norwalk Maritime Aquarium, $100 admits five students to Lego Land Discovery Center, $75 allows two children to go to Rye Playland, $70 affords sports equipment – goals, jump ropes, hula hoops, $60 can help CCI update its ever popular Karaoke set, $50 buys new books for the CCI library, $40 purchases craft supplies for 10 children and $30 can update CCI's collection of board games.
Please help CCI continue its mission to empower clients to overcome educational, social, and economic barriers and reach their full potential by donating online (ccigreenwich.org) or by mail (payable to) Community Centers, Inc. at 61 East Putnam Ave.