April 6, 2017
How To Properly Water Your Lawn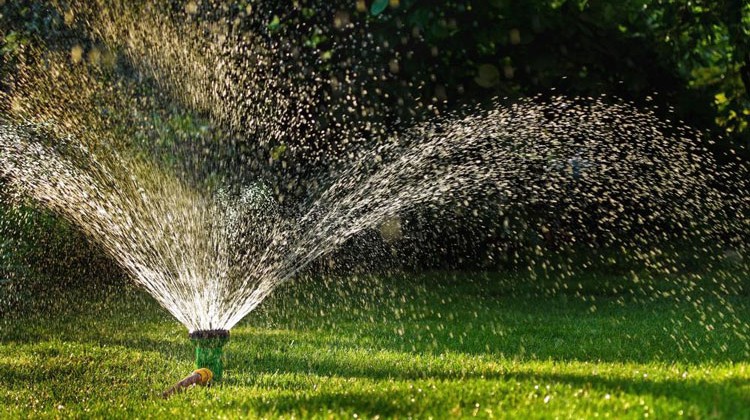 By Richard Oellrich, Jr.
Although some people are concerned about how to manage their lawns with the outdoor watering restrictions, I would suggest there is less cause for concern that you might think. The water restriction could be the best thing that ever happened to your lawn.
I'm not sure what the final rules will be, but I've read that we will need to limit outdoor watering again this year, and perhaps indefinitely. When I heard that one plan called for limiting watering to two times a week, I thought, "Great!"
For decades now I've been suggesting to my lawn fertilizing customers, "less frequent saturating waters." The benefits of deep, infrequent watering of your lawn are plentiful. Light, frequent watering doesn't get at the deep roots sufficiently; when you water every other day for 20 minutes, grass roots will stay near the surface.
Also, light, frequent watering encourages undesirable grasses, giving them the ability to survive and compete against the "good grasses" we are trying to promote. Many of the undesirable grasses couldn't survive in a sunny lawn without frequent watering. 
When a control product is applied to your lawn, light, frequent watering often doesn't allow the product to properly release from its carrier, and the product can get trapped in the thatch layer of the lawn and work less effectively. This is often the reason lawns suffer from insect damage despite being treated for grub or chinch bug.
Light, frequent watering also encourages disease, since fungus spores travel through the wet grass to infect the healthy neighboring grasses; the less often you make your grass wet, the less likely you are to have fungus problems. Frequent watering also reduces the life span of the control products, leading to more applications to address the problems that pop up when the control products stop working.
An existing lawn typically doesn't need to be watered until early June, when the heat sets in. Then your lawn needs about three-quarters of an inch of water per week (including rainwater); use a rain gauge to determine how much water your system puts out. If you have an irrigation system, you can split the output into a two-day-a-week program. But remember that if it rains three-quarters of an inch, for example, you shouldn't water for a week.
For those moving sprinklers around, do it once a week. (I stretch it out even longer on my own lawn.) You do not have to water more frequently when it gets very hot, just up the amount a bit—but never exceed one inch per week (including rain). Between the hours of 5 a.m. and 10 a.m. is the best time to water; you want the blades of grass to dry as quickly as possible.
It's also important to insist on a nice tall cut. Three inches is the shortest your lawn should ever be. Use a ruler. As it gets warmer, cut even higher. The taller the lawn, the cooler it stays—and the fewer problems you have. 
There are, of course, exceptions. Lawns with shallow soil on top of rock need more water, lawns with clay soils need less, and lawns in deep shade may need light, frequent water (something other than grass is usually the best way to handle a too-shady area). And if your installing new sod or seed, daily water is often required.
I've found over the last 20 years that more damage is caused by overwatering than underwatering. Always the optimist, I hope our "new normal" of outdoor watering limitations does all our lawns good.
Richard Oellrich, Jr. is the owner of Greenskeeper, a Greenwich-based commercial and residential lawn care business founded by his father in 1974. Greenskeeper can be reached at 203-323-5959.
Tags:
greenwich
,
Lawn
,
Watering