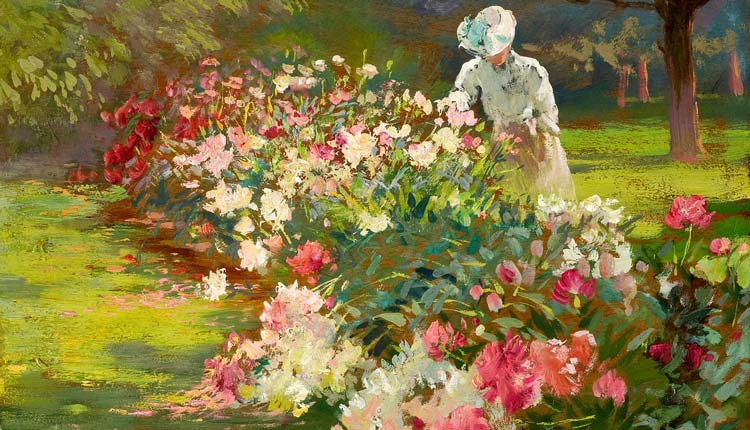 By Anne W. Semmes
The crocuses are back on Putnam Hill. The cherry trees are abloom in our capitol. Can peonies be far behind? Nearer than you think when you gaze on the Impressionist masterwork "Peonies," painted by that Greenwich painter of yesteryear, Matilda Browne.
Matilda who? She's that painter of lush images of gardens, flowers, and animals.  Her work is brought gloriously alive in a needed solo exhibition, "Idylls of Farm and Garden" at the Florence Griswold Museum in Old Lyme. It's on view until the end of May, guest curated by Susan Larkin, Greenwich's impressive American Impressionism art historian.
It is Susan's appreciation of and research on this pioneering artist (1869-1947) that has made this reintroduction possible, with help from exhibition coordinator Amy Kurtz Lansing, in the gathering of the 50 works on view.
"To research Matilda Browne is to be amazed again and again: by her precocious talent, which emerged before she entered her teens; by her study with strategically chosen artists in America and Europe; by her wide-ranging exhibition schedule spanning five decades; by her recognition as an accomplished professional when few women artists were acknowledged as such; and most of all by the beauty of her paintings," writes Susan in the show's catalog.
Browne was a New Jersey girl whose precocious talent was encouraged by the great landscape painter Thomas Moran, who was a neighbor. As a teenager she was exhibiting in the National Academy of Design in New York. She studied in Paris, and then with a cattle painter in Holland!
Seems there was a fashion in the latter part of the 19th century for the painting of farmyard animals—cows in particular—and so there was Matilda in Holland with her mamá, studying with an American cattle painter. She would frequent the local livestock fair, writes Susan, take home a calf or sheep, sketch it for a week or so, then exchange it next market day.
With animal painting Matilda was straying into a male domain, but she fortunately had a sense of humor that won over the male artists. She was fond of sharing jokes on herself—such as when her work was on view, her male colleagues would say, "Come, let's go see Tilly's calves."
Browne first came with her family to live in Greenwich from their native New Jersey in 1897, living in Rock Ridge, where "just across the lane," a stock farm offered her "models unlimited." By the early 1900's she was teaching drawing and painting at Rosemary Hall, and was a founding member of the Greenwich Society of Artists (now Greenwich Art Society).
It was old-fashioned gardens "full of the true fragrance of their subject," that drew her eye, and she found them aplenty in Old Lyme, that other Cos Cob-like art colony she frequented. Novelist-critic Theodore Dreiser wrote of her flower paintings that she had "a vigorous, masculine way of seeing nature."
But a New York Times reviewer of her watercolors said it prettier: Her garden paintings had "the direct sincerity of a Wordsworthian description of nature—happy gardens eloquent of human habitation." For that show, publisher Frank Doubleday  loaned three Browne watercolors of his gardens in Oyster Bay. His second wife was Matilda's husband's sister.
In 1917 Matilda moved from Greenwich to New York after a rather late marriage to entrenched New Yorker Frederick Van Wyck, whose claim to fame seems to have been his book "Recollections of a New Yorker," illustrated by Matilda and reviewed in the New York Times (1932) under the heading "When Goats and Chickens Ran on Park Avenue."
Matilda's prowess in painting dogs is not on view in the exhibit, though an earlier show in New York had 32 on exhibit. Seems proud pet owners like to keep their pet portraits private.
Matilda would extend her expert knowledge of animals to sculpture. Again the Times (in 1921) gave her a rave review: "Into these small bronzes of cows, asleep in companionable attitudes, long-necked geese, new-born calves, has gone the accumulated experience of years of close study and familiarity. The animal world is a real world to the artist, and she would no more take liberties with it than with the human world… The anatomy of a lowing baby cow is interrogated with infinite interest and patience."
Today, most of Matilda's work is in private hands, writes Susan, "while her male colleagues are represented in museums." The Griswold's recent purchase of Matilda's truly dazzling "Peonies" is proof positive of Matilda's prowess—celebrated big-time last year as a banner for the New York Botanical Garden's show "Impressionism, America's Gardens on Canvas." The painting also graced the cover of the show's catalog.
Matilda returned to Greenwich upon the death of her husband in 1936, living on Mason Street until her death at age 78, and is buried with family in Putnam Hill Cemetery.
Her tombstone could certainly include: "Browne's life illuminates the obstacles women artists of her era confronted and her remarkable success in overcoming them."