March 24, 2017
Audubon Connecticut's Environmental Leadership Award Winners Named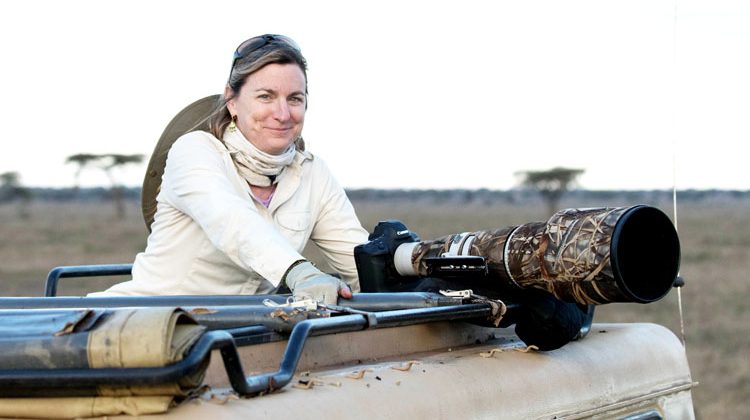 Anne W. Semmes
Sentinel Columnist
On the evening of April 12, Audubon Connecticut will honor four people for their environmental leadership in the natural world: Gina McCarthy, former administrator of the U.S. Environmental Protection Agency, for her leadership in addressing climate control; Greenwich native and photographer-writer Melissa Groo, for her commitment to raising awareness of conserving wildlife; and Lesley and Bill King, Old Greenwich entrepreneurs of the Back 40 Farm Group, for their advocacy of the organic food movement.
The "Experience Nature" Awards benefit evening at the Belle Haven Club will showcase the contributions each awardee has made. "The three winners have in common they have taken risks to provide leadership," noted Stewart Hudson, vice president and executive director of Audubon Connecticut. "They show how you can serve to be an example to others."
In Gina McCarthy's 30 years of advocacy for what she calls "common-sense strategies to protect public health and the environment," she hangs her hat on her initiatives addressing climate change. "I'm just proud," said McCarthy, "I was able to take some action in Massachusetts and in Connecticut in helping to design and implement the original greenhouse gas initiative, then using that as a platform of understanding in moving it forward at the federal level." McCarthy cited President Obama's support for making "tremendous progress with the support of many states and communities, and lots of individuals that care about the future of their kids."
Prior to her serving as first assistant administrator, then administrator of the Environmental Protection Agency (EPA) through the Obama administration, McCarthy served as commissioner of the Connecticut Department of Environmental Protection, and in her home state of Massachusetts as undersecretary in the Executive Office of Environmental Affairs.
McCarthy holds special her time in Connecticut, where she established her "No Child Left Inside" program to foster nature education. At the federal level she would deal with the "growing partisan divide on environmental issues," she said. But with No Child Left Inside, she recalled "not having to ask families whether they were Democrat or Republican, but whether they would like to put their waders on and go into the stream with the biologist and see a world they haven't seen before."
Melissa Groo, whose photography can be seen on the March cover of Smithsonian magazine of a Rothschild's giraffe, and whose 2015 Audubon Photography Grand Prize winner of a Great Egret was on view in the Smithsonian's Museum of Natural History, said she felt honored to be awarded the Katie O'Brien Lifetime Achievement Award. As the first artist to receive the award, she was encouraged, she said, "that art can be recognized as a way to raise awareness and to inspire protection of our precious natural world. Especially from an organization that works so hard to protect birds, as birds are really a great passion for me as a photographer and conservationist."
Groo, whose frequent posting of wildlife and commentary on Facebook has a worldwide following, describes herself as a wildlife biographer. "I love to tell the stories of animals. I find their lives, their adaptations, and yes, their individual personalities, endlessly fascinating. I want other people to realize that birds and other animals can have complex social lives, and emotions similar to our own. More than anything, I hope to evoke empathy and appreciation in the viewer, and I think the best way to do that is to tell stories."
Groo has become a mentor for young photographers. She is also noted for advocating "a sense of ethics as a wildlife photographer," said Stewart Hudson. "People need to be reminded how to be around wildlife." As Groo has said, "My biggest thrill comes from photographing a wild animal doing what it would be doing if I wasn't there at all."
Lesley and Bill King, as the Corporate Award winners, have a high profile in Greenwich as advocates of healthy, organically grown foods. They are a fixture behind their groaning board of vegetables at the Old Greenwich Farmer's Market they co-founded, selling produce grown on their extended family-owned 85-acre Back 40 Farm in Washington, Conn. But they're raising their four kids in Old Greenwich.
What started as a desire to simply "plant a real garden, grow some of our food, and have a place for our family to be in nature," said Lesley King, branched out to offering that produce at two local restaurants, Back 40 Kitchen, and Mill Street Bar & Table in Byram. Plus, there's a Back 40 Mercantile country store in Old Greenwich. "We certainly had no idea where this adventure would lead us," said King. "But the progression to starting a commercial organic vegetable business and investing in the food space happened quickly and naturally.
"We have met so many like-minded people in Greenwich who are doing interesting things to improve our food systems—people like Patty Sechi working on the Community Gardens, and Jeff and Cai Pandolfino promoting plant-based eating in their Green &Tonic stores."
Lesley King speaks also for husband Bill who keeps busy as board member of the Stone Barns Center for Food & Agriculture in Pocantico Hills, N.Y., and other community forums, that they are "thrilled that the Audubon is recognizing the Back 40 Farm Group" for its work in sustainability. "Our mission statement states that we 'not only feed our communities, but serve as an educational source that inspires dialogue about the sustainable food movement, seasonality, stewardship, and family.'"
Ticket information for the 2017 Audubon Connecticut Environmental Leadership Awards Benefit—"Experience Nature"—to be held April 12 at The Belle Haven Club can be found at www.audubonct.org.
Tags:
audubon greenwich
,
Environmental Leadership Award
,
greenwich