March 20, 2017
Collaborative White Shark Science Talk this Weekend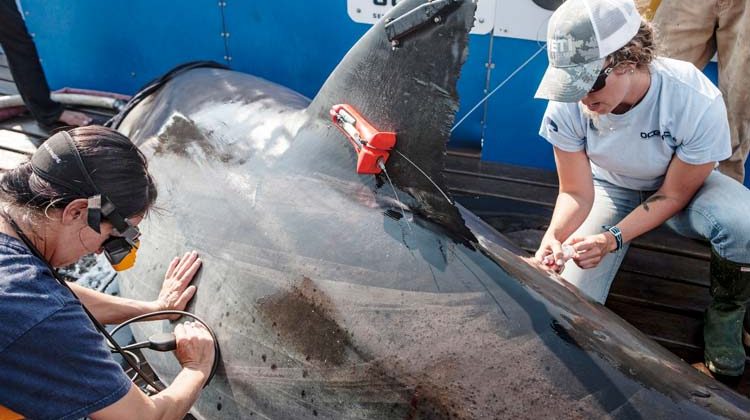 The collaboration of The Greenwich Shellfish Commission, The Greenwich Conservation Commission and The University of Connecticut will sponsor a talk on "Collaborative White Shark Science," led by Chris Fischer, OCEARCH Founding Chairman and Expedition. The talk will be held Saturday, March 25 at 2 p.m., at the Bruce Museum, 1 Museum Dr.
A recognized world leader in generating critical scientific data related to tracking (telemetry) and biological studies of keystone marine species such as great white sharks, OCEARCH shares real-time data through their Global Shark Tracker, inspires current and future generations of explorers, scientists, and stewards of the ocean, and enables leading researchers and institutions to generate previously unattainable data.
OCEARCH captivates followers and has brought the conservation of important
 apex predators to the forefront. The global reach of OCEARCH and regional collaboration with researchers is changing the conversation about sharks for the better. Education initiatives by OCEARCH allow students to utilize tracking data to learn STEM skills while increasing awareness of the need for conservation of our oceanic resources.
During a three-week expedition in the waters off Montauk, N.Y., OCEARCH and its collaborating scientists confirmed the first known nursery for the great white shark in the Northwest Atlantic, after tagging a total of nine young-of-the-year white sharks.
Fischer will highlight key factors for their success, including a multi-disciplined data-driven approach, inclusion, collaboration and most importantly – the means to engage future generations of scientists.
For more information contact: Roger Bowgen – Town of Greenwich Shellfish Commission, 203-243-6364, or Sue Baker – Town of Greenwich Conservation Commission, 203-606-1345.
Tags:
Collaborative
,
greenwich
,
Greenwich Conservation Commission
,
Greenwich Shellfish Commission
,
lecture
,
science
,
University of Connecticut
,
White Shark