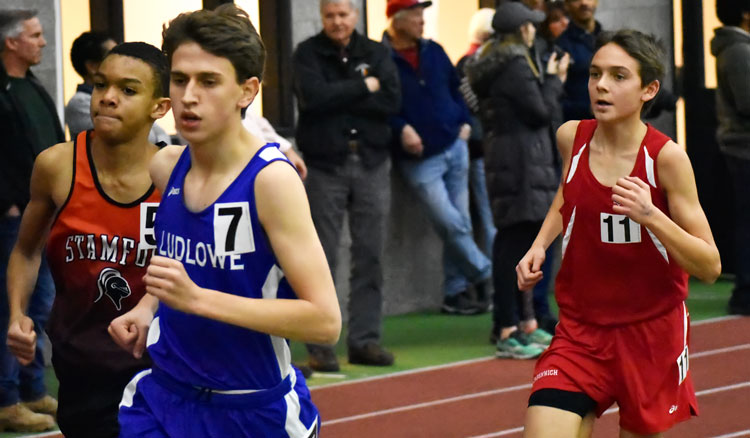 By Paul Silverfarb
Sentinel Editor
After getting pushed back several days due to inclement weather that blanketed the Northeast, the Greenwich High School boys' and girls' indoor track teams were able to display their talent at the CIAC class LL championships.
The boys' team ended the meet CIAC class LL runner-ups, taking the silver with 46 points. They were two points better than Shelton, which finished third with 44 points. Staples High School came in fourth with 42 points and Trumbull rounded out the top five with 39 points. Overall, the boys' meet was dominated by Danbury High School, which took home the class LL title with an astounding 116 points.
On the girls' side, Big Red finished with a third-place finish with 58 points. They were only three points away from Glastonbury, which grabbed silver with 61 points. Danbury High School won the class LL crown, amassing 64 points. In fourth place was Ridgefield High School, as the Tigers netted 57.50 points. Hamden took the fifth slot, ending the day with 29 points.
The Lady Cardinals and some outstanding performances at the class LL meet. Once again junior Emily Philippides was golden in the 1,000-meter run, dominating the competition and taking top honors with a time of 2:58.80. Her time was just under eight seconds faster than second place Olivia Allen of Glastonbury.
Philippides also competed in the 1,600-meter run, finishing second overall with a time of 5:09.91 and was mere inches away from the top spot. However Trumbull's Katelynn Romanchick exacted revenge from falling to Philippides during the FCIAC finals and came away with the gold and a time of 5:09.71.
Another top competitor for Greenwich was junior Lia Zavattaro in the pole vault, as she reached a height of 11-00 to take home first place and 10 points for Big Red. Taking second place, also netting 11-oo, was Newtown senior Lauren Russo.
When it came to relays, Greenwich's 1,600-meter sprint medley was on top of its game. The foursome of juniors Katherine Gallagher, Olivia DiLascia and Hetty McMillan, along with sophomore Jordan Numme, were the first to cross the finish line, posting a time of 4:23.38 and were a second faster than Ridgefield's second-place team. The relay team of freshman Zoe Harris, senior Kristen Lodato, McMillan and Numme also had a great time in the 4×800-meter relay event, posting a time of 9:42.37 that was good enough for third place overall.
In addition to her two relay performance, McMillan also had a stellar outing in the 1,000-meter run, as she took joined Philippides on the podium and took home the bronze with a time of 3:07.59. Harris also wasn't to be denied in the 600-meter run, posting a sixth-place time of 1:42.20 that gave GHS two points.
On the boys' side of the class LL meet, GHS had quite the memorable outing, as a plethora of athletes took home top honors.
In the 55-meter dash, senior Tyler Farris responded from a top spot during last week's FCIAC championship meet with another gold medal, speeding by the competition and posting a time of 6.56 seconds. In second was Danbury's Christopher Cledera, who took home the silver and a time of 6.64.
Once again, both Safir Scott and Issac Floyd, both seniors, dominated the field events. In the high jump, Scott took the top honors, posting a height of 6-02. Not to be outdone was Floyd, who competed in the same event and wasn't far behind Scott, taking second place overall and a height of 6-00.
Both Scott and Floyd were at it again in the long jump and both grabbed the top two spots. Scott's distance of 21-05.75 was good enough for his second gold medal of the day. But again Floyd on his heels, taking second place and a distance of 21-04.25.
Big Red also grabbed some points in the 4×800-meter relay event, as the foursome of seniors Matt Collins and Bastian Dequeker and Georgios Karakadas, along with sophomore Thomas Rouffiac, crossed the finish line sixth overall with a time of 8:35.10. Scott and Farris, joined Karakadas and Dequeker in the 4×400-meter relay event and grabbed a top 10 spot on the day. Their time of 3:41.03 was good enough for ninth overall.
In addition to his relay performances, Karakadas finished top 10 in the 1,000-meter run, as his time of 2:45.81 placed him ninth overall.
On Monday, both the GHS boys' and girls' indoor track teams will be back in action, as they once again travel to New Haven's Floyd Little Athletic Center for competition in the CIAC state open championship meet. The event will kick off at 4 p.m.