February 7, 2017
The YWCA Greenwich BRAVA Awards is Feb. 10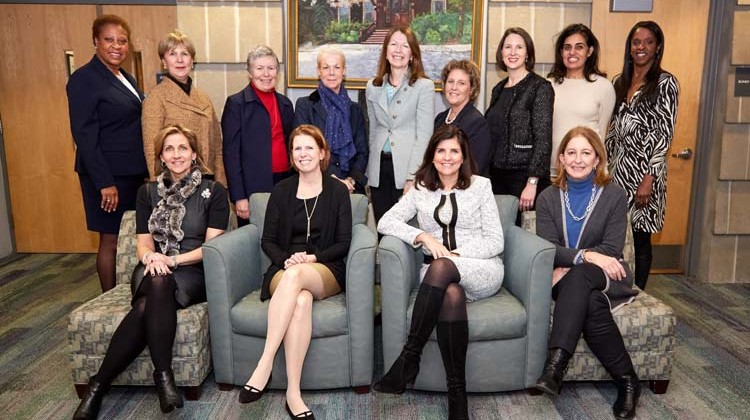 YWCA Greenwich 2017 BRAVA Awards Honorees will be celebrated at a luncheon on Friday, Feb. 10, at the Hyatt Regency, Greenwich beginning at 11:30 a.m.
Established in 1977, this fortieth BRAVA Awards recognizes outstanding women who are proven executives, acknowledged leaders in their fields and mentors in the community. They reflect the YWCA's core mission of Empowering Women. The 2017 Brava Awards co-chairs are Mimi Duff, Karen M. Kelly, Terry Lamantia, Randi Nielsen, Jennifer D. Port, Debbie Salce, Kathy Silard, and Melissa Turner.
The 2017 BRAVA Honorees are: Pepper Anderson, JP Morgan Private Bank; Nisha Kumar Behringer, Greenbriar Equity Group, LLC; Anne A. Brewer, MD, MPH, Stamford Health; Susan M. Danaher, TouchTunes Media; Denise C. Doria, CPA, Walter J. McKeever & Company, LLC; Ruth Fattori, PepsiCo, Inc.; Cyndi Koppelman, Miller Motorcars; Romelle Jones Maloney, MD, OB/GYN, Yale-New Haven Health-Northeast Medical Group; Lila Snyder, Pitney Bowes; Jenny Storms, NBC Sports Group; Stacey Tisdale, Mind, Money, Media Inc.
"We are honored to recognize so many outstanding women at this year's Brava Awards," said YWCA Greenwich President and CEO, Mary Lee Kiernan. "Their extraordinary accomplishments and willingness to share their success with others through mentoring and volunteerism, exemplify everything we value and stand for at the YWCA."
BRAVA plays a significant role in supporting the many YWCA programs and services, including Domestic Abuse Services, scholarships for children in our preschool, afterschool, camp, aquatics, and youth fitness programs; free Women's Leadership Seminars; and free, community-wide Racial Justice initiatives.
For BRAVA Awards tickets, sponsorships or program advertising, contact Jackie Stam at j.stam@ywcagreenwich.org or 203-869-6501, ext. 102. For more details, visit ywcagreenwich.org/brava.
Tags:
2017 BRAVA Awards
,
greenwich
,
YWCA