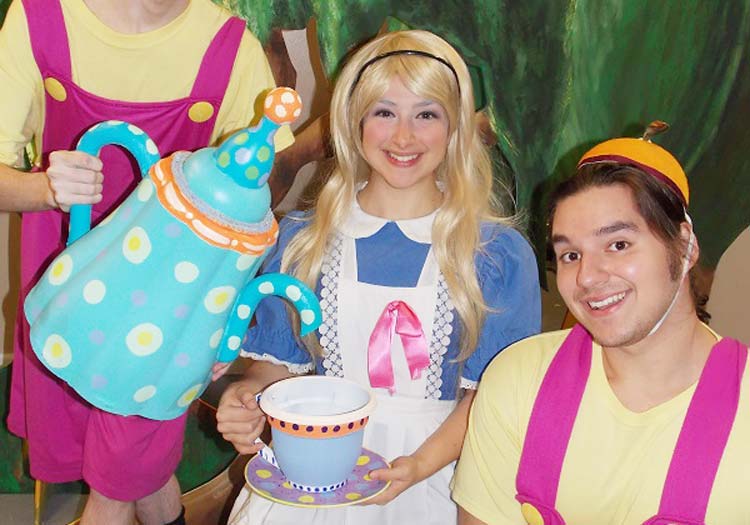 Greenwich Library and its branches will celebrate the sixth annual Take Your Child to the Library Day on Saturday, Feb. 4. Children of all ages and their families are invited to visit the Library and enjoy a fun-filled day of activities while learning about Library resources and programs.
One of the Library's newest resources will be available at all three library locations on Feb. 4. Greenwich Library and the School Readiness Council (SRC) of Greenwich have partnered to collect and share information for parents on "Behavior Readiness" for children entering elementary school.
Whether it's your child's first visit to the library or their 1000th, Take Your Child to the Library Day is a wonderful way to celebrate literacy, learning, and community.
Take Your Child to the Library Day Events
On Saturday at 11 a.m., the Friends of Greenwich Library will present a live musical performance of Alice in Wonderland by Plaza Theatrical Productions in the Cole Auditorium. With the help of a Cheshire Cat, an astute Caterpillar, the Queen of Hearts, the Mock Turtle and the Mad Hatter, Alice finds her way home in this fast-paced musical adaptation. The theme of this show is all about getting by with a little help from your friends.
This 60-minute musical is appropriate for children in grades 2-6, and is open to all at no charge through the support of the Friends of Greenwich Library. Assigned seating tickets are limited to six per person and will be available at 10 a.m. at the Cole Auditorium. Return at 10:50 a.m. when the doors will open for the performance. For more information, contact the Friends Office at (203) 622-7938.
Just before the show, families can enjoy a special Take Your Child to the Library Day Mother Goose Storytime from 10:30 to 11 a.m. in the back of the Children's Room. After the show, from 12 noon to 3 p.m., children of all ages can make a one-of-a-kind craft to take home at our drop-in crafts table.
At Cos Cob Library families can join Miss Jeanne for a drop-in storytime session from 10 to 10:30 a.m. all about Valentine's Day! There are lots of fun stories about this holiday and Miss Jeanne knows them all.
Then, from 10:30 a.m. to 12:30 p.m. the Friends of Cos Cob Library will host their Annual Valentine Card Workshop. Create beautiful cards for your family, plus one extra-special card for a resident of Nathaniel Witherell using our supplies. Call (203) 622-6883 for more information.
Bring your child to Byram Shubert Library to encourage a love a reading during Book and a Slice Day on Saturday from 11 a.m. to 12:30 p.m. Find a good book and a comfortable place to read and enjoy a slice of pizza. Open to all ages. Call (203) 531-0462 for more information.
Don't forget, Take Your Child to the Library Day is the perfect time to register all your family members for a Library card. Stop by any lending desk to sign up.
For more information on Take Your Child to the Library Day activities, please visit www.greenwichlibrary.org/children or contact Director of Children's Services Deirdre Sullivan at dsullivan@greenwichlibrary.org or call 203-622-7940.
Take Your Child to the Library Day is the brainchild of Nadine Lipman, retired head of children's services at Waterford Public Library in CT. With the help of Caitlin Augusta, from the Stratford Public Library, and the support of many others, the program that Nadine launched in 2012 has grown to become a national initiative of the Connecticut Library Consortium. The annual celebration takes place on the first Saturday in February and promotes literacy and library services for children and families. The movement has ballooned in popularity, with more than 470 libraries in three countries participating. For more information, please visit takeyourchildtothelibrary.blogspot.com.