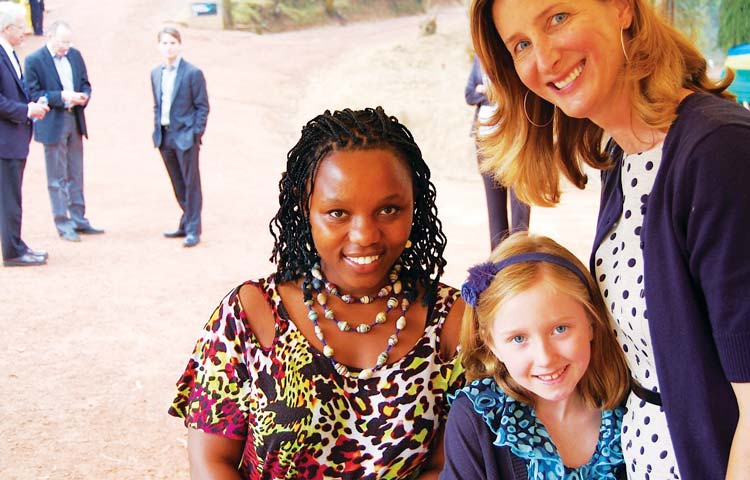 By Anne W. Semmes
Sentinel Columnist
Lesley King of Old Greenwich never met Margaret Mead, but Mead had people like her in mind when she wrote, "Never doubt that a small group of thoughtful, committed citizens can change the world."
Yes, Lesley with her husband, Bill, have had a visible impact on their Greenwich community with their sustainable food movement and lifestyle, as expressed in their Back 40 enterprise. But more startling and less visible is Lesley King's reach across the world with her efforts to galvanize others to support an organization called Partners In Health (PIH) and its worldwide mission "to bring the benefits of modern medical science to those most in need of them and to serve as an antidote to despair."
"We have raised millions of dollars throughout Greenwich for PIH," says Lesley, fresh faced and approachable, perched behind the counter of the family owned Back 40 Mercantile shop on Sound Beach Avenue in Old Greenwich. And yes, ten percent of sales from this shop goes to Partners In Health.
"It all started with Tracy Kidder's book, 'Mountains Beyond Mountains,'" she says of her "road to significance," which has influenced her family and involved so many in this town. "It resonated with me. I was drawn to the story."
The story tells how college student Paul Farmer, headed for med school at Harvard, goes to Haiti in search of his life's work and finds it in the desperate medical needs of that country—where he also finds a sympathetic partner, Ophelia Dahl, daughter of the late British novelist Roald Dahl ("Charlie and the Chocolate Factory") and American actress Patricia Neal, sent to Haiti by her dad at age 18, pre-Wellesley, to do good works. Dahl would be a PIH co-founder with Farmer and three others.
"PIH is now celebrating 30 years," Lesley says. "They've gotten to the most impoverished places where other groups say it's too hard to get to. They were one of the first to go to countries where AIDS was developing. They went to Peru to attack tuberculosis. They are in Siberia caring for prisoners with TB to keep them from spreading it."
Lesley had lived in Greenwich for only two years when she read "Mountains Beyond Mountains." She and Bill and their two children (since increased to four) moved out of Manhattan the day before 9/11, taking their successful jobs at JP Morgan with them.
But Lesley found time on her arrival to join "an inspiration" book group of 12 women, and thought, Wouldn't it be great to introduce to them and others the Boston-based Partners in Health. PIH would send Executive Director Ophelia Dahl, Lesley's new hero.
"I had 40 for lunch and 40 for dinner," Lesley says. "Everyone was interested. We created a friends group of about 50 people—the Greenwich Community of Concern for anyone interested in being a PIH donor. The group doesn't formally exist anymore, but we keep up with each other. Some have become long-term donors. It's all about people caring for others, seeing the need."
Footnote: Lesley grew up in a family with seven brothers and sisters that "moved around a lot" in Connecticut and "had no money," but one in which "everybody helped each other."
Ophelia Dahl, the long-serving executive director of PIH, is now retired but continuing as chair of its board (which now includes Lesley). She remembers that first meeting in Greenwich in 2005.
"We were just beginning our work in Rwanda," she says. "Lesley was able to get a whole community interested and involved. She did it with cold calling. She was not worried about reaching out to her friends. She held a fundraiser. There was never anyone doing it like that. She organized it all and then sustained their interest, and brought people to our sites in Rwanda. She does the follow up with them—she learns what their interests are. It takes a specific, rare person to do this."
And, Dahl adds, "Lesley brought us to Trinity Church in Greenwich."
Since 2003, the King family has been attending Trinity Church, started by Ian Cron, who was leading trips to Rwanda post-genocide on invitation of the Anglican bishop of Rwanda. A Trinity Church Rwanda Council was created with Lesley as co-chair to look at ways that Trinity can help. Husband Bill would join the Council and head its Finance Committee. A relationship soon blossomed between Trinity and PIH.
Six months later, Trinity and the Greenwich Community of Concern were helping to support PIH's initial project in Rwanda, the Rwinkwavu Hospital, located in the neediest part of the country, east of the capital city Kigali. The two groups would next fund a nearby Rukira Health Center to get it up and running. Trinity hands would do playground building, landscaping, and mural-painting inside the Center alongside. Paul Farmer and his daughter Catherine.
"It's as if God has been there—everything that happened with my responding to the opportunity that presented itself," says Lesley. "So many exciting things presented themselves."
But it took time before Lesley was able to visit these sites. By 2006 she had produced child number three, toddler daughter Moira, and retired from JP Morgan.
She signed on for a summer trip to Rwanda with a Trinity group to visit the newly opened Rukira Health Center. "It was my first trip to Africa," she says, and she had a husband "nervous" about her going, but it was a "very comfortable trip." "We visited the Center with its newly functioning satellite connections and a stocked pharmacy with doctors on site. Paul Farmer was in country at the time. He talked to us about how special PIH was. Thousands of people have been treated here. When we see people who make choices to do this incredible work, we're just happy to support them."
Back home, Lesley shared her experience with Bill. "He was enthralled," she says. Three months later, Bill himself went to Rwanda. "Bill went with the company Technoserve to get them reinvolved post-genocide to help the Rwandan government and country with their coffee industry." A year or so after that visit the coffee project was taken over by the Gates Foundation.
"It was like a snowball," says Lesley. "Everything exploded with opportunity, with our whole family, the country and its culture. It became a big part of our life. Rwanda was the center of everything we were doing. It was our passion."
The King household became a hosting center for Rwandan kids from various international choirs and PIH personnel. A favorite visitor was health worker Manzi from the Rukira Health Center. As PIH's head of training for the thousands of health workers in Rwanda, Manzi was given a tour of Greenwich Hospital and met with doctors to see what he could bring back.
The King household grew again in 2008 with the birth of a boy, Brendan. Two weeks into his life, Lesley was coaxed into becoming interim executive director of Trinity Church. "I had no experience for this!" she exclaims, but she'd managed a team on Wall Street, and she had a husband able to help as newly retired from JP Morgan.
While Lesley was finding her way to importing the British Drew Williams as Trinity's senior pastor, she and her husband suddenly enlarged their own immediate landscape with the purchase of 40 (eventually 75) acres of farmland in Washington, Conn. From that Back 40 farm investment would come the Kings' sustainable food enterprise.
On Lesley's second trip to Rwanda, in 2009, she took her two oldest children, 11-year old Grace, and son Liam, 9, to introduce them to the Rukira Health Center, and to visit with their friend Manzi. By this time her kids "knew half the staff and so felt very comfortable."
Accompanying them was Greenwich friend and First Presbyterian Church member Kim Marie-Evans, who was also under the "Mountains Beyond Mountains" spell, and her 9-year-old son J.J. This trip introduced Lesley to a new PIH hospital building north of Kigali, in Butaro, and to Claudine Humure, an extraordinary genocide survivor child whose story includes losing her leg to cancer and being brought to the U.S. for a cure, a prosthesis, and an education.
"Claudine has been over here now for six years," says Lesley. "She is so integrated—so a part of our family. She's like a cousin. When she was a sophomore, she moved in with us here and attended Greenwich High School, then went to Dana Hall boarding school her last two years. She will graduate from Wheaton College next year."
By 2010 Lesley was focused on PIH's work in Haiti, now supported by Trinity, First Presbyterian Church and other Greenwich friends. "The 2010 earthquake was a major turning point, but none of our Greenwich-supported PIH sites were affected," says Lesley. She saw the aftermath firsthand with Ophelia Dahl on an assessment trip of PIH's 12 sites. "PIH is the largest non-government health care provider in Haiti," she says, "serving two and a half million patients out of a population of 10 million plus. The need for services is huge."
(After Hurricane Matthew hit last year, Lesley says, all PIH sites were similarly spared. "PIH's main concern," she says, "is the rise of diarrheal disease and cholera, a serious problem before the hurricane. After the 2010 earthquake, we built a large teaching hospital right outside of Port-au-Prince called University Hospital Mirebalais. Because of the quality of care, Haitians come from all over the country for treatment. But PIH needs financial resources and additional donations to be effective in treating patients beyond our normal scope of operations.")
On Lesley's third trip to Rwanda, in the summer of 2012, she would see the Greenwich imprint writ larger with the opening of a new Community Library and Learning Center adjacent to the PIH Rwinkwavu Hospital. The Library and Center were instigated by Lesley's Old Greenwich friend and Trinity member Betsy Dickey (now living in Vermont). Dickey, a writer, saw her role in helping Rwandans in fostering a culture of reading as an essential education tool out of poverty. Her nonprofit Ready for Reading Initiative, created in 2007, has funded the Community Library and Center, partnering with PHI and the local government and community of Rwinkwavu.
Along for the trip were Lesley's now 8-year-old daughter Moira and teenager Claudine. "Moira and Claudine are two peas in a pod," says Lesley. Their itinerary included traveling to Butaro for the opening of a new PIH Cancer Center at the Butaro Hospital, with former President Bill Clinton attending. "The Clinton Health Access Initiative was the main funder of our operations in Rwanda for the first several years," says Lesley. Claudine, as cancer survivor, was introduced by Clinton.
By November 2012 Lesley had embraced another project in a neighboring country to Rwanda—Burundi—called the Village Health Works, which offers free medical services. This sister organization to PIH is headed by its founder Deogratias "Deo" Niyizonkiza, a protégé of Paul Farmer's. Deo, like Claudine, is a survivor of his country's years of strife and civil war.
With Village Health Works headquartered in New York City, Lesley, as board member with Paul Farmer and Tracy Kidder, is serving as interim COO. Lesley speaks with amazement of what Deo has accomplished in regard to health improvements in his country. "Deo means thanks be to God," she notes.
By October 2014, Lesley found herself sitting next to Claudine at Wheaton College, where Caludine is a sophomore—the two were watching Deo as featured speaker at the inauguration of the college's new president. "This was a total coincidence," says Lesley, "and unrelated to the fact that Claudine was at that school." The next spring Lesley would travel to Deo's Burundi with her 16-year old daughter, Grace, and Riverside friend Lauren Driscoll, destined to become executive director of Village Health Works.
"Not one day goes by," says Lesley, "when I'm not working on Rwanda and on Burundi." Speaking of her family, she says, "We've embraced these countries as part of our lives. We have friends there. We are going back."
Next summer Lesley plans a fourth trip to Rwanda with her family after Claudine graduates in May from Wheaton College.
Having so impressively "spread the message from Mountains Beyond Mountains," Lesley sees the significant effect this message has had on her kids. "They're seeing people who've dedicated their lives for service. They're global thinkers—in their social science classes, when the name Paul Farmer crops up, they see the connections. All of this exposure to great minds has influenced them—it's not about just going to school to get a job, it's about their responsibility in the world and what they will do as a career."
"Paul and Ophelia saw the problems," she continues. "Once aware of the problem they couldn't turn their back on the problem. They brought people to it like co-founder Tom White [a Boston businessman]—his job was to bring money. Everybody has a role. Everybody has an opportunity to do something with their gifts. Like Jim Yong Kim, another PIH co-founder who became president of Dartmouth College and is now president of the World Bank. Like people from around here. They're such human beings. Everyone can do something to make a difference."
On a recent drive to Boston to attend a PIH meeting, Lesley found herself reflecting across the last 10 years on others who've made a difference—on Dr. Richard Viscarello of Stamford and his wife Shirley, a nurse, donating used medical equipment; on Rob Bull, a Trinity friend who worked for GE in Stamford; when GE moved to new quarters, he was able to donate to PIH a truck full of computers and technology that was sent to Haiti after the 2010 earthquake, with a much-needed large television for Skype calls now in PIH's Boston office.
"At the end of the day, Lesley drives the extra mile, six hours to and from Greenwich to Cambridge, to bring other people with her to attend dinner for our task force in Malawi," says Ophelia Dahl. Dahl has a word that well describes Lesley King. "There's a word we use at PIH: 'accompaniment.' When someone sides with someone, stands shoulder to shoulder with them, on the board level, on the friend's level, on the support level—they are accompanying them in challenging times."