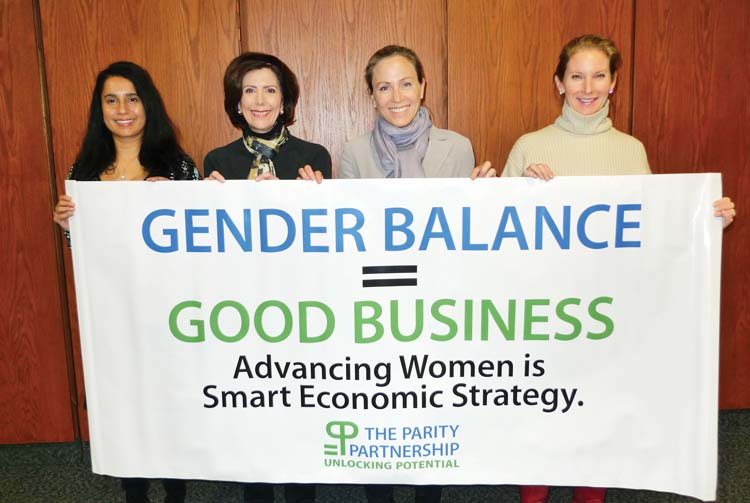 By Anne W. Semmes
Sentinel Columnist
At early dawn tomorrow, hundreds of Greenwich women will be boarding buses bound for the Women's March on Washington.
Mary Scott Himes of Cos Cob, wife of U.S. Congressman Jim Himes, is going with her teenaged daughters, Emma, 17 and Linley, 14, to participate in history. Her concern about women's rights is motivating her.
"The issues I worry most about," Himes says are "the right for women to be treated as equal partners in society, the ability of everyone to have access to affordable, preventative healthcare, and the right to choose what to do with our bodies (as with Planned Parenthood)."
As a Canadian American, Himes also has empathy, she says, "for others who come to this country looking for a brighter future." "I'm concerned about the treatment of immigrants, especially refugees. The idea of creating a Muslim registry is abhorrent to me, and I believe we should welcome immigrants."
Karen Giannuzzi is going with her 14-year old daughter. Giannuzzi is founder of Mothers for Others in Greenwich and has helped organize the buses from Greenwich.
"We have four buses leaving from Greenwich (55 people on each bus)," she says. "Two from Second Congregational Church and two from the YWCA." Giannuzzi expressed surprise over how quickly "so many women signed up to go down to D.C. from a town like Greenwich, where so many people stand to benefit (financially) from a Trump presidency."
Giannuzzi sees the marchers' motivation as a desire "to show support for the groups that were disparaged during the election— immigrants, women, minorities, people with disabilities." As a woman and mother of four, Giannuzzi is marching, she says, "Because I want my voice to be heard. By sitting home and being quiet, I feel I am condoning what was said during the election. I see this march as a call for unity and respect and to stand next to others (mostly women) who hold these principles so dearly."
Lesley King of Riverside, who runs the Back 40 Farm enterprise, is going with her college freshman daughter, Grace, and a classmate Grace's. King is new to marches, she says, but she and her daughter are attending because "We feel that women's rights are being threatened by the rhetoric of the incoming administration. We are concerned about the lack of respect and inappropriate language being used toward the marginalized and would like our opinions to be recognized."
Also headed to Washington is Alexandre "Alex" Bergstein, the Greenwich co-founder of the non-profit The Parity Partnership, which "promotes dialogue about gender equality, and the economic opportunities it brings." Her group is participating in the Women's March, she says, "to highlight the fact that advancing women is smart economic strategy. It's no longer a debatable question, it's been proven time and again." 
For those wanting reports from the marchers, The Parity Partnership will be tweeting from the March@parityworks