January 6, 2017
Greenwich Escapes Brien McMahon With 72-68 Victory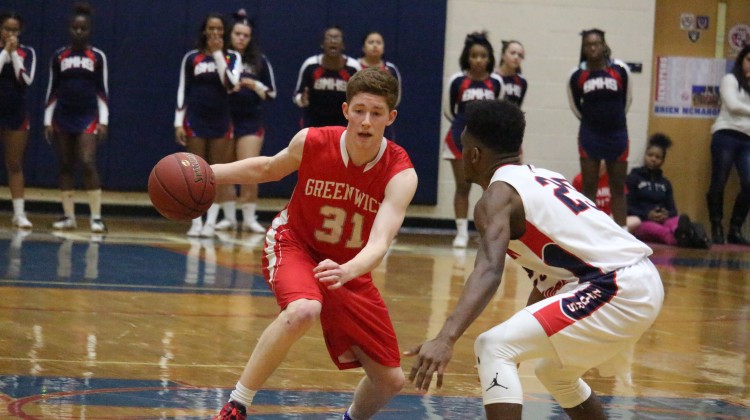 By Evan Triantafilidis
Sentinel Reporter
Three pointers. Free throws. Ice packs.
That was the order of events for the Cardinals coming out of Greenwich's 72-68 physical win over Brien McMahon on Friday night in Norwalk.
Greenwich improved to 2-1 in FCIAC play and 3-4 overall. The Senators, now 4-1 overall, suffered their first loss of the season
While a four-point win may give the hint of a close back-and-forth game, it was anything but. The four-point deficit was the closest the Senators got within Greenwich since the first quarter, as Greenwich's 22-point lead at halftime was cut into with a Senator comeback that was only brought to an end by the zeroes on the clock. In a tale of two halves, Greenwich prevailed despite the chaos that ensued well into the final seconds of the game.
"It's hard when you get a big lead sometimes," said GHS head coach Pat Heaton. "It becomes a helter-skelter kind of game and you just gotta hold on. Having two of our best players cramp up didn't help and we should have made more foul shots. We did what we needed to do to win."
It wasn't until his two final exhales — before and after his last free throw in the final half-minute — that Conor Harkins knew the Cardinals were going home with the win. The senior guard scored a team-high 25 points including a trio of three-pointers and going 8-for-9 from the free throw line. 
"It was a huge win for us," said a tired and exhausted Harkins after the game. "To bounce back from that tough New Canaan loss, it was an all-around great team win."
Harkins came out scoring the team's first 6 points and added a transition three-pointer in a 9-point first quarter. His assist to Oliver Milledge was the starting point for a 18-0 run for the Cardinals that extended into the second quarter.
With four three-pointers made in the second quarter for the Cardinals, and while holding the Senators to just four points total in the quarter, it was the visiting Greenwich team taking a game-high 22-point lead into the halftime break.
"We were fortunate we had more intensity than they did to start," said Heaton. "They are a good basketball team."
McMahon then went on to outscore Greenwich in the second half by a 52-34 count. In the fourth quarter alone, the Senators scored 31 points compared to Greenwich's 21.
McMahon's Eric Day had 22 points, 20 of which came in the second half. Matt St. Louis had 23 points and went 4-for-7 from the free throw line.
"I'm disappointed in our loss to New Canaan a couple of weeks ago," said Heaton. "They were hungry and we had a great two days of practice, and it showed tonight."
A physical game, which included a technical foul on the home team, kept the trainer busy all throughout the fourth quarter with Greenwich's hard-working Robert Clark, Pat McTiernan and Harkins all dealing with in-game injuries.
But in the end, Harkins knocked down his final six free throws in the fourth quarter.
Just as he opened the game with the team's first six points from the field, Harkins ended the game in similar fashion, except this the team's final six points were all from the charity stripe.
With three minutes remaining, it was Harkins six foul shots that counted as the Cardinals' last six points.
"We have to knock down free throws," said Harkins. "That's one of our focal points. Being a leader on this team, I think that's one of my most important jobs … to hit those at the end of the game to put it away."
Also for Greenwich, Robert Clark had 15 points. McTiernan added 10 points of his own and a solid defensive effort. Oliver Milledge, who played an important role in the paint, added five points.
Greenwich will host Fairfield Ludlowe at home on Tuesday at 7:00 pm.
Tags:
ctbb
,
FCIAC basketball
,
Greenwich Basketball
,
McMahon Basketball