December 29, 2016
'Wick Hockey Battles Belmont Hill to 1-1 Draw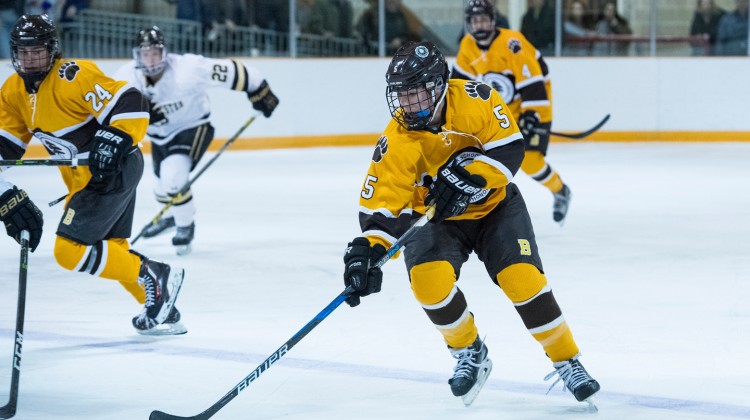 Brunswick skated to a 1-1 tie against Belmont Hill in the opening round of the Nichols-Belmont Hill Tournament on Wednesday in Buffalo, N.Y. The Bruins (5-2-1) return to tournament action on Thursday morning with an 11:00 a.m. face-off against Rivers.
After a scoreless opening period, the Bruins netted the first goal of the game with 51 seconds left in the second period. Following his own faceoff win and a point shot from Cooper Moore, Brunswick's Edward Glassmeyer scored on a rebound in front of the Hillies' net for his first goal of the season.
The Hillies mustered the equalizer on the lone power-play opportunity for either team with under a minute left in the game.
On the tying tally, a speedy Belmont Hill forward drove wide and threw the puck toward the net from near the goal line, where it ricocheted off a few skate blades and found its way onto a teammate's stick for an easy tap in.
Following tournament rules, no overtime was played.
Brunswick goalie Strauss Mann had another impressive outing in between the pipes, stopping 29 shots over 45 minutes of action.
Scoring
2nd Period
Brunswick    Edward Glassmeyer (Cooper Moore)       0:51
3rd Period
Bel. Hill        Mike Armstrong (Christian O'Neill)  6X4   0:41
 
Goaltending
Bel. Hill        Connor Hopkins (44:00)  11/12   1 (GA)
Brunswick     Strauss Mann (45:00)     23/24   1 (GA)
Tags:
Brunswick Hockey