December 22, 2016
Harkins' OT Buzzer Beater Downs Darien 61-58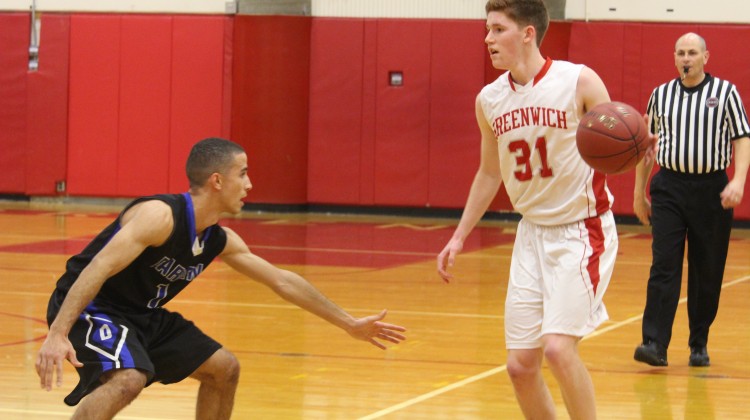 The rules were made very clear at Greenwich High School: no rushing the court.
But in overtime of Greenwich's home opener against Darien, Conor Harkins gave the Cardinal Crazies every reason to storm the hardwood after a dramatic three-point buzzer beater to lift his team to a 61-58 win.
"That's one of the best team wins I've been apart of," said Harkins just moments after being mobbed by his home crowd. "We have the best fan section in the state. That was just wild. You had to let them rush the court there."
Harkins opened the game with his first three-point attempt hitting nothing but net, and ended the match in similar fashion. The senior guard finished with 20 points, seven of which came in the overtime session.
Conor Harkins with the buzzer-beater trey to give Greenwich the 61-58 OT win over Darien. #ctbb #anotherone pic.twitter.com/ZfgB8NUWA6

— Evan Triantafilidis (@EvanTria47) December 23, 2016
It was just a few minutes earlier in the fourth quarter when Harkins appeared to have taken a hit to his left leg, but he called off the trainer and remained in the game.
"In his list of all-time shots, it's probably not at the top because the kid is just so good," said GHS head coach Pat Heaton with a smile. "It was a great win. He got hurt early in the fourth quarter and fought through it."
In a back-and-forth game that needed an extra four minutes to decide a victor, the senior guard gave credit to his team for staying resiliant after the Blue Wave clawed their way back into the game with a hot start to the second half.
"Pat McTiernan is a beast," said Harkins. "He came off the bench for us and went nuts."
The full-court pressure brought by the Cardinals resulted in turnover after turnover for the Blue Wave, as McTiernan not only provided solid on-ball defending, but also went a perfect 9-for-9 from the free throw line in his 14-point outing.
"Our whole team was playing really well," said McTiernan. "We got through the screens, and then Conor is an unbelievable shooter. Our goal was to shut them down with defense and make quick baskets on offense."
Harkins hit two of his first three shots from long-range and McTiernan made eight of his free throws in the first half, as the Cardinals took a game-high eight-point lead into the intermission.
However, the Blue Wave opened the second half with a 9-0 run to recapture the lead.
"I give them credit," said Heaton. "They went back at us in the second half. We brought the fight to them in the first half."
The third-year coach called McTiernan's play on defense a gamechanger.
"We wanted to press full court and I think he had about three or four big steals," said Heaton. "He made guys nervous. I was pretty happy with his effort."
Darien took a two-point lead into the fourth quarter, but Greenwich unleashed another weapon in Robert Clark.
Clark, who had three separate visits with the trainer throughout the game, had the biggest fourth quarter out of anybody on the court. He contributed seven points in the fourth quarter, including two steals and a block on the defensive end. The senior ended the night with 10 points altogether.
Down 50-46, it was Clark who made an and-one layup and a clutch three-pointer to bring the Greenwich crowd back to life.
McTiernan would add an acrobatic and-one layup of his own with under a minute left in regulation to give Greenwich a one-point lead. Darien would make one of two free throws and then would also hit a shot that was called off just after the buzzer, sending the game into overtime.
Greenwich found themselves down 58-54 with under two minutes to go in overtime, but Harkins would put the team on his back. Two free throws, a mid-range jump shot and a 21-foot three-point shot from the top of the key — all courtesy of Harkins — would result in Greenwich's first win of the season.
"It was anybody's game at the end," said Heaton. "They are well-coached and did everything they could."
Darien's 6-foot-7 Alexander Preston would put up 15 points for the Blue Wave as Theo Moore contributed 16 points of his own in the competitive game.
Greenwich put their first tally in the win column after taking two tough losses to West Haven-Notre Dame and East Hartford. The Cardinals will take a break until December 27 when they travel up to Scarborough, ME to play Scarborough and Portland High.
"This is going to make my Christmas a heck of a lot better," said Heaton.
Tags:
Greenwich High Basketball. Darien basketball. FCIAC basketball