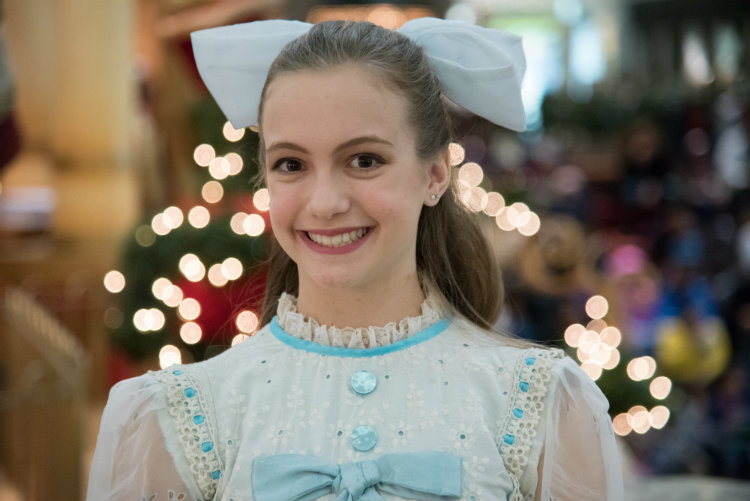 By Rob Adams
Sentinel Broadcasting Manager and Reporter
A Greenwich High School freshman will wow audiences this weekend in four performances of The Nutcracker at the Palace Theater in Stamford.
Fourteen year-old Anna Saggese won the role of Clara in the ballet that has become synonymous with Christmas. Performances will be Saturday Dec. 17 at 2:00 p.m. and 6:00 p.m., and Sunday, Dec. 18 at 1:00 p.m. and 5:00 p.m.
Anna will be dancing in the Connecticut Ballet production of a ballet that dates back to 1892 in Russia.
"I'm very excited, since this is my eighth year doing this," Anna said. "I'm a little nervous, but it's a great honor."
This is more than simply about just a young girl achieving a goal as a ballet dancer. This is about the juxtaposition of ballet against a family full of football nuts.
Anna's father, Rod Saggese, played football at Greenwich High. While he was there, playing for head coach Mike Ornato, he had an assistant coach, also named Rod Saggese – Anna's grandfather.
"On most Saturday's, I'm normally watching football or I'm at a football game," Rod (the father) said. "Now I'm at the Palace Theater at ballet. I've become a little cultured."
For Rod Saggese, he realizes that ballet does have some parallels to football. To be certain, a ballerina has to be in prime shape, both mentally and physically. In both cases, practice is absolutely necessary. One could say rehearsals and preview shows are along the same lines as scrimmages in football.
In fact, football has blurred lines with ballet. Former Pittsburgh Steelers wide receiver Lynn Swann was known for his graceful catches on the field. Swann, a member of the Pro Football Hall of Fame, won the Most Valuable Player award for Super Bowl X in 1976 on the strength of two of the most acrobatic catches in the history of the big game. Swann also took ballet lessons and showed off his skills on an episode of Mr. Rogers' Neighborhood.
"Ballet takes a lot of stamina and athleticism," Rod said, in regard to Anna, a sentiment that Swann might also embrace.
As for his dad, Rod said that the one-time housemaster of Bella House at GHS is very proud of his granddaughter, and will be in the audience for that first show on Saturday. But the tough assistant coach, who worked under Coach Ornato, as well as under Rob Trifone at Darien High School later on, always had his own words of wisdom.
"My dad would say: 'that's what playing sports is all about. Football is an extension of life,'" Rod said.
"My whole family played football."
While they're all still fans of the sport, they're also now ballet fans. Anna said that she would prefer if her immediate family would stay away from that first show. However, Rod will be there, in part to work his own emotions out.
"It's a big deal," he said. "I've become more of a crier as I've gotten older, and I'm going to be emotional on Saturday. Yet you might want to wait until next week to talk to me. What I learned in sports didn't prepare me for this."
While Rod said he and his wife Karen didn't push Anna into ballet, she started young and took to it.
"I started ballet when I was three and I kept doing it as an activity to do," she said. "As I kept doing it, I fell in love with it. I started looking up other dancers and became interested in them."
As the preparations and promotion of the Nutcracker went on, Anna appeared as Clara at Stamford Town Center in their Grand Court Holiday Display. Guests were allowed to have their picture taken with Anna. So how does this young lady, who her father described as quiet and shy, deal with being a celebrity?
"It's kind of crazy," she said "Not everyone in this generation wants to hear about dance."
Anna appears to have remained grounded, despite all of the attention.
"I remember how much hard work I've put into this," she said. "I don't get too braggy about it."
"She's the face of the Connecticut Ballet," Rod said. "She has had to come out of her shell a little bit."
Anna has a rigorous schedule that includes classes at Greenwich High School, followed by a break before heading to Stamford for rehearsals.
I'm very surprised that I've made it through the schedule, but I make sure that I have time to get schoolwork done," she said.
She added that her friends are excited, as well as the teachers that she told at GHS. Her kindergarten teacher, who has seen her perform in the past, is planning to be in attendance this weekend.
The juggling act also extends to Rod and Karen. Anna is the oldest of three children that includes daughter Liza and their son, Luke. That juggling includes getting Anna to rehearsals, not just in Stamford, but elsewhere.
"We dedicate a lot of time to this," Rod said.
Still at just fourteen, Anna is pondering her future beyond this weekend. Recognizing the shelf life of a ballerina can be short (another parallel to football), Anna is already thinking about college.
"As a dancer, you want to try to get into a ballet company as soon as possible," she said. "I'm definitely starting to think about dance colleges."
So Anna – Clara, if you wish – is ready for the big show. How about dad?
"She's following her dreams," Rod said. "I give her a lot of credit. She has a passion for it. It's putting her on the way to being a well-rounded person.
"We're very happy for her."