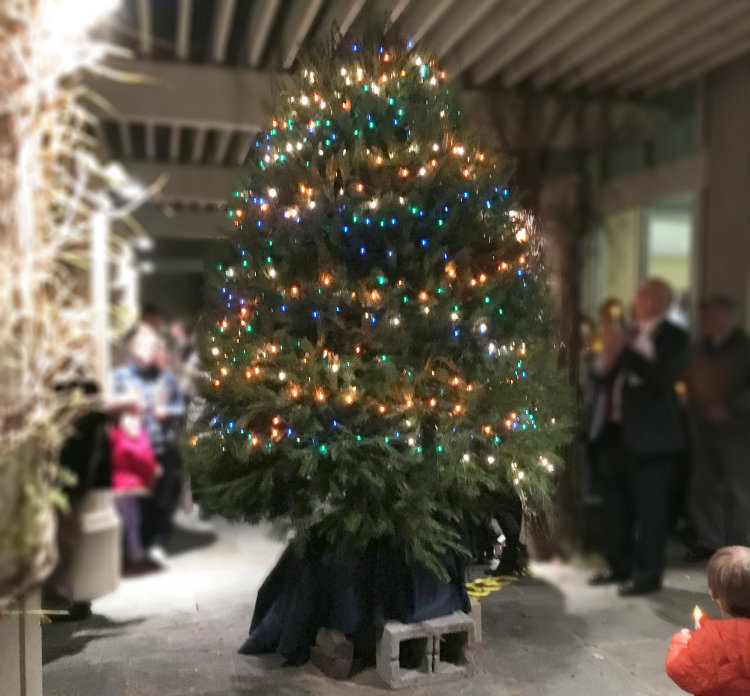 By Rob Adams
Sentinel Broadcasting Manager/Reporter
Friends, staff members, loved ones, and more gathered at the Noble Conference Center at Greenwich Hospital for the annual Tree of Light Celebration on Dec. 5.
"This was our 17th year," said Pat Szechtman, Clinical Coordinator at Greenwich Hospital. "It's a non-denominational event and a fund-raiser for the hospice program. It helps to support costs that are not covered – whether by insurance or for people who don't have insurance.
"It's a very moving ceremony."
The event, which is open to the public, drew over 200 people. Family members of patients that have been treated by Greenwich Hospital's Home Hospice Program attended, but Szechtman pointed out that this was more than a memorial celebration.
"It's also to honor people," she said. "We have donations that are made from anyone in the community that may want to honor or recognize a particular staff member, a physician, or a group of people."
She added that the ceremony is for anyone, including staff members.
"It's also a time for staff to reconnect with families," she said. "We've had people who have come for all 17 years. Some have come for a number of years. It's a time for reconnecting, which is very nice. For some, it can be a very recent loss. I think staff find it helpful as well as family."
A harpist and candles greet attendees as they arrive at the ceremony, followed by speeches from medical and spiritual leaders. The actual lighting of candles follows, along with songs, before attendees move to the Sanna and Victor Borge Terrace, where the Tree of Light awaits.
"Each light that's on the tree – they're different colors – represents a different donation amount that people make," Szechtman said. "They'll be lit through December. Afterwards, it's planted on the hospital grounds."
A reception followed the lighting of the tree.
According to their website, the names of those remembered are entered into an Annual Book of Honor on permanent display at Greenwich Library.
Szechtman added that Sharon Brown is the new Hospice Director who was introduced at Monday's tree lighting, while Dr. Caroline Lodato has joined the palliative care group, as a part of Dr. Donna Colletti's team. Dr. Colletti is the Medican Director of the Hospice Program, and spoke at the Tree of Light ceremony.
Szechtman stressed that there are a number of volunteers that are essential to the Tree of Light ceremony.
"In fact, one of the volunteers made corsages or boutonnieres for all of the members of the staff to wear," she said. "They also hand out the programs and the candles and meet guests at the door. Some of them have been involved and know some of the families."
According to their website, Greenwich Hospital's Home Hospice Program "provides compassionate end-of-life care, regardless of a person's ability to pay. Patients can conclude their lives at home, surrounded by people they know and love."
While the ceremony has concluded, donations can still be made to the Home Hospice Program at their website – http://giving.greenhosp.org/tree-of-light. The donations tax-deductible. Questions regarding the Greenwich Hospital Foundation and Home Hospice can be addressed at 203-863-3683. Greenwich Hospital is a 501 (c) 3 non-profit organization.