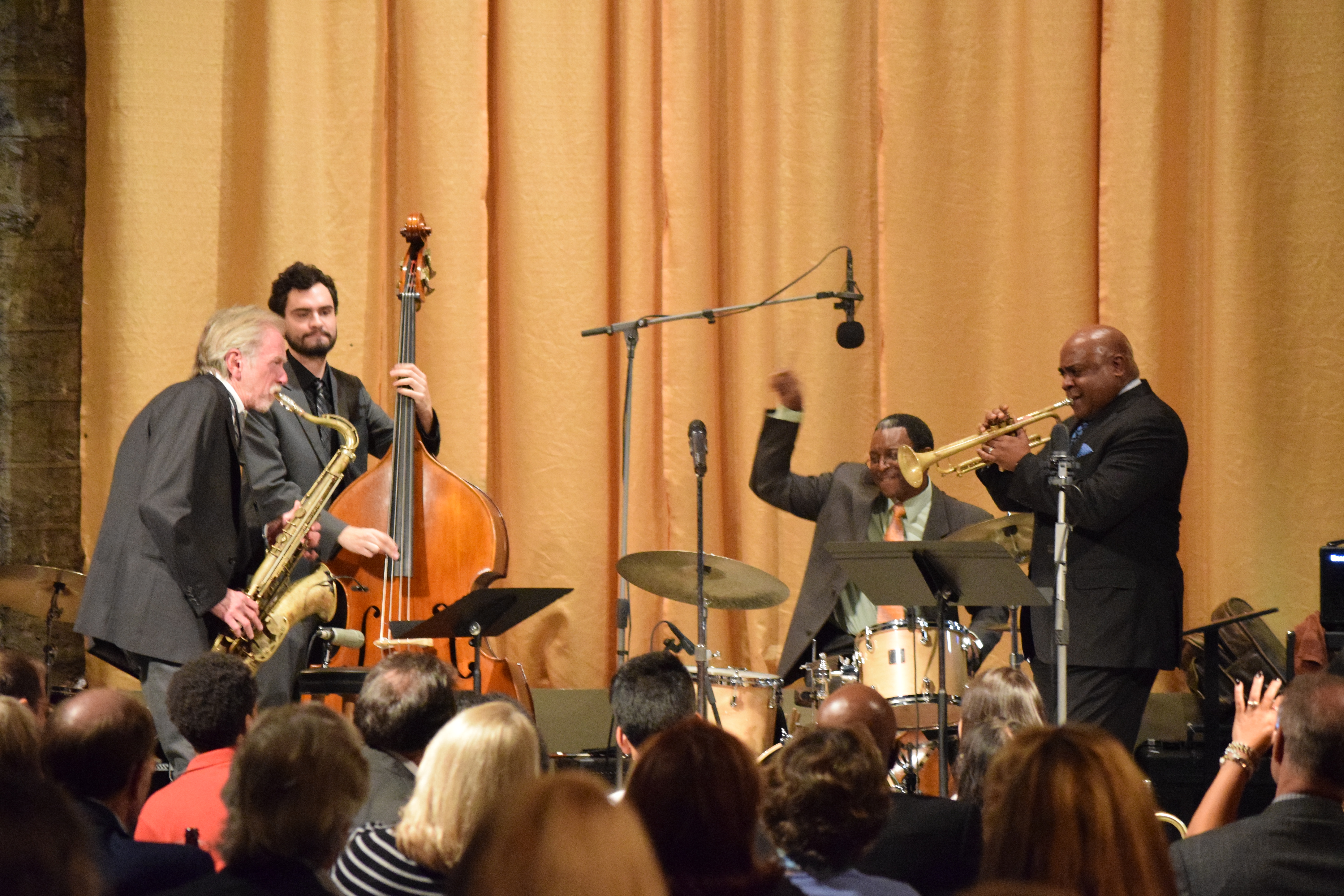 Chéye Roberson
Sentinel Reporter
Rhythmic sensations mesmerized the crowd during a jazz concert last Saturday at St. Bede's Chapel on the grounds of Carmel Academy in Greenwich when tenor saxophonist Bennie Wallace, along with other renowned musicians, invited students from the BackCountry Jazz Summer Music Camp and Afterschool program in Bridgeport to join them on stage.
"I'm so proud of the kids," said Wallace, BackCountry Jazz's artistic director. "They're just growing so quickly. I felt it just all came together Saturday night. It was thrilling to see them play so beautifully."
The kids ranged in age from 12 to 17. The concert was held to help raise funds for BackCountry Jazz's music education programs. Under the chapel's high wooden ceiling with gold gilded and red accented names, a full crowd sat at the circular tables sipping wine and bobbing their heads and swaying with delight to the music in the intimately lit night club like atmosphere. Terell Stafford on the trumpet, guitarist Bobby Broom, and New Orleans drummer Herlin Riley played with Wallace for a number of songs.
"It's always big fun playing with them," said Wallace.
Riley said that Jazz deserves to be preserved because it is a true American art form.
"It represents a certain freedom," Riley said. "And the fact that Americans and still embracing it and still playing it is a very exciting thing. And it's important because it's our contribution to the world."
BackCountry Jazz offers free programs which include the BackCountry Jazz Summer Music Camp for Bridgeport Public School children, the After-School Program, scholarships, instruments, workshops, master classes, concerts and events with world-class artists and educators.
Wallace said that music education is often one of the first budget lines on the chopping block when schools fall victim to funding cuts. This inspired the mission of BackCountry Jazz, and with private support and grants from Fairfield County's Community Foundation, Newman's Own, Cultural Alliance of Fairfield County, and Connecticut Office of the Arts, the organization stepped up to fill the whole left by a lack of public music education programs in Fairfield County.
Kelsey Merrow, an attendee of the concert, said that she has been one of BackCountry Jazz's longtime supporters. "I was there right in the beginning. I believed in what he was doing and I'm still here," she said.