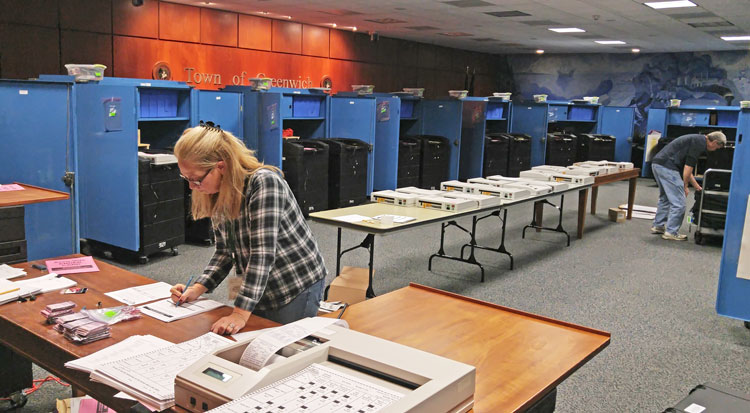 By Paul Silverfarb
Sentinel Editor
Tomorrow, Greenwichites will exercise their right to vote by casting their ballots for Connecticut General Assembly candidates, for U.S. Congressional candidates, and for President of the United States.
Greenwich's Republican registrar of voters, Fred DeCaro III, said it's getting down to crunch time, with only four more days until residents choose their elected officials.
DeCaro said that no matter how much excitement a Presidential election brings to the community, Greenwich generally has a pretty steady voter turnout.
"There is around 80 percent of registered voters that turn out," DeCaro said. "That's how it has been, historically, going back decades. I think that this is such a sophisticated and intelligent electorate, that all those people who want to vote for the President have always, traditionally, come out. I don't see the number changing significantly in the town of Greenwich."
In the Hartford races, Greenwichites will elect one state senator and three state representatives.
In the 36th Senate District, which includes Greenwich and parts of New Canaan and Stamford, Republican incumbent L. Scott Frantz is up against Democratic candidate John Blankley and Green Party candidate Ed Heflin.
In the state House's 151st District (including much of Cos Cob and Riverside and part Old Greenwich), Republican incumbent Fred Camillo faces Democratic challenger Dita Bhargava.
Incumbents Livvy Floren, Republican in the 149th House District (largely back country and western Greenwich) and Mike Bocchino, Republican in House District 150 (largely coastal Greenwich, south of the Post Road), are running unopposed.
For the U.S. Senate, Democratic incumbent Richard Blumenthal is running against Republican challenger Dan Carter, a state representative. For the U.S. House of Representatives, Democratic incumbent Jim Himes is running against Republican challenger John Shaban, who is also in the state House.
Greenwich's registrars of voters—DeCaro and Democrat Sharon Vecchiolla—didn't wait for the leaves to change to prepare for Nov. 8. "We start preparing for the election three weeks after the last election," DeCaro said. "In the case of an election like this, we have additional staff, which we hire simply to process voter registration cards."
And those people were quite busy this time around. DeCaro said that they were getting 100 to 200 registration cards a day. On the last day to register, the department registered more than 300 people.
"I believe that this is the first time that we have ever hit 37,000 registered voters in the town of Greenwich," DeCaro said. "Usually the number is shy of that."
Of course, some have already voted. As of Wednesday afternoon, Greenwich had issued 3,978 absentee ballots, with 2,828 of them returned completed, according to Assistant Town Clerk Kimberly Jordan.
To make your voice heard, go out and vote at your appropriate polling place:
• District 1: Julian Curtiss gymnasium, located on 180 East Elm Street.
• District 2: Town Hall first floor meeting room, on 101 Field Point Road.
• District 3: Western Middle School, at 1 Western Junior Highway.
• District 4 & District 4A: New Lebanon School gymnasium, at 25 Mead Avenue.
• District 5 & District 5A: Riverside School gymnasium, at 90 Hendrie Avenue.
• District 6 & District 6A: Old Greenwich School gymnasium, at 285 Sound Beach Avenue.
• District 7 & District 7A: Greenwich High School, at 10 Hillside Avenue.
• District 8: Central Middle School gymnasium, on Stanwich Road.
• District 9: Bendheim Western Greenwich Civic Center, at 449 Pemberwick Road.
• District 10 & District 10A: Glenville School, at 33 Riversville Road.
• District 11 & District 11A: North Street School gymnasium, at 381 North Street.
• District 12 & District 12A: North Mianus School gymnasium, at 309 Palmer Hill Road.