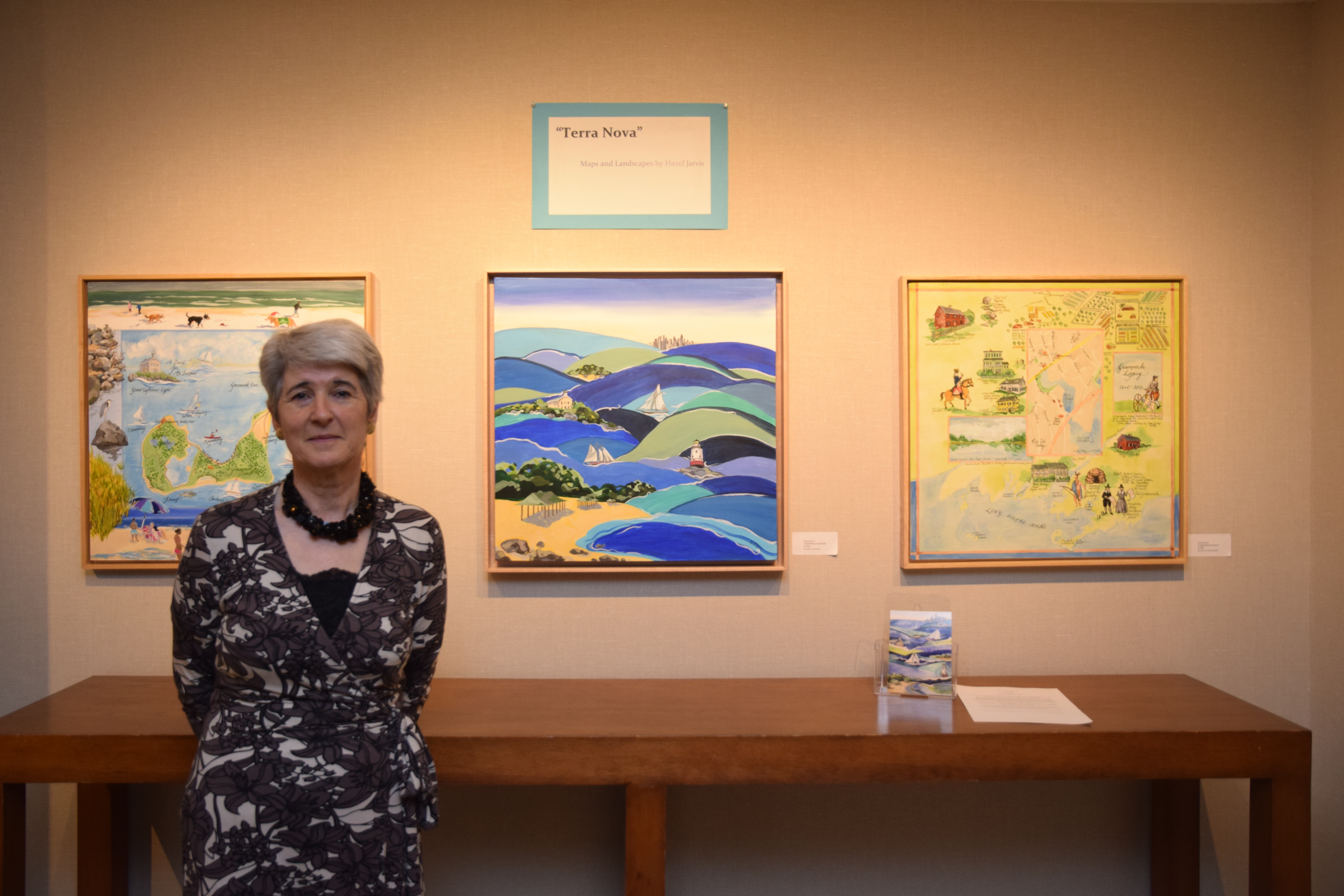 By Chéye Roberson
Sentinel Correspondent
Hazel Jarvis, a buzz-worthy artist who lives in Riverside, will be showing her latest collection of paintings at the Les Beaux Arts Gallery, at Round Hill Community Church, from Oct. 23 to Nov. 30. The exhibit features maps and landscapes of scenes from Greenwich, New Orleans, Venetian Italy, and states of the American Southwest.
Jarvis's artwork is embedded with multiple story lines as she aims to give the viewer the feeling of a location and history through her paintings by vividly mixing in features of the landscape, people you might meet, cultural motifs, and indigenous animals into her maps. Jarvis has said she enjoys creating maps that try to give a sense of place rather than being cartographically correct. She is more interested in the narrative of the landscape.
"I'm not really interested in maps that take you from A to B, because we have GPS, MapQuest and things like that," said Jarvis. "The more I read about history, the more I want to map (a location), because there's so many things going on."
Jarvis said she fell in love with the landscape of the southwest while on vacation there during a Connecticut mid-winter.
"I fell in love with the sky—so beautiful and blue, coming from the Connecticut gray winter," said Jarvis. "The rocks have so many beautiful formations."
Jarvis said she enjoys comparing various pallets from one location to the next: "Connecticut has a very green and blue pallet whereas the southwest has reds, browns, and slashes of turquoise, and it's a fabulous contrast."
Jarvis has been painting for as long as she could hold a pencil. Born in Bristol, England, she lived in Tokyo before moving to Greenwich 18 years ago. Some of her favorite places in Greenwich include Tod's Point and the Garden Education Center. At the education center Jarvis holds weekly art classes for adults that follow the academic school year. Some of her students have been with her for 15 years.
Jarvis said she loves the Garden Education Center "because you can walk around any season and see the seasons unfolding."
"There are birds of prey, foxes, owls, and other animals out there. It's a big change from the city where we spend most of our time," said Jarvis.
Jarvis said her exhibit at Round Hill embodies its name, Terra Nova, meaning "new land."
"It really is Terra Nova, because when you go somewhere you need a map or something to orient yourself to the area and its history," said Jarvis. "I don't know why, but something excites me when I think this area probably hasn't change in 300 years and I can screen out the cars and you're back in history."
The gallery is open Sunday, 11:30 a.m. to 12:30 p.m.; Monday through Friday, 9 a.m. to 3 p.m.; and closed Saturday. The gallery will also be closed on Nov. 24 and 25 for Thanksgiving.