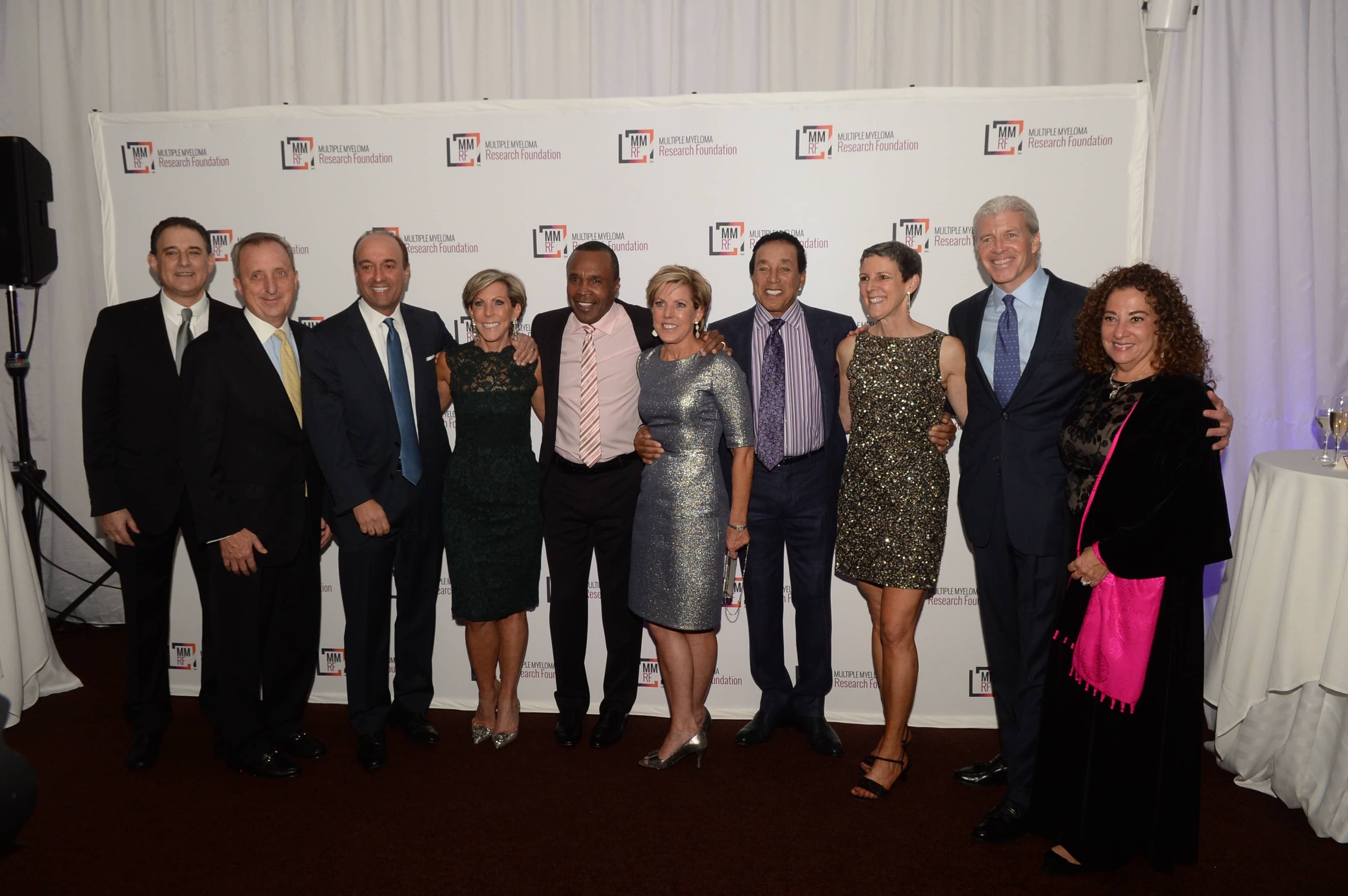 By Chéye Roberson
Sentinel Reporter
Although the live performances of classic Motown hits from Smokey Robinson and the Miracles soared through the crowd during the 20th annual Multiple Myeloma Research Foundation Gala at the Hyatt in Greenwich, it only served to compliment a spirit of generosity that soared even higher.
The Multiple Myeloma Research Foundation, referred to as MMRF, hosted more than 1,000 patients, supporters, and celebrity guests, such as CeeLo Green, Smokey Robinson and Sugar Ray Leonard, who served as the master of ceremonies, on Saturday to raise money for multiple myeloma research.
The event raised more than $1.6 million to fund the MMRF's unique precision medicine model intended to bring next-generation treatments to myeloma patients. Multiple myeloma, a cancer of the plasma cells, is the second most common blood cancer. An estimated 30,330 adults in the United States—17,900 men and 12,430 women—will be diagnosed with multiple myeloma in 2016, and an estimated 12,650 people will die from the disease.
Greenwich residents Anne and David Ogilvy received the MMRF's Spirit of Hope Award for their perseverance in the fight against multiple myeloma.
"I would not be alive here today, 11 years later, were it not for the MMRF, and I want to thank all of you generous people who have helped to fund the research that continues—you are all a vital part of the equation to ultimate success," said David Ogilvy, the president and owner of David Ogilvy & Associates Realtors.
Mary Derome, the transitional research manager at MMR, said she found it amazing that so many people were willing to give money to their cause.
"It's so phenomenal," said Derome. "It really is a testament to what we're showing the community—helping patients and people respond to that."
Derome said that the data collected by MMRF is used to determine if a patient use one of two ways of treating cancer—a drug to battle the disease or a one that helps their own immune system fight the disease. There is also an option to combine the two methods.
"The important thing is to be sequenced. It really helps us figure out what to do next," said Derome.
Kathy Giusti, the co-founder of the MMRF, was diagnosed with the disease 20 years ago, at age 37, and given a prognosis of three years to live. She and her twin sister, Karen Andrews, founded the MMRF in 1998 as a virtual biotech, run like a Fortune 500 company. Now the MMRF is the world's number one private funder of multiple myeloma research. Since its inception, the organization has raised over $330 million and directs nearly 90 percent of the total funds to research and related programs.
"As a patient-founded and patient-focused organization, we are honored to celebrate patients and caregivers like Anne and David Ogilvy who inspire us every day," said Paul Giusti, Kathy's husband and MMRF's president and CEO. "Our end-to-end precision medicine model is heralded as best-in-class and we remain steadfast in our mission to find a cure."
During the gala, Robinson was presented with the MMRF Courage and Commitment Award in recognition of his achievements and the hope he has inspired through his work. He apologized for not performing due to feeling under the weather, and thanked CeeLo Green for stepping in to perform some of his hits along with CeeLo's own chart-topper, "Forget You."
Presenting sponsors for the evening included Takeda Oncology and Janssen Pharmaceutical. The media sponsor was Moffly Media.
Paul Giusti summarized the foundation's achievements of the past and told the supporters in attendance that the organization is looking to carry their record of innovation into the future.
"We are sharing ideas with leading foundations: the Melanoma Research Alliance, Metastatic Breast Cancer, the Prostate Cancer Foundation," he said. "We are sitting side-by-side with Google, Verily, IBM Watson and GE. We are sharing knowledge, models, and pushing ahead together toward cures. By having the largest data set in the world, the MMRF is working with amazing technology partners, analyzing data to optimize the use of combination therapies, finding new targets for patients at risk, learning where our pathways overlap with other cancers."
Giusti said that this is a major win-win for everyone involved.
"It not only accelerates our progress in multiple myeloma," he said, "it advances research across the board in all forms of cancer."