November 4, 2016
Greenwich Swim/Dive Team Strong at FCIAC Finals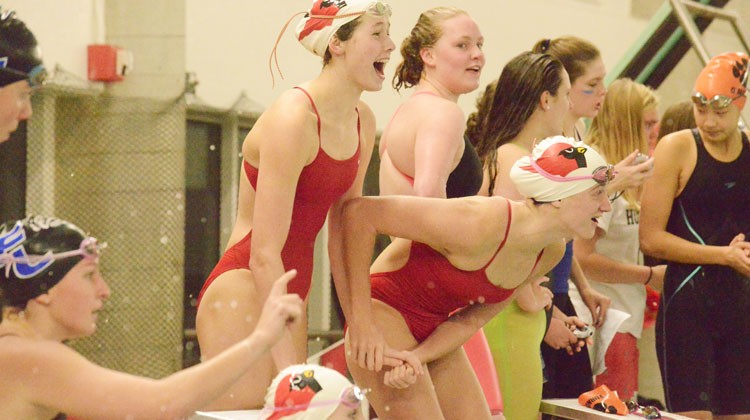 By Paul Silverfarb
Sentinel Editor
While the Greenwich High School girls swimming and diving team didn't finish at the top of the leaderboard during this year's Fairfield County Interscholastic Athletic Conference championship meet, it certainly doesn't mean they weren't pleased with their times and points.
The Lady Cardinals finished the FCIAC championship met fourth overall, netting 256.50 points. The overall FCIAC champion was Ridgefield, as the Tigers ran away from the field late and grabbed 340.50 points.
The next closest team was Wilton, as the Warriors took home the silver and 260.50 points. Staples High School wasn't far behind in third, finishing with 258.00 points, just one-and-a-half more than Big Red.
Rounding out the top five was Fairfield Ludlowe, as they ended the day with 244 points.
"The times for us were absolutely there," Greenwich High School head coach Lorrie Hokayem said. "We had a lot of best times for the season. I am really happy with the way we are swimming races. We looked very strong in the back half and I think we are ready to do really well in our next event."
The Cardinals were led by Kelly Montesi, as the junior finished on the podium in both her events.
"This is definitely a meet where we have to persevere and just get through it," Montesi said. "We all did very well considering the circumstances. It was a positive experience for the entire team."
In the 100-yard butterfly, Montesi was neck-in-neck with Staples' Marissa Healy. At the end of the race, it was Montesi who took home the silver and a time of 58.46 seconds. Healy's top time was 56.67.
"I think Kelly swam her races really well today," Hokayem said. "She looked really strong in the water and she swam in two really tough races. To be able to touch somebody out there at the end is great. Second place is great and she did a great job."
Competing in the 200-yard individual medley, Montesi grabbed sixth place on the day, posting a time of 2:12.43.
"In the pool I didn't feel that great because kids around me were passing me, but I had my teammates and they helped me and lifted my spirits," Montesi said.
Not to be outdone for Big Red was fellow junior Julia Merrill, who also competed in two FCIAC top heats.
"We did so well and I am so proud of the team," Merrill said. "We really tried hard. In all our individual events, we all did best times. We really have been putting in the work this season."
In the 100-yard freestyle, Merrill finished seventh overall, touching the wall with a time of 55.14. She also competed in the quickest event of the day, the 50-yard freestyle, and ended the event eighth overall, grabbing a time of 25.19.
"I felt pretty good today," Merrill said. "I'm a little sore because of a lot of hard practices and building up for the postseason, but I loved the support of my team. It made me feel so much better. Seeing them at the end of the pool helped so much."
While the duo were solid during the swimming championships, a day earlier Greenwich High School dominated the FCIAC diving finals that were held in the Westhill High School pool.
No one had a better day Big Red's Annabelle Pollack, as she captured the diving championship with an impressive point total of 421.75 points. Not to be outdone was Taylor Kirsch, who ended the day with the bronze and 405.30 points.
Keeping the good times rolling was Maddie Muldoon, who tied Trinity Catholic's Shannon Daine for fifth on the day with 391.25 points. Rounding out the top 10 was Emily Murphy, as she took home eighth overall and 376.25 points.
To say that Hokayem was pleased with her divers would be an understatement.
"Those kids work so hard at their craft," Hokayem said. "They are very well coached and are really committed to what they do. Sergey Meshcherskiy does an amazing job with them and I am super pumped that they were ready to go and ready to performed when it mattered in a championship meet. They really gave us a chance to place high today."
Keeping the good times rolling in the FCIAC swimming finals was another junior, Lillian Clisham. In the first individual event of the night, the 200-yard freestyle, Clisham took to the pool and touched the wall with a time of 1:59.57. Her time was not only good enough for sixth overall, it tied Norwalk-McMahon's Lauren Daignault.
During the 500-yard freestyle, the most grueling event of the evening, it was Clisham's time of 5:21.14 that placed her ninth on the day.
Several other swimmers had stellar individual performances for Greenwich in the FCIAC championship meet. Sophomore Emily Warner was eighth in the 200-yard freestyle, posting a time of 1:59.96. She also took part in the 100-yard freestyle, posting a time of 55.55 and was 12th in the event.
Sophomore Kortney Knudsen also qualified for the FCIAC championships in two events. During the 200-yard freestyle, her time of 2:00.73 placed her 12th on the day. In the 500-yard freestyle, Knudsen touched the wall 15th and took home a time of 5:32.82.
In the 100-yard breaststroke, Greenwich had two finishers. Senior Emma Himes netted a time of 1:12.82 for 14th place overall, while teammate Allison Brea, a sophomore ended the day 16th with a time of 1:13.34.
The Lady Cardinals also grabbed a trio of top 15 finishes in the 50-yard, as junior Louisa Bjerke took home 13th overall and a time of 25.71. junior Ainsleigh Winget posted a time of 25.77 and was good enough for 14th place. Teammate Taylor Schinto, a junior, also competed in the same race and was right behind Winget, netting a 15th place time of 25.94.
Bjerke also battled in the 100-yard freestyle, grabbing a time of 56.26 that gave her the 14th spot.
Fellow junior Kate Ennis also took the 14th spot in the 200-yard individual medley, competing in the 200-yard IM and netting a time of 2:18.81.
"We just have to get through this meet and put it behind us," Montesi said. "We want to get ready to have a great class LL meet and state open meet. I know we will do a great job there. I think we have a very bright next few weeks ahead for us and I think we could be up there near the top."
For Greenwich High, there's not a lot of time to prepare for a tough state tournament. On Nov. 10 at 5:30 p.m., the GHS divers will take to the pool at Middletown High School for competition at the CIAC class LL championships. On Nov. 16 it's the swimmers turn, as they will travel to New Haven and battle in the Southern Connecticut State University pool starting at 6 p.m.
Two days after the swimmers compete at LLs, the CIAC state open diving finals will take place at Bulkeley High School. On Nov. 19 at noon, the swimmers will get their turn at the state open title, as they travel to Yale University for competition.
For Merrill, it's all about hard work as the team gears up for the class LL and state open championships.
"We are going to need to work really hard because obviously to beat the rest of the teams, we have to put in the work," Merrill said. "Helping us stay successful is supporting each other. We need to have each other's backs as we go through the postseason."
Tags:
Big Red
,
CIAC
,
class LL
,
ctdive
,
ctswim
,
FCIAC
,
greenwich
,
Greenwich Diving
,
Greenwich Swimming
,
Lorrie Hokayem