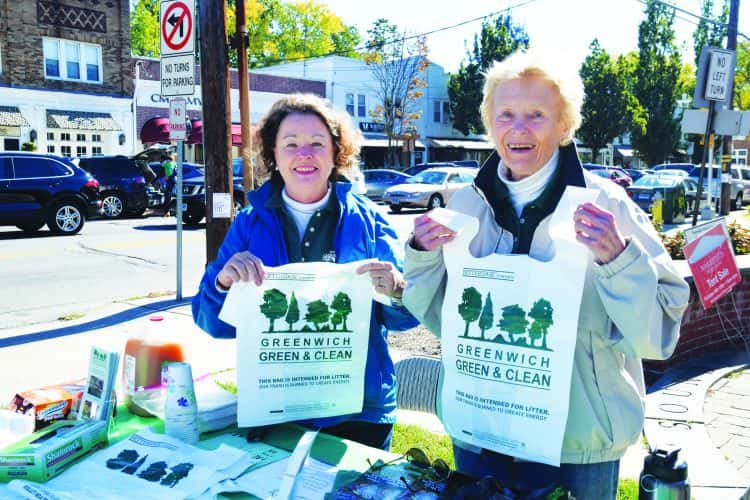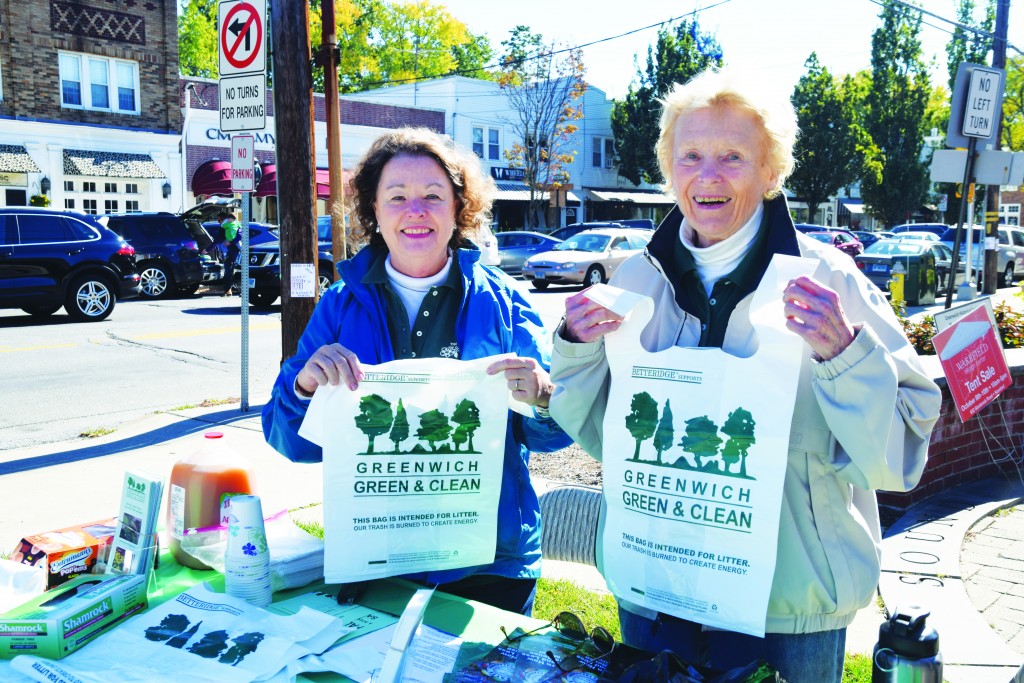 By Chéye Roberson
Sentinel Correspondent

Residents from all over town stopped by their local firehouses and Tod's Point on Saturday to help make Greenwich a little cleaner by picking up litter and trash from nearby areas during the annual Town-Wide Cleanup, organized by Greenwich Green and Clean.
It was common to see families taking part in the Town-Wide Cleanup as an activity they could do together. Seven-year-old Will Kruper, who took part in the cleanup with his mom, Jen Kruper, said he wanted to participate because "we'd be helping the environment. It's our job to care of the town, because it will be extremely more pretty and healthier."
His mom felt that taking part in events like the cleanup with her son has helped to impart a valuable message.
"It's important to make sure keep our living space clean, and it's important for kids to understand their role and part in it," said Jen Kruper.
Together the two of them filled three bags of trash.
Donuts and refreshments were available to the volunteers, who were given trash bags and gloves for cleaning and able to trade in trash for spring plants and daffodils bulbs.
"We trade trash for flowers," said Mary Hull, founder and executive director of Greenwich Green and Clean.
Greenwich residents Cheryl Gibson and Mike Tracey filled more than seven bags and said it was great to be outside and help the community at the same time.
"It's just a good thing to do. It's good for the town and good for neighborhoods," said Tracey.
Barbara Norgard and Diane Fox—the longtime town planner—were stationed outside the Old Greenwich firehouse helping to hand out trash bags and information. They were both appreciative to all the volunteers who came to help out.
"That's what's so lovely about it," said Norgard. "The town is such a friendly place."
Hull said they handed out at least 350 bags during the cleanup. The most popular cleaning sites were around various water areas, including Tod's Point and Cos Cob Mill Pond across from the firehouse. "
"You might find people's lunch they stuffed between the bushes where they thought nobody would see it, said Hull. "Other big finds are beer containers, food wrappers, soda and water containers. Once trash is in an area of any variety it encourages it encourages people to throw their trash there as well."
Greenwich Green and Clean also takes part in Save the Sound, which helps keep track of how much trash is found in the sound.
"We pick up several tons of trash along the water, tally them, and send them to the U.S. government," said Hull. "We estimate how much garbage is in the water and analyze it to reduce the trash."
Hull said that the best part of the Town-Wide Cleanup is that people are coming together to help others.
"Instead of focusing on their own lives," she said, "they are focusing on what they can do as individuals, because it's the little ways we can participate that makes this town great."