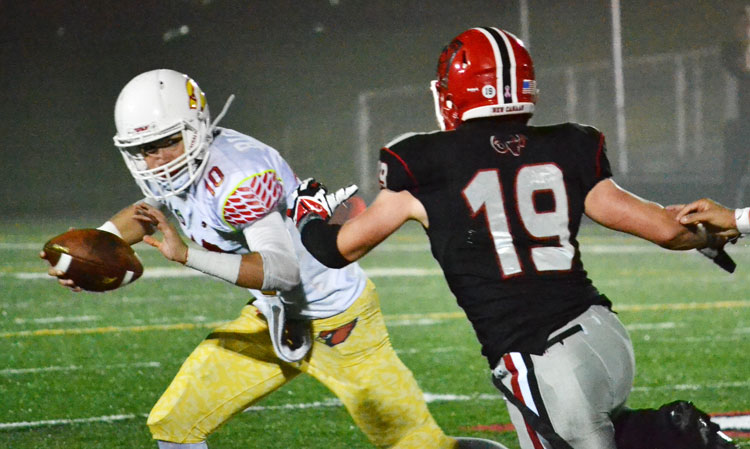 Under the lights in a fog-filled James Dunning Jr. Stadium, the New Canaan Rams defended their perfect record (6-0) with a 40-16 victory over Greenwich High (4-2) on Friday night.
When the final buzzer went off, neither coach seemed thrilled about the score of the game, but for obvious different reasons. On one end of the field, John Marinelli gave his team the motivation to come back even harder from the loss to the state's second ranked team, while his father, Lou, made it clear not everything lies in the final score of the game between these two unique teams.
"I hate it," said New Canaan's Lou Marinelli, who was happy for the week to be over. "I hate having to walk across the field. It's tough."
His son's return to the sidelines of New Canaan High, this time as a visiting head coach, did not go as Big Red planned it out to be
After a stalemate of a first quarter, it was a pair of turnovers and some costly penalties that pushed New Canaan out to an early lead.
Following three consecutive completions, Greenwich senior quarterback Connor Langan scrambled from the pocket and lost control of the ball as he tried to gain every last yard he could. A New Canaan recovery would set them up with ideal field position, and with help from a roughing the kicker penalty, the Rams were able to take the game's first lead.
Freshman quarterback Drew Pyne would connect with Jack Hoelzer for a 26-yard touchdown to break the seal and put New Canaan up 6-0 after a missed extra point.
On the ensuing Cardinal drive, it was one play and out for the Greenwich offense. Sean Knight made an athletic play to make an interception, giving the ball back to Pyne and the offense.
It was just two plays later, and 45 seconds off the game clock, when Pyne found an open Ryan O'Connell for a 20-yard touchdown. In the blink of an eye, the Rams had built a 13-0 lead from key turnovers.
However, the gifts kept on coming for the home team, as a backwards pass was ruled a live ball which New Canaan was able to get to first. It stalled a nine-play Greenwich drive into Ram territory.
While the Rams weren't able to capitalize on the third turnover of the half, it was the Cardinals who stormed back before the half with an 11-play drive resulting in their first points of the game.
After committing a costly roughing the passer play on fourth down, the New Canaan defense fell victim to a 28-yard pass down the left sideline to Jeremiah Harris, who fought his defender off to make a stellar catch in the endzone.
The Cardinals came within five points, and 26 seconds later, the halftime buzzer came. 
A one-score game was quickly put away with the freshman quarterback supplying a big third quarter, where he threw his third and fourth touchdown passes of the evening.
A three score New Canaan third quarter came over Greenwich before they could even see what hit them.
Out the second half gate, Pyne found an open Quintin O'Connell from 20-yards out for the score. A subsequent 3-and-out for the Cardinals gave New Canaan superb field position as they only needed 34 yards on the drive to score. This time, it was captain running back Ryan O'Connell who rushed it in from 10 yards out.
The Cardinal offense would try to get things clicking in the run game, but the defensive pressure from the Rams defensive line forced a turnover on downs as Greenwich started to play in desperation mode.
The advantage played right into the Ram's plans as Pyne rolled out of the pocket to pinpoint Jackson Appelt in the endzone.
The lead became 33-8 with just over eight minutes played into the second half.
The Cardinals would come far from giving in though, as they progressed down the field each time a little bit farther, but somehow were the bearer of many gifts for the Rams defense in the second half.
After converting on fourth down, a 10-play drive came to a sudden end when captain Tom Root came up with his second interception for New Canaan.
"They came out in the second half, we didn't," said John Marinelli. "We were struggling on offense a bit and we weren't able to sustain any drives offensively."
The second-year head coach continued, "We got to be able to run the ball. We got out of our game plan a little too quickly. They are a good team but we turned the ball over too many times. You're not going to beat the No. 2 team in the state turning the ball."
Quintin O'Connell would find the endzone again for a 22-yard rushing score and Greenwich's Kevin Iobbi would tack on a score for the Cardinals in the fourth quarter to bring the final score to 40-16.
 "Chris Silvestri is the best defensive coordinator in the state, no questions asked," said John Marinelli. "We can learn that if we don't show up in the second half, this is what is going to happen. We have to go back to the drawing board. It's a lot like Darien, we could just stay with Darien a little bit more but we needed to score on offense and put together a drive. We never did that. The score is not as bad as it looks, but we put our defense in some terrible situations. Our punting game was terrible.
Marinelli also gave high praise to New Canaan's Drew Pyne after his four touchdown day on Friday. He finished with 184 passing yards and 69 yards on the ground on nine carries.
"He looks like Johnny Manziel," John Marinelli said. "He makes plays and he's a gamer."
Pyne looked poised in the pocket and even better on the run during Friday's contest, as he also credited a fast start to the second half to maintaining a perfect 6-0 record thus far.
"They had some momentum going into half," said Pyne. "We came out firing, clicking on all cylinders. Our offense started to click a lot and it started with our offensive line. All of them work hard every day. I go up against the best defense in the state every day, so I just get better all the time."
On the offensive side for Greenwich, Matt Morganti had one of the better offensive performances on the night with a handful of key first down conversions. He called the loss a wake up call and called for practice to be "lights out" next week before another tough opponent.
"They've been there before," said Morganti. "They won the state championship last year and we're a little new to it. We felt like we were in it. We're just a little disappointed with the outcome. Their secondary is great. Their safeties did a great job. They got a great pass rush on Connor today. It made it difficult for us at times."
The Cardinals will play Fairfield Ludlowe on Friday, October 28 at 7pm at Cardinal Stadium. The Rams will take their undefeated record and host Norwalk next week.
Lou Marinelli spoke about how far his son has come in coaching since last year's first-ever matchup between the two coaches.
"I think he's got them going in the right direction," said the New Canaan coach. "Not only because he's my son…nobody works harder than Johnny."