October 10, 2016
Tufts To Step Down as GEMS' Leader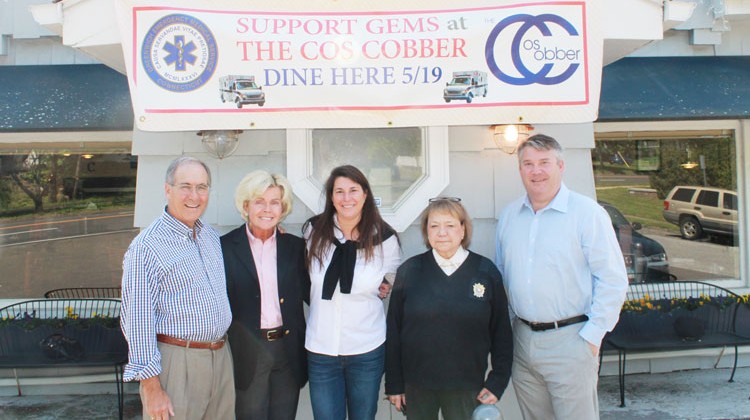 Tufts To Step Down as GEMS' Leader
By Rob Adams, Sentinel Reporter
Charlee Tufts, the Executive Director of Greenwich Emergency Medical Services, has decided to retire from her position.
The reason? Time and family.
"Thirty years," she said with a laugh. "I've actually been talking with the board about it for a while. The timing is driven by my family. I'm eager to spend more time with my four grandchildren."
GEMS originated from very humble beginnings, with planning going back to the mid-1980's.
"In 1984, EMS was provided from four volunteer fire houses, the police department, and a private house in the back country," she said. "Very committed people volunteered, but we were at the very basic life support level."
The Town of Greenwich, she added, wanted more, as did Greenwich Hospital. Through research, she said that 45% of calls in town would benefit from advanced life support, among other items.
"It's really a system that's been patient care-driven," Tufts said.
What was planned in 1984 and began in 1986 has gown into a staff that includes 57 full-time employees, including administration, with 15-20 per diem to supplement the staff. Additionally, there are 18 adult volunteers and 45 youth volunteers.
"We've watched so many of these young people take their training seriously, and carry with them to college" she said. "Several of them have returned here (to work). It's a great feeling."
Her pride extends beyond that.
"To be very honest, I'm extremely proud of the entire organization," she said. "We have such a fantastic board. They have let me grow this organization the way we wanted to. No idea is a bad idea."
She highlighted maintaining response times as another point of emphasis, and remaining progressive in reaching a higher level of medical care. She said GEMS was the first in the Northeast to use prehospital 12 lead EKG's. The result was the hospital was prepared for the hospital was prepared for the patient.
She defers any credit.
"It shows the high level of staff that we have here," she said. "They were very eager to take on the extra level of training and the responsibility."
Besides being proud of "everything," Tufts spoke of GEMS' cardiac arrest save rate.
"There was a study done in 2009 across the national, and the average cardiac arrest save rate was eight percent," she said. "The best in the study was Seattle at 16%. On an annual basis, we have anywhere from 35 to 40 percent and have reached as high as 50 percent in some years."
Once again, she attributed that to the staff of GEMS, as well as the system design, and being close partners with the Greenwich police department, as well as working with the fire department as well.
"It's been an unusual professional opportunity," she said. "I promised the board that they would get 150-200 percent of me, but my kids would always come first. If they had a play, I'd go to all five of them. I might be up late at night dictating call reviews or feedback to the crews. That's something that has been enormously important to me: that my children have been as much a part of this as I have."
Her kids will see plenty of her – though she laughs at the thought that "they already do." While she says she'll still be around town, and will be staying on as the board appoints her successor, she will be available for anything that GEMS needs. She will help train the next Executive Director, but then?
"It's their turn to grow the organization the way they envision" she said. "It's important that people come in with a vision because progress never stops."
Tufts says, after a the transition, she'll pack up her dog and parrot to head to Charleston, SC where her son and his wife and two of her grandchildren are. She also has a place in Vermont, and thinks she'll be spending a lot of time in both place.
"We'll just see," she said.
She said there are also new opportunities on the horizon, but won't discuss them until anything is firm.
"We'll be in touch," she said with a laugh.
Tags:
ambulance
,
Charlee Tufts
,
GEMS
,
greenwich
,
hospital
,
medical
,
response time