October 8, 2016
Brunswick Escapes Kent With 27-26 Comeback Win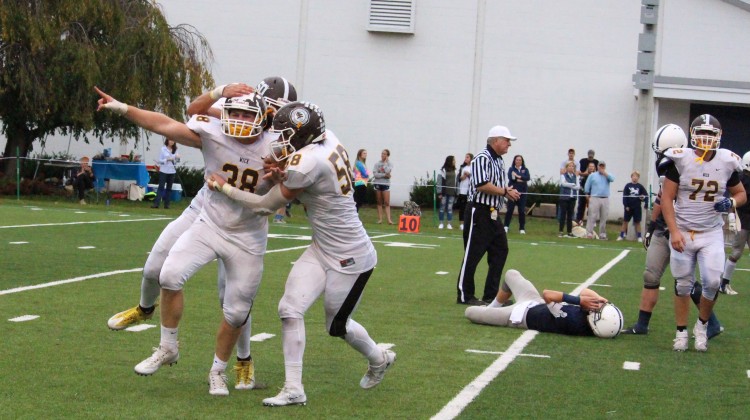 Brunswick earned a hard fought 27-26 win over Kent School, with tears coming down the eyes of head coach Jarrett Shine symbolizing an all-around team effort in an instant NEPSAC classic.
A sack on the final game of the play, courtesy of Will Kolman, secured the Bruins' comeback win as they prevailed in their biggest test of the season so far.
"We work so hard all season long," said Shine following the game. "As a coach, you're always trying to get better. We want to put up a fight no matter what happens. I kept telling our guys I believe in them and the type of potential they have."
After putting up 21 points in the first half, the Bruins relied on their defense in the second half to hold Kent to just six points, but the Lions wouldn't go down without a fight.
Kent would take a 26-21 lead midway through the third quarter, setting up the stage for a huge defensive front and a game-winning drive in the fourth quarter.
"Our defense has done it in years past," said Shine. "We worked on it all year long and you never know how the game is going to come out. The way our backs were against the wall, and how our kids fought, was a true testament to the team."
Nick Henkel finished the day with a pair of first-half touchdown passes and an uncharacteristic three interceptions, two which were off tipped passes. Playing without Sean Morris, one of the Bruin's most versatile receivers, Henkel relied on his other receivers and tight ends to fill the void with clutch receptions.
"I think since we haven't really had a test yet this season, but also to be down like that and come back, shows a lot of what we can do," Henkel said. "This is only the beginning for us. Personally, I need to play better and I know our offense will work better in the future."
Henkel was 18-for-26 passing with 300 yards accumulated on the day. 
The ground game was led by Jaydin and Justin Knight, who also gave Brunswick the ball back on a key interception to bring a halt to Kent's potential scoring drive in the final quarter.
Justin Knight's interception set the Bruins just outside their own end zone, with barely any room to work with. Their following punt would be partially blocked and would set up the Lions just outside the goal line at the 3-yard line.
A four-play goal line stand from the Bruins would deny Kent from any points, as the Lions elected not to kick a field goal already up by one point.
With under five minutes remaining, Brunswick rallied with a nine-play 99-yard drive, capped off by a 47-yard run by Justin Knight to put the Bruins on top. Justin Knight only had three rushing attempts in the game, but he made them count for a total of 64 yards and two scores.
"We knew we were able to run inside zone," said Knight on his game-winning run. "We wanted to pound the ball as much as we could inside. "We definately needed this kind of game. We know when we're at our best, no one can beat us."
Kent would have under three minutes to respond, as coach Shine made key adjustments to try and slow down a Kent offense that had proven itself through the air throughout the day.
"We tried to put Cameron Kelly on their No. 1 guy to try and shut him down," said Shine. "That seemed to have worked defensively."
It was Kelly who came up with the clutch interception on a third down play call, giving the Bruins the ball back with time just barely on their side.
After Brunswick failed to secure the first down, Kent would have just 30 seconds to march down the field. Will Kolman brought the pressure and the sack as time expired, cueing the Bruins to sprint on to the field to celebrate the down to the wire contest.
"We knew coming in it was going to be a war," said Wick's Nick Mosher. "In the first quarter we got punched in the mouth a little bit. It was just a battle. We got tested. Our offense and our defense made a few mistakes, but both times we just picked each other up."
Mosher, along with John Fox making his season debut in the linebacker corp, led the defensive attack to keep the Lions off the board in the last quarter of play. Fox led his team with 11 tackles.
"I know my team has my back," Mosher said. "A win like this is really going to do a lot for our season. We know come the fourth quarter, we're going to outrun them, out condition them and out athlete them."
Henkel credited the team's defense for shouldering the load in a back-and-forth matchup that needed every second to decide a winner.
"It was a little bit too nerve wracking for us," Henkel said. "Any time you have a come from behind win, it shows what kind of team you are and how we're going to fight to the end. Our defense really saved our offense today. That goal line stand from the 3 is stuff that you're going to remember forever. I couldn't be more proud of them."
Cornelius Johnson, Kieran Dowley, Harrison Caponiti and Jack Montinaro all played big roles as offensive weapons for Henkel, as Johnson finished with two touchdowns through the air.
"I give a lot of credit to Jack Montinaro," said Shine. "He did a great job and had some big catches for us. He supplied a huge block on the big reception to Harrison Caponiti. I give him the game ball today."
Caponiti finished with two receptions for 91 yards while Johnson hauled in five catches for 58 yards. Dowley had five receptions as well for 56 yards as Montinero contributed in a big way with three receptions and 37 yards. Sean Amill caught three balls for 58 yards.
Henkel's game-long 83-yard pass to Caponiti was followed by a 13-yard score to Johnson, on a 99-yard drive just before halftime.
Cassius Johnson's interception at the goal line turned away Kent's chances at points before the halftime break.
For Kent, Sean Kennedy contributed a pair of touchdown receptions to go with Andrew Malcolm's 12-yard score in the second half for the Lions. 
With the win, Brunswick improves to 4-0 as Kent School fell to 1-2. The Bruins will host Taft School (10/15) and Salisbury School (10/22) before hitting the road again to Avon Old Farms (10/29).
"Coming down the stretch we have a lot of tough teams to play and we're going to face a lot of adversity," said Mosher. "Getting tested today with a really tough team proved we're going to be able to bounce back and stay tough down the line."
Tags:
Brunswick Bruins
,
Brunswick football
,
Kent Lions
,
Kent School
,
NEPSAC