October 7, 2016
GHS Strong to Start Season, Faces Tough Tigers Today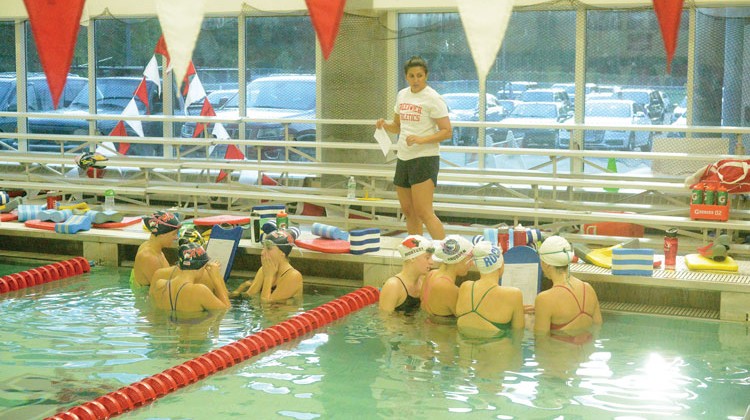 By Paul Silverfarb
Sentinel Editor
From the start of the season, the Greenwich High School girl's swimming and diving team has been reminding teams how strong they were last year and how it's continuing this year.
Winners of the FCIAC championship, as well as class LL and state open championships last year, Big Red hasn't let up to start this season. Using its talented top-level athletes and strong depth, Greenwich has rolled through the competition this year.
"I am really happy with the way we are swimming and diving," GHS head coach Lorrie Hokayem said. "We are performing right where we need to be. We are working really hard in practices. We've been a little fatigued going into swim meets, but I think we are doing really well. I like what I see in practice and it's a pleasure to be around a bunch of hard-working girls."
Throughout the season, Greenwich has been dominating its opposition. Whether it's Glastonbury, Staples, Danbury or both of the Fairfield schools, Big Red has come up with some big numbers.
"I think the team is doing really well," Brittany Banker said. "I love being a member of the team and everybody is equally supported on this team. I think that this is such a nice place to swim. I want to come to practice every day and support my friends. It's important to win like we are, but also to have fun. I think having fun and cheering for each other helps us dominate in the pool."
In Greenwich's most recent meet against Fairfield Ludlowe, they came away with the 116-71 victory.
Big Red took the gold and silver in both the 100-yard backstroke and the 100-yard breaststroke.
Pacing the team in the backstroke was Emma Himes, who touched the wall first overall with a time of 1:13.06 and beat out teammate Barbara Malone, as she placed second with a time of 1:15.45.
In the 100-back, it was Ainsleigh Winget who came out on top, posting a time of 1:02.77. Kate Ennis finished second on the day with a time of 1:04.26.
Ennis bettered her time in the 200-yard individual medley and took home top honors with a time of 2:18.14. Lilly Clisham grabbed the bronze in the event, netting a time of 2:22.68.
The Lady Cardinals finished first overall in three more individual events.
In the 200-yard freestyle, Emily Warner dominated the event and posted a time of 1:58.98, while Christine Flood took home third in the event and a time of 2:02.56. Warner also placed second in the 100-yard freestyle with a time of 54.67 and was joined by teammate Julia Merrill, who was third (55.24).
In the 100-yard butterfly, Kelly Montesi was golden in impressive fashion, posting a time of 58.96 seconds and was nearly three seconds quicker than the second place finisher. Montesi also took second place in the 50-yard freestyle, netting a time of 24.56.
Competing in the longest event of the day, the 500-yard freestyle, it was Greenwich's Kortney Knudsen who was unstoppable, going just under six seconds quicker than the second place finisher and touching the wall with a time of 5:27.19.
One of Big Red's biggest strengths is with its divers, as Greenwich has been lights out throughout the season.
Leading the way against Fairfield Ludlowe were the divers, as they once again dominated the pool. Greenwich placed three divers in the top three, with Kate Russack taking first overall with 232.85 points. Not to be outdone was Annabelle Pollack, who took second with a 222.7 points. Grabbing the bronze was teammate Maddie Muldoon, who netted 217.25 points.
"We have nine divers and they are all competing for four spots on our state lineup," Hokayem said. "They are all excellent. It's exciting and a great problem to have. It's also creating some great positive competition during practice and that just makes all of us better."
Against Danbury, it was Greenwich's Saylor Kirsch took first with a score of 249.50, followed by Russack, 237.85 and Pollack, 237.45.
"It's a lot of fun diving with all these talented people," Emily Murphy said. "Our juniors are sophomores are very strong and we have three new freshmen on the team. I'm really excited to see what they can all do. I think we are in a great spot overall with our training. We're working really hard and not giving up during practice. We keep on pushing."
Throughout the season Big Red has been getting its fair share of top finishes and times, however it's the team's depth that has really propelled them to pull away during the dual meet season. And that depth will be crucial for the Lady Cardinals as they enter the postseason.
"Our strength has always been in our numbers," Hokayem said. "We have some really talented kids on both the swimming and diving side, but what makes things more exciting is that we have two to three other kids in each event that have been able to contribute in every meet. The depth of our team is something we speak to during every practice. For us, every person counts and every race counts. We have had a lot of kids step up big for us in every meet in different places."
With the win against Ludlowe, Greenwich upped its record to 5-0 on the season. However, Big Red will have its undefeated record tested later today, as they compete against its toughest competition yet in Ridgefield High School.
"We definitely need to focus," Murphy said. "We need to take what we worked on in the pool and use that during the meet. They are going to be a tough team."
Both schools enter the meet without a loss this season and will be looking to flex its muscle as one of the teams to beat in the FCIAC.
"It's going to be our first big challenge," Hokayem said. "They are a great team and they really have an outstanding core of upperclassmen. It's going to set us up for some really good races. We will see what happens with the score, but I'm excited for us to have a challenging meet where we are in a fight for every race and every place. I am hoping our divers are also going to shine through and it's going to be a great day to step up."
The meet against the Tigers will be quite the challenge for the Cardinals and that's exactly what Hokayem believes the team needs if they are going to be successful down the road.
"It will be a great measuring stick at this point of the season," Hokayem said. "This is almost halfway through the season and it's a perfect timing for us. Ridgefield is definitely going to be a contender in the FCIAC meet, class LL and Opens. No matter which way the score goes, I am excited to see where our kids are at and see how they meet this challenge."
And in a few short weeks, the Lady Cardinals will be tested again, as they host a highly-talented Darien High School team on Oct. 18 before getting ready for the FCIAC trials.
"The last six weeks for us is all about specialization," Hokayem said. "Instead of doing generalized training, we are going to work more on individual events. We are going to focus on the small things, like the streamlines, turns and really working on our relay starts and who will be in those relays. It's exciting."
"Everybody on the team needs to focus and put as much as they can into practice every single day," Banker said. "Showing up isn't enough. You have to actually work hard in practice. I think, with the help of the team, everybody can do that."
Tags:
CIAC
,
ctdive
,
ctswim
,
FCIAC
,
greenwich
,
Greenwich Diving
,
Greenwich Swimming
,
Lorrie Hokayem