September 15, 2016
Ada's Kitchen and Coffee Wins Preservation Award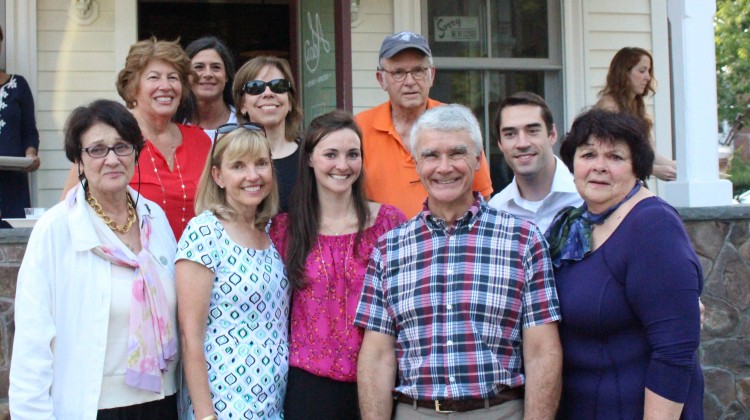 Ada's Kitchen and Coffee, a beloved variety, coffee and candy shop in Riverside, was honored last week when the Greenwich Preservation Trust bestowed its inaugural "Neighborhood Historic Building Preservation Award."
The award was given to the Romaniello family, co-owners of the original shop at 112 Riverside Avenue, for preserving the historic structure of their local small business over the many years of its existence.
The town of Greenwich also proclaimed Sept. 8, 2016 as "Ada's Day."
During the proclamation, Selectman John Toner dubbed the Riverside store as "A Greenwich and Connecticut landmark that strengthens its character, identity and vitality."
Known as "Ada's Candy Store" or to some simply as "Ada's," the historic building has been around for over a century, serving first as a post office in Riverside. The building was then transformed into a convenience store and was recently renovated into today's eatery.
Wes Haynes of the Connecticut Trust for Historic Preservation also presented the shop and the Romaniellos with a merit award for successfully preserving their building, calling Ada's a "shoe-in" for the statewide recognition award.
"It is a great delight to see this place survive," said Riverside resident and longtime customer Del Eberhardt.
Located just steps from the Riverside Train Station and serving as a midway destination for many children on their walk back home from school, Ada's has been a mainstay for families in the Riverside community.
"The kids from Riverside Elementary school loved this place," said Eberhardt, who worked in the Greenwich Public School district for 45 years.
Candy is still sold through the doors of Ada's, along with locally roasted coffee and fresh breakfast sandwiches.
"Riverside has been known to be a walking community," said Roseann Benedict, president of the Riverside Association of Greenwich. "People are out with their kids, their bikes or their dogs. To have an outing and then to have a place to stop to, is really necessary to keep the community feel. Everybody wants a 'general store' in their community."
Named after Ada Cantavero, who died in 2008, the store underwent restorations and reopened in February. The late 19th century structure helps keep the community feel in the heart of Riverside.
"It's something that's such a generational pull," said Karen Oztemel, a Riverside resident and an RTM member. "There were so many people who grew up here in Riverside, some who don't live here anymore, but some come back to see that their grandchildren are now customers too."
"The fact that it has been restored is great," said Oztemel. "So many beautiful, older homes are torn down these days. We're very happy that historic restoration happened. It's a landmark in the community. As a Realtor, this is something we drive by and say that we have something like this in the community."
Tags:
Ada's
,
Ada's kitchen and coffee
,
Greenwich Preservation Trust
,
riverside