September 10, 2016
Brunswick Starts the Season Flying High, Outlasts Iona Prep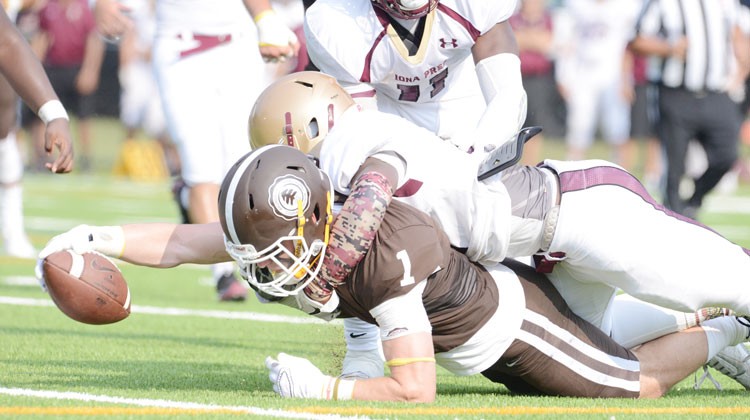 By Paul Silverfarb
Sentinel Editor
This was exactly what the Brunswick School football team and head coach Jarrett Shine were hoping for Saturday afternoon against a tough Iona Prep squad.
Although it wasn't the best game defensively for the Bruins, its offense, behind standout junior quarterback Nick Henkel, was firing on all cylinders en route to a 48-40 victory.
"Starting the game we knew we were going to face a very good offense," Shine said. "Defensively we knew we had to run our schemes and make some plays. We needed to stop the run. Their quarterback is good, the running back is good and the line is good. We didn't play terribly well defensively and most times we didn't tackle well. We got beat deep a couple of times, but overall I think our defense battled back and made some good plays when it counted."
With the non-conference victory, Brunswick started its quest for another memorable season 1-0 overall.
"A win is a win," senior captain Pete Wise said. "It's great to win at home on opening day. We have to work on a lot of stuff and some mental things. We have a lot of talent and can put a lot of points on the board. Our offense is really strong. It's just a mental battle for us. We made a lot of mistakes and had some bad penalties. That's stuff we can't do when we start to play better teams in our league."
To say Brunswick's offense was on its game was an understatement.
Junior quarterback Nick Henkel was lights out throughout the contest, going 23-for-37 for 316 yards. He also threw an impressive six touchdowns on the day to pace the team.
"It was great, obviously," Henkel said. "We had some jitters and Iona is a great team. I really liked how we played in the middle part of the game. We had a really good second and third quarter. We didn't close on offense as well, but overall it was a great team win."
Henkel's favorite targets on the day were senior Sean Morris and sophomore Cornelius Johnson, as both receivers netted two touchdowns each. Johnson finished with four receptions and 72 yards, while Morris grabbed the ball seven times and added 59 yards.
"It's a good week one victory and it's always feels good to get your first win," Johnson said. "It can lead to a lot of confidence and we will be back it in the following weeks. We will keep practicing and tweaking a couple of things. It's great to get touchdowns. The fact that it was me and that was able to contribute, I'm glad I can do this at Brunswick."
In addition, senior Kevin Dowley led all receivers with 79 yards on four receptions, while junior Harrison Caponiti took home 49 yards on five receptions and junior Sean Amill also netted 49 yards on two receptions.
On the ground, it was all about the emergence of senior Jayden Knight. Taking over from Jason Kennedy, who graduated last season, Knight was stellar running the ball, taking the handoff 13 times for 52 yards.
"We knew going into this season that we needed to establish a running game and that Jayden Knight was going to be that guy taking over the reins from Jason Kennedy," Shine said. "He's a very fast running back and if he gets to the outside he's gone. We're very impressed from him."
With Brunswick trailing 7-6, they made a statement in its final drive of the first quarter. Starting on their own 35-yard line, the Bruins marched the length of the field in six plays and always started a play with a first down.
Knight got things rolling with a 15-yard run and backed that up with a 17-yard sprint down the Brunswick sideline. From there it was all Henkel and his receivers. A 14-yard reception to Dowley, followed by a 10-yard missile to Caponiti gave the Bruins a first and goal at the nine.
While Henkel's next throw to the end zone was incomplete, a pass interference against the Gaels inched Brunswick closer. Finally, on its next play, Henkel stepped back and found Morris for diving catch at the pylon for the touchdown and a 14-7 lead with 1:45 to play in the first.
Iona Prep didn't back down and back-to-back touchdowns to start the second gave them the 20-14 lead. However, it didn't last long.
On a kickoff after the Gaels extended its lead to six, Cameron Kelly gained control of the ball at the Brunswick 3. After sprinting upfield, cutting through the opposition's defense and darting down the sideline, Kelly was gone for the 97-yard touchdown.
Brunswick took the 27-20 halfitme lead when Henkel threw a 17-yard touchdown reception to Johnson in the middle of the end zone with 20 seconds to play in the half.
Henkel helped ice the game to start the third quarter. On Brunswick's first drive of the second half, he threw a 39-yard touchdown strike to Amill, who beat the Iona Prep secondary and caught the ball in stride at the 10 and ran in the rest of the way for the touchdown with 10:06 left in the third.
After a Gael's fumble on its first drive of the half, Brunswick made them pay. Facing a third down and six at the Iona 11, Henkel took the snap and threw a dart to Johnson in the back of the end zone. Johnson got both feet and helped extend the lead to 40-20 with 7:40 to play in the third.
"Our offense is versatile and we have a lot of weapons," Johnson said. "That leads to a lot of offensive points and yards. We got 48 on the board today. Even though we got that, there's still stuff we need to work on."
To read more on the game and to see how Brunswick is preparing for play in NEPSAC, check out Friday's Greenwich Sentinel.
Tags:
Bruins
,
Brunswick
,
Brunswick football
,
cthsfb
,
Gaels
,
greenwich
,
Iona Prep
,
NEPSAC